Softube want to make the Eurorack modular synthesizer accessible for everyone with their Modular plug-in. Rishabh Rajan dives in deep to discover if Modular sounds as good as the real thing(s).
Just a few weeks ago, I did a review on the Moog Model 15 iOS app and mentioned how it was a game changer. Well, looks like the game has changed again. Softube's Modular plugin brings the Eurorack world into the Digital Audio Workstation world.
The hardware Eurorack world is ever expanding with over 150 manufacturers with close to a total of 4000 individual modules. Now getting into this world is definitely not easy, considering the individual modules, cases, patching cables, power supply, etc. Cost is also a very significant factor. With Softube's Modular, you don't have to worry about any of this. You get an entire modular system at the fraction of the cost.
Now before I get into the details of this plugin, I must put out a disclaimer. I completely agree that software will never completely replace the hardware experience. In the software world, you will never really get the tangible experience of patching cables, turning dials, touch plate interaction, etc. But with Softube's Modular you get the next best thing without compromising on the sonic quality.
Installation
I generally don't talk about software installation because this is usually a pretty straightforward process, at least if you have experience using a computer. But with the Softube Modular, you will find that they don't have a dedicated installer just for the Modular. You need to download a bundle .DMG file which includes all the plugins they sell. During the installation process there is no option to select what components to Install but after the installation process you will get a dialog that asks you which of the Softube programs you want to install. Even the manual is one giant document which covers all their products. Fortunately, it's well organized so you can jump to the Modular chapters.
Another thing to consider is that Modular requires you to use an iLok account to authorize the program. This even applies to the 20-day demo license. Fortunately you don't have to use an actual iLok USB key. That is optional.
Modules included
The basic installation of Softube's Modular gives you 6 Doepfer modules from the A-100 system.
These Doepfer modules are all authorized circuit modeled emulations of the original hardware. So if you haven't used the original hardware, you may notice some buzz and grit in the sound which is all modeled from the hardware.
The basic system also has 20 utility modules.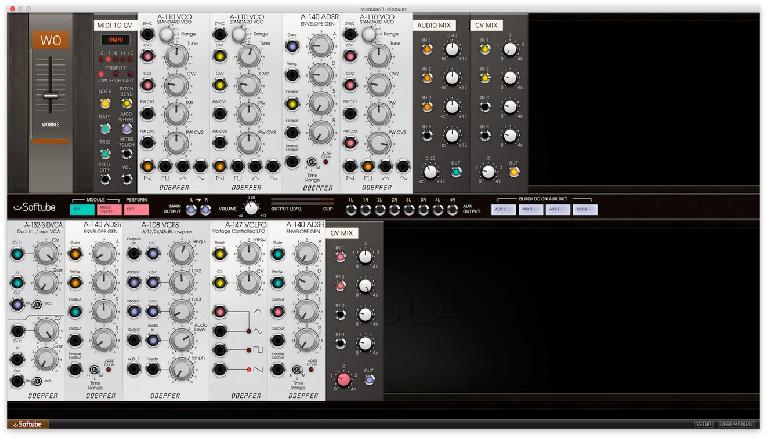 DAW & MIDI Interfacing Modules:
DAW Sync

MIDI to CV

Quadrophonic MIDI to CV

MIDI to Trigger
Mixer Modules:
Audio Mixer

CV Mixer

Polarizing Mixer
Sequencers:
Sequencer 16

Sequencer 8

Penta Sequenza

Beat Sequencer
Utility Modules:
Sine Oscillator

Envelope Follower

Multiple

Offset

Quad Offset

Sample & Hold

Slew Limiter

Clock Divider

Logic Tool

Signal Tool

1 to 4

4 to 1
You also get a variety of performance modules that can be assigned to control any of the parameters from the main modules. Think of it like macro controls. Use it to get quick access to the select parameters from your patch that you plan to control or perform with.
Besides the basic system, you can also purchase add-on modules. As of this writing you get 3 Intellijel add-on modules.
Just like the Doepfer modules, these Intellijel modules are also official circuit models of the original hardware. So you are getting a near perfect emulation of the real thing.
There is enough here to get you really deep into Eurorack based modular synthesis but if want more, the word from Softube is that the Modular plugin is going to be an ever-expanding product with a lot more module emulations from a bunch of different Eurorack manufacturers. Look out for the Doepfer LPG module which is already in the works.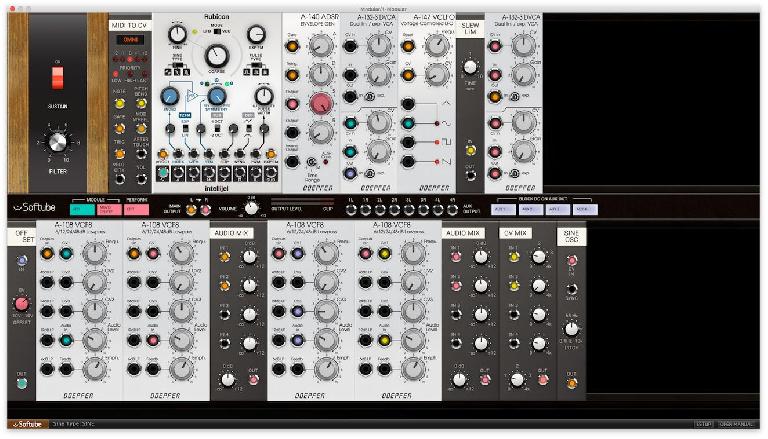 Interface
Using this plugin is pretty intuitive. There are 3 modes, Add, Move/Delete & Edit. In the Add mode, you can select which modules to include in your Eurorack. In the Move/Delete mode you can rearrange modules or remove modules from the Eurorack. In the Perform Edit mode you can assign specific controls on modules to any of the performance modules.
Making connections is also quite easy. Click on an output and drag to any input to make a connection. In fact, the plugin makes this process even easier by highlighting all the possible inputs where you could make the connection. This way you can never make a mistake, like connecting an input to an input or an output to an output. It would have been great if there was a built-in undo option because sometimes you may make a connection that you did not mean to. You will see virtual patch cables once connected, but if you take the mouse cursor away from the modules the cables get hidden. This way things do look a bit more neat. The virtual cables are not very pretty looking and a very complex patch can look quite messy as the cables are always straight and don't really look like cables. The color coding of the cables does help a little bit to understand what is going on visually but having cables that dangle just like on a real modular, could make it easier to see what the connections are.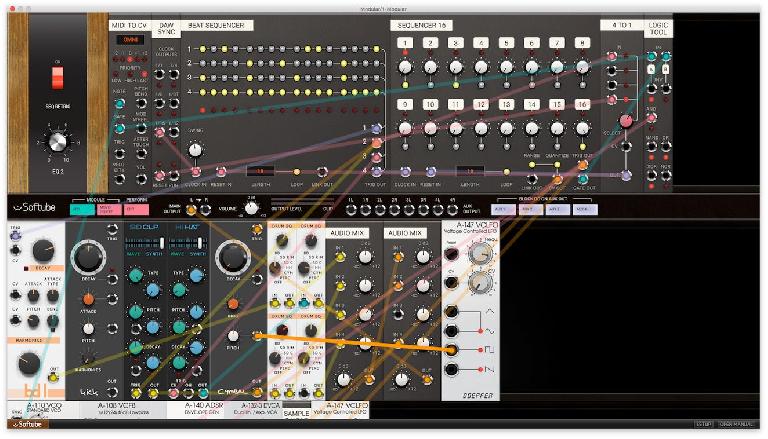 Modular FX
With Softube's Modular you also get a separate audio FX version of the plugin. This can be used to process an incoming audio signal from your DAW with any of the built-in modules in Modular. One interesting thing to note is that you can still use the sound generator modules in this FX mode. So using an audio rate oscillator to modulate the incoming audio signal from your DAW is totally possible.
Heartbeat Modules
The Modular is not Softube's first synth. They also make Heartbeat, which is a software drum machine that is inspired by some of the classic Japanese drum machines of the '80s with a more modern feature set. Now if you own this plugin, you will see modules from Heartbeat in Modular. So you get 2 kick drum modules, 2 snare modules, a hi-hat and a percussion module, and also a basic EQ module that's tuned to work in specific drum frequency ranges. All these modules are very much like Eurorack modules with CV ins and outs.
Presets
If you are new to the modular world, the presets should come handy. Some of the presets are quite good and useable right out of the box, but the fun with modular systems only starts when you make your own patches. If you are using Modular with Ableton Live, make sure to load the VST version and not the AU version, i.e., if you want to access the presets. The presets are not managed by the plugin, but the DAW instead. This is quite odd. I can't remember the last software synth I used that did not have its own preset managing system. The main drawback is, let's say you designed a sound in Logic Pro, you will not be able to open that preset in Ableton Live or any other DAW as the preset will be a Logic Pro file, not a Softube Modular file.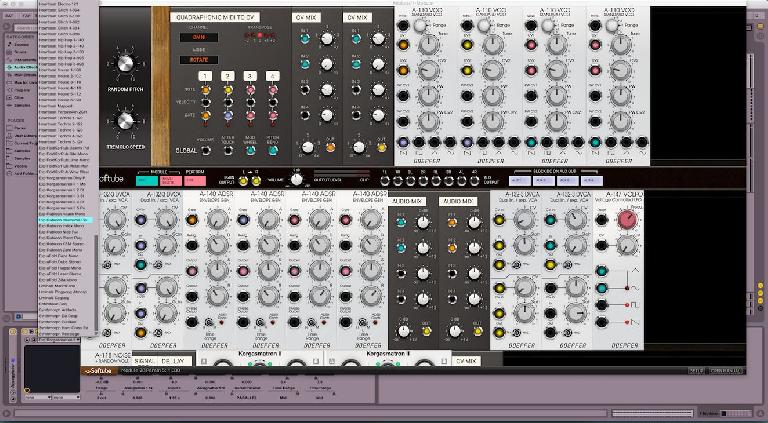 Sound
If you have used a Eurorack system, specifically one that has these Doepfer or Intellijel modules, you will instantly recognize the sound. Softube is known for their fantastic circuit modeling of famous console's EQs and compressors. You can expect that knowledge & experience to translate to this Modular plugin. I am a big fan of the Reaktor Blocks framework but felt it sounded too clean. With Softube's Modular, you will get the grit that is expected from an analog modular system.
CPU Usage
One thing to note is that Modular is quite a CPU hog. Even with just one instance of this plugin, I have seen a CPU usage of about 25%. This is with no other tracks in the DAW. I tested this on a 6-Core Intel Xeon Mac Pro and at times even saw a 45% usage with just one instance of the plugin using some of the Heartbeat modules. Reducing the buffer size doesn't seem to drop the CPU usage down significantly. Now considering the detailed circuit modeling this may be expected but just be aware that this may not run very efficiently on a dated computer. Having said all this, the plugin is brand new and should get more CPU efficient in future updates. In the meantime, render your Modular tracks to audio.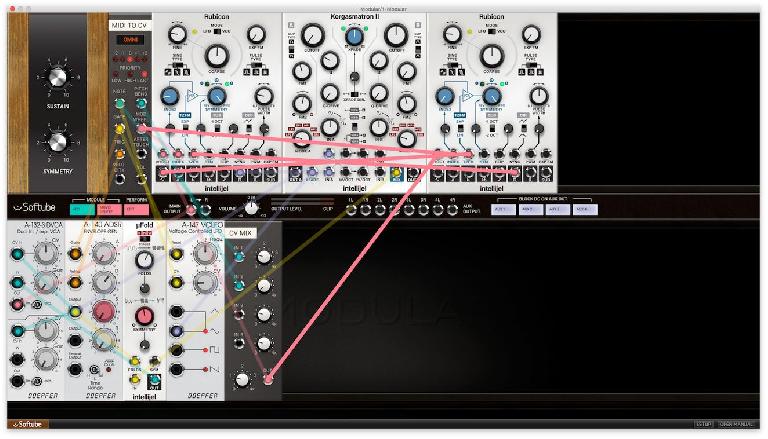 Integration with Hardware Eurorack systems
The Softube Modular has 4 outputs with the ability to unblock DC signals. So you can generate CV signals which can then be output from your audio interface to be used with a hardware Eurorack system. Now doing this requires an audio interface that is DC coupled which is usually rare as DC signals are bad for your speakers so most audio interfaces will block that out. So, venture into this area only if you know exactly what you are doing. Or just make sure to not send any DC signals to your speakers.
Conclusion
There's no doubt there are some issues with this plugin, but considering this is the initial 1.0 release AND it's also the first software Eurorack system, it's only going to get better as it develops. I can't help but feel a little annoyed that I spent a lot of money on a hardware Eurorack system when now people can get the same thing much cheaper and integrate it seamlessly with their existing DAW setup! But this is all for the greater good of the music-making community. Some people can't afford to buy a hardware Eurorack and they should not be left behind.
Will I personally abandon my existing hardware Eurorack system for the Softube Modular? Probably not, but I'm also probably not going to buy any more hardware modules. I'll just wait for the Softube emulation.
Price: $75 Intro offer (add on modules prices vary)
Pros: Excellent software model of the hardware counterpart. Extremely affordable. More add on modules coming soon.
Cons: CPU hog. No undo, No self contained preset management system, relies on DAW to manage presets.