NI's Trakor Kontrol X1 MK2 is here and includes some novel additions, a simplified layout to its predecessor and can be used as a MIDI controller for other software. Sara Simms checks it out.
The Traktor Kontrol X1 MK2 is the updated version of Native Instrument's now classic X1. Although this new model bears resemblance to the X1, the MK2's layout has been simplified, and a highly useful touch strip has been added. The X1 MK2 is designed specifically to control Traktor, but can also be used as a MIDI controller. It's a sturdy and portable controller that connects to your computer via USB.
Layout and Appearance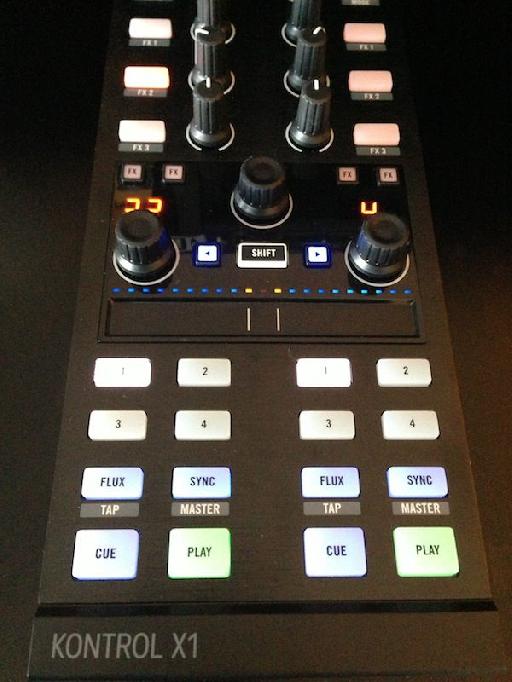 The new X1 MK2 has a more minimal design; much of the text has been removed from the controller. Although this makes the overall appearance cleaner, it will mean that users will have to learn all the functions (which is not a difficult task, but it does require a read-through of the manual).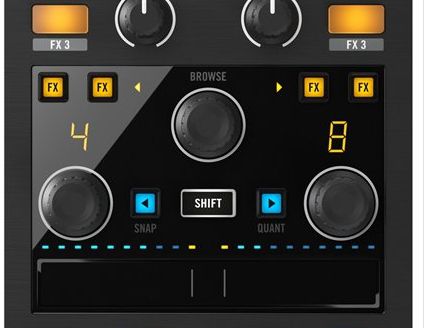 In the middle of the X1 MK2, you'll find the Browse encoder, two loop encoders, and two buttons marked with arrows for loading tracks. To browse through your track collection, scroll the Browse button located in middle of the controller. Holding down Shift and turning browse allows tree scrolling (tree scrolling means scrolling through your playlist, as opposed to the track collection). It is useful to note that pressing the left load button in combination with Shift turns on Traktor's Snap mode, which makes cue points snap to the nearest beat. Pressing the right load button and Shift turns on Traktor's Quantize mode.
Touch Strip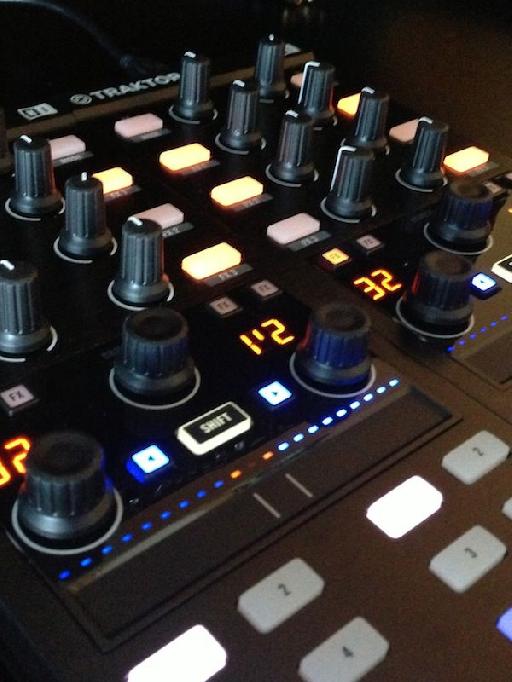 One of the best new features of this controller is the Touch Strip, which can be used to scroll through tracks, scratch, pitch bend tracks, or assign loops and FX. The Touch Strip can be used to control either two Traktor decks, or a single deck. On the Touch Strip, two red lights at the top mark the dividing point. If the lights are in the middle, the left half controls Deck A, and the right half controls Deck B.
If a track loaded into Traktor is stopped, the Touch Strip can be used to scrub your track back and forth. When the track is playing, the Touch Strip can be used to pitch bend your tracks; that is, to make subtle adjustments to the BPM in real time. DJs who come from a vinyl (or even CDJ) background will appreciate this feature, as making tempo adjustments in this manner may already be second nature for them. The fact that the Touch Strip allows you to 'touch' your tracks significantly improves the digital DJing controller experience.
Adventurous DJs may want to experiment with how to use the Touch Strip to scratch tracks. To try this feature out, simply hold Shift and touch the corresponding Track Deck section to scratch. One of the most useful features of the Touch Strip is to scroll through tracks, which can be useful when playing or during prep time when placing cue points.
The creative potential of the X1 MK2 can be unlocked by assigning Traktor's FX and loops to the Touch Strip. When loops are assigned, the size of the loop can be controlled via the touch surface. When FX are assigned, the Touch Strip can replace the FX knob's parameters to control the amount of the effect that is applied. Advanced Traktor users may want to try using two X1 MK2 together, which allows control of up to four effect units with the Touch Strips.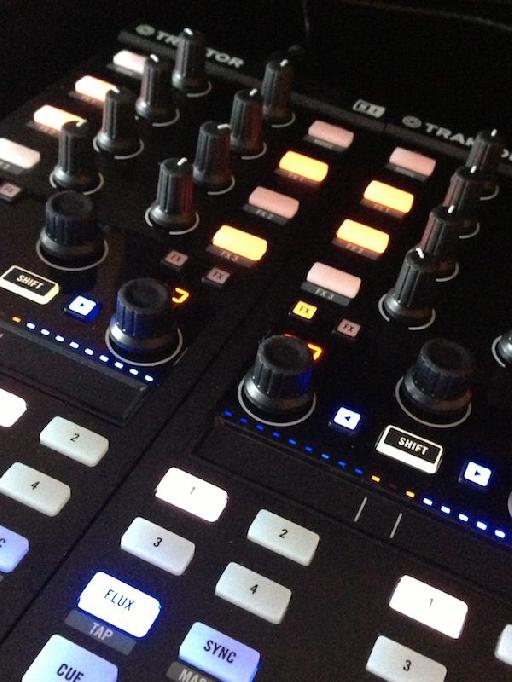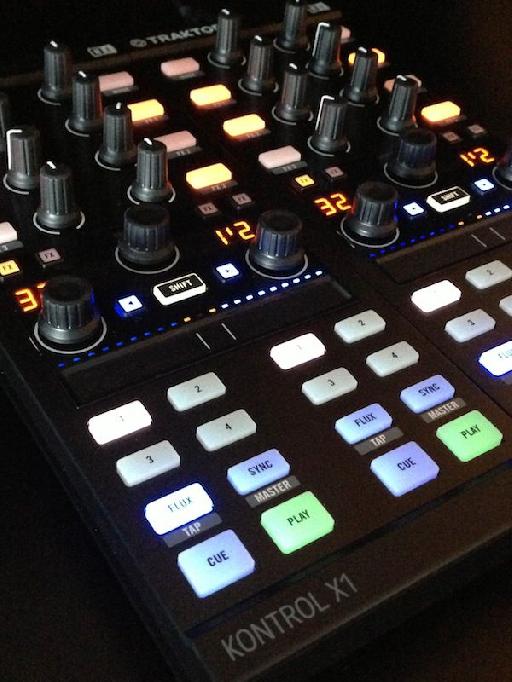 Go Play
The bottom section of the X1 MK2 has fairly standard controls. There are four cue point buttons, but up to eight cue points can be assigned by changing Traktor's Settings Preferences. There are also Cue, Play, Flux and Sync buttons. I found it helpful to note that pressing Shift and Sync together assigned a track as the Master.

The Flux button is a new addition, and many users will likely wonder what the function of this button is. Flux is a special mode that allows you to jump to cue points and loops without losing the overall phrasing of your tracks. It can also be used to assign cue points 5-8 (after making adjustments in the Preferences) and switch from absolute to relative mode.
FX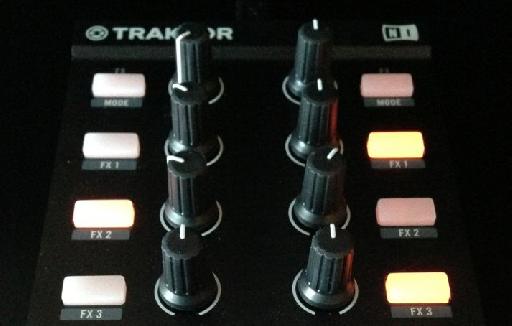 Traktor can be used as a very creative DJing tool when you learn to control its effects. Effects can help to make sets original and exciting, and I think this is the reason that the X1 MK2 has dedicated almost half of the controller specifically for this purpose. On the MK2, there are two rows of buttons and encoders for FX, which can each be used for single or group FX. On each side, you'll find a master FX button, three FX on/off switches and encoders for controlling the amount of each individual parameter. These buttons and encoders are fun to use, and when used to tastefully apply FX can add a new level of sonics to your music. I highly recommend learning how to assign your FX to the Touch Strip, and working from there.
Summary
As a dedicated user of the X1, I was admittedly a little skeptical about the MK2. Was an update really necessary to a controller that was already great? After spending time with the new controller, I began to realize how the new Touch Strip could enhance DJ sets, and open new digital DJing possibilities. I also appreciate the new minimal layout, and overall sleek appearance. The MK2 is a well-thought out update for DJs, and is sure to become a new controller classic for Traktor users.
Pros:
Portable Traktor controller

Multi-use Touch Strip

Minimal design

Cons:
Less text, more manual reading ;)
Price: $199.00
Web: http://www.native-instruments.com/en/products/traktor/dj-controllers/traktor-kontrol-x1/