Ever find a piece of gear is almost what you need but lacks a few small but significant details? Magda, NYMA & Faderfox's VERSUS is a handcrafted high-quality DJ controller you should explore.
There is no shortage of consumer/prosumer grade hardware on the market. Yet some artists hold an opinion that mass manufactured controllers tend to lack the overall 'feel' of a quality instrument, have poor ergonomic design and/or are too generic to be proficient at fulfilling a unique and diverse set of needs. If you find that you share similar sentiments, come with me on a journey to the world of custom built high-end controllers!
Limitations Lead to Innovation
Looking for a tool to better meet their needs, performers Magda and NYMA (Nima Chatrsimab), together with Faderfox and Glanzmann DDS, recently developed a handmade, highly tactile, customized DJ/Live controller.
Designed to maximize creative potential, the VERSUS' features include: a uniquely laid-out '˜V Section' that allows for quick and easy track selection, 32 fader commands, flexible and easy MIDI integration and an endurance-built, sturdy aluminum design. As stated on the VERSUS website, 'The main focus from the beginning was to build a high-quality controller with a practical layout and a clear design that has enough functionality to go deeper if needed.'
After spending an afternoon with NYMA in his Berlin based studio, I began to better understand the philosophy behind its creation as he elaborated on the details and we put it into action.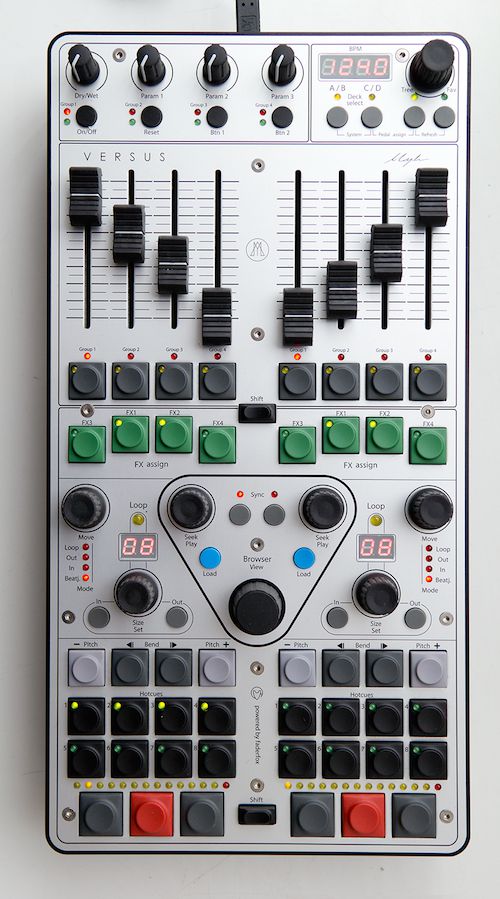 DJ Controller
First and foremost, it's immediately obvious from the layout that the VERSUS controller was designed by DJs for DJs. Housed in a beautiful aluminum Swiss aircraft industry (Avional) customized case, the controller is roughly proportional to a standard DJ mixer. The controls are well laid out, not cramped, and easily accessible with two shift buttons (one upper, one lower) for one-handed operation. No need to put down that drink!
The '˜Fader Section' is comprised of eight high-quality ALPS 60mm faders and eight push buttons. Used in conjunction with the shift function and group buttons, a single VERSUS unit allows for 32 different fader assignments while the 4 potentiometer knobs allow for 16 different commands in total. Need more? No problem. The VERSUS controller is specifically designed to link up to a second unit through a DIN Link cable for additional hardware controls.
All of the buttons, knobs and sliders feel sturdy, smooth and agreeable to the touch'¦ a very important consideration for those needing a durable piece of equipment that can endure the asperity of playing out, traveling and touring.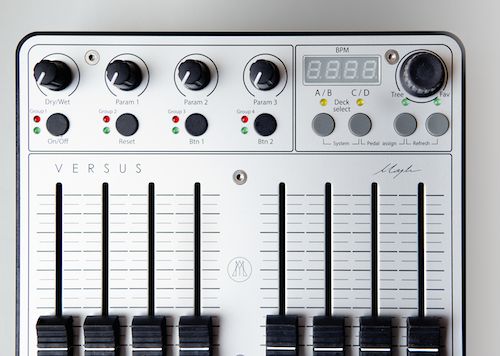 On the software side, VERSUS is optimized for Native Instruments, Traktor PRO 2 version 2.5.0 or higher. The template can be downloaded directly from the VERSUS website and is compatible on both Mac and Windows.
Although it's packed with a plethora of well thought-out features, some of the most noteworthy are :
LED chains show the current play position. A red light at the end indicates the end of a song.

A 'V Section' that allows for loading tracks, changing/toggling views, navigating playlists, and managing loops and effects.

Dedicated buttons for FX assignments.

Multiple modes for loop section with a readout display for each deck. Designed to allow users to set loop points intuitively without needing to address their computer screen.

A '˜Master Section' with master clock and a '˜System Mode' that allows for manual MIDI assignment configuration of each of the hardware controls.'¨

Push-buttons that handle pitch and bend of BPM time.

'˜Hotcue Section' with access to 8 cue points per deck with colored LED feedback.

Remix Deck Mode (works only for Deck D in the current setup V01).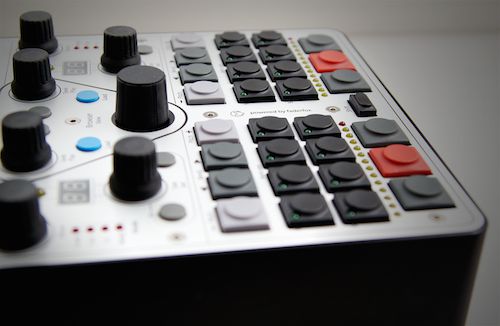 Live Performance
Being less of a DJ and more of a live performer, I was drawn to checking out how efficient the VERSUS was when used with Ableton Live.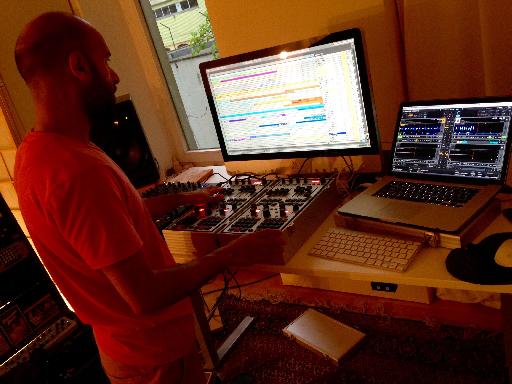 Unlike most major commercially available controllers, there are no MIDI remote scripts, dedicated control surface mappings, or templates available at this time. Instead, configuration is done through manual MIDI mapping. This is not a limitation in my opinion as I prefer to customize my control layouts. I've found it helps keep the setup more manageable and predictable. However, for those of you that prefer automatic mapping configurations, NYMA has revealed that scripting and templates are being considered as something that may manifest in the not so distant future. It's always nice to have options!
I found the VERSUS extremely responsive and smooth when controlling software parameters. This can sometimes be a bit problematic when using less quality controllers as the values can get jerky and difficult to manipulate steadily and precisely at finer resolutions.
Although clip launch can be assigned to VERSUS buttons, I find it preferable to have another dedicated unit, such as a launchpad, to update clip position and provide greater visual feedback. Instead, I envision performers using the buttons for device control, triggering real time effects, etc.
MIDI Outputs and Advanced Setups
VERSUS has two MIDI Out ports as well as USB. These connections are extremely useful and can be used to control multiple decks, outboard MIDI gear (such as hardware effects) or multiple software applications.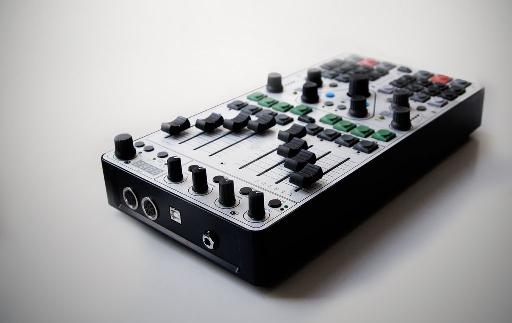 At this time, the MIDI ports send data independently rather than mirror the USB MIDI output. However, brainstorming with NYMA during our session, we discussed the value of adding mirrored MIDI for artists wishing to run redundant backup systems. Proof in the point that they are open to user feedback and exploring new possibilities, they have since informed me that they are working to implement extended MIDI functionality in a firmware update slotted for the end of June.
There will be three different modes in total:
USB & MIDI Out will be mirrored = everything that goes out on the USB bus will be exactly the same on the MIDI Out port -> Great for Back Up systems.

USB & MIDI Out mixed = everything will be mirrored on the MIDI Out port except the parameters you have programmed separately in System Mode.

USB & MIDI Out have their own bus, and work separately (VERSUS current configuration). As soon as you program something in system mode, it will automatically detach it from the USB bus. This option provides two different MIDI buses and nothing will be mirrored thus removing any interference that might occur between mappings.

Pricing
Like any fine commodity, a luxury car, a hand tailored suit, or a custom guitar, the price tag reflects the quality that goes into each individual component that makes up the whole. A single VERSUS unit runs 1,500€ (excl. MwSt / VAT), which is a bit of an investment. However, as indicated on their website, this is not a piece of gear meant to be mass manufactured. Their idea has been to build a high-quality controller for their own use without cutting any corners.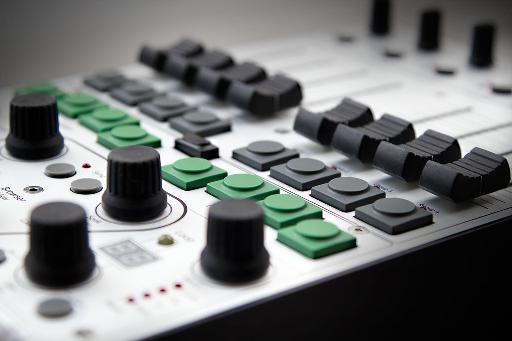 Download the manual for more details:
http://www.versus-control.com/wp-content/uploads/2015/03/Versus_Usermanual.pdf
Full specs:
4 Potentiometer FX

8 Fader FX

8 Push Encoder Browser, Tree & Favorite, Seek & Play, Loop Size, Loop Move

64 Push buttons with double-functions (shift button)

92 LEDs different colors to display various informations

Rubber knobs for best tactile feeling

3 Displays Master Clock, Loop Size

1 Jack input for expression pedals

1 DIN Input / Output Midi and Power supply (link)

1 DIN Output Midi

268 Midi commands

USB bus powering power supply via USB, consumption less than 200mA

USB interface class compliant, no driver necessary

Price: 1,500€ (excl. MwSt / VAT)
Pros: Beautifully handcrafted high-quality build. Well-thought-out ergonomic design. Unique layout.
Cons: Price point not for the timid'¦ steep compared to mass manufactured alternatives.
Website: http://www.versus-control.com/