The Yamaha new HS series of studio monitors are here and Matt Loel T Hepworth gives them a good listening to and reveals how they stack up against a host of other available monitors.
I have a confession: I've been having an affair for 30 years... with near-field studio monitors. Next to microphones, monitors are my favorite topic of conversation. So when asked to review the new Yamaha HS7 studio monitors, I jumped at the chance. What could be better than listening to music for a few days? It will be easy, right? Well, as it turned out, the task was more comprehensive than I thought.

The Birth of my Near-field Lust
When I was a young aspiring audio engineer, I paid a visit to a now defunct local studio that had been featured on the cover of a popular magazine. In the control room, the engineer had a pair of huge UREI studio monitors. But sitting nonchalantly on his mixing desk were a little pair of box speakers with white woofers. I chuckled and asked him, 'What do you use those for?' His answer was, 'Those are what I mix on, whereas the big speakers are what I let prospective clients listen to.' That really made an impact on me. I would later learn that those little speakers were the legendary Yamaha NS10M, which are still regarded as one of the most honest and revealing studio monitors ever made.
However, the NS10M were NOT great sounding speakers. When a layperson listens to them, they usually comment on how boxy and unspectacular they sound. But the NS10M helped establish an important concept for audio engineering: If you could make your mix sound good on the NS10M, it will sound good on every speaker. The principle is simple; a small pair of monitors placed near your head and arranged in an equilateral triangle provide a revealing mixing configuration, with the acoustic environment having minimal impact on the sound of the speakers.
It's a Nice Day for a... White Woofer
The HS series of studio monitors are white-woofered, direct descendants of the NS10M, and previous models like the HS50M and HS80M have been very popular in home studios. (After all, HS stands for home studio.) But I felt the HS80M (8-inch woofer) sounded a little wooly and was perhaps a little too big for near-field monitoring, whereas the HS50M (5-inch woofer) required the HS10W subwoofer to provide accurate full-spectrum monitoring. With the newly released HS speakers, Yamaha now offers models with 5-, 6.5-, and 8-inch woofers (HS5, HS7, and HS8, respectively), along with the HS8S, which is a powered 8-inch subwoofer. I really wanted to test the HS7 because the 6.5-inch woofer matched up nicely against the other monitors in my stable.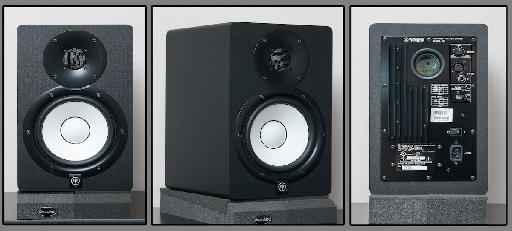 The Yamaha HS7 studio monitor: Front, Side quarter, and Rear, and mounted on Auralex MoPADs.
When I unboxed the monitors, I was struck by their solid construction and good looks. The HS7 has a 6.5-inch woofer and a 1-inch dome tweeter, the latter of which is covered by a protective metal mesh screen. It is internally bi-amplified with 60 watts for the woofer and 35 watts for the tweeter, with the crossover frequency fixed at 2 kHz. The cabinets have smoothly-rounded sides and are coated with a lightly-textured, scratch-resistant finish. When the HS7 is powered-up, the front-mounted Yamaha insignia glows with a soft white light. The bass ports are located on the back of the HS7, so it's important to follow the instructions and mount the speakers a minimum of 1.5 meters from the back and side walls. However, if you must mount the speakers closer than 1.5 meters from the back wall, use the Room Control switch to minimize the inevitable increase in low frequencies.
Yamaha has thoughtfully offered a multitude of connection and customization options. The inputs are XLR, TS, and TRS, with a multi-detent level control knob. The Room Control switch allows you to cut -0, -2, or -4 dB from 500 Hz and below, whereas the High Trim allows you to cut or boost +2, 0, and -2 dB from 2 kHz and above.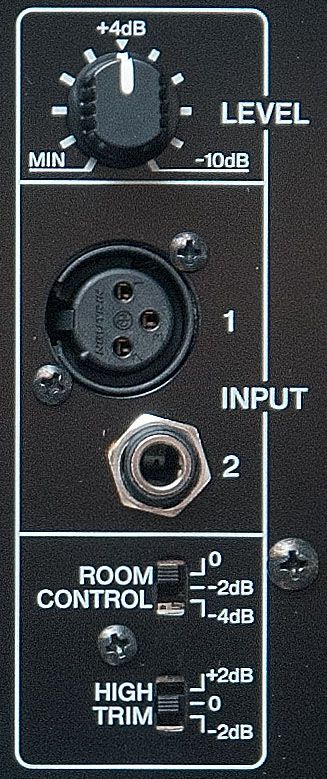 The rear control panel.
Note: The XLR and 1/4-inch connections are labeled Input 1 and 2. However, they cannot be used simultaneously, so never make more than one input connection.
Listening to the HS7
For my listening tests, I assembled a handful of my favorite recordings, as well as some recent mixes and masters from my clients. The sound character of the HS7 was immediately recognizable, in that it sounded very similar to the NS10M, but with a much more refined and thorough low end. (The NS10M had very little low end below 125 Hz, requiring you to either guess or use your knowledge of the NS10M sound to guide your decisions regarding bass frequencies.) Even without the benefit of a subwoofer, the HS7 low end was detailed, smooth, and accurate. The all-important low midrange was truly revealing, exposing vocals, guitars, and the punch of drums with ease. The high frequencies did not sound as detailed as some of my more expensive monitors, but I was still able to zero in on the little details. After listening to many different genres of music at an average of 85 dB for well over two hours, my ears still felt fresh and like I could listen to the HS7 all day without risk of ear fatigue. Yamaha obviously took their time and designed a speaker worthy to the pedigree established by previous models, including the NS10M.
Listening to the Competition
The shootout between the HS7 and my other monitors was supposed to be the easiest part of this review. I mean, my cheaper speakers would sound worse, and my higher-priced speakers would sound better, right? Well, that's not the way it worked out. I'll explain why in a moment. But for now, let's meet the competition.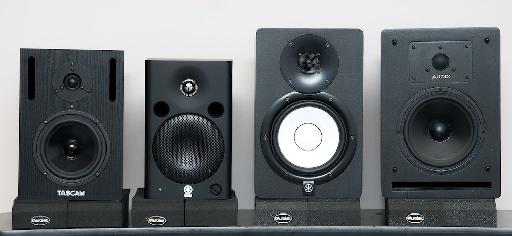 From left to right: Tascam VL-X5, Yamaha MSP5, Yamaha HS7, and Audix Studio 1A.
All of these monitors are internally powered and bi-amplified, except for the venerable Audix Studio 1A. The Tascam VL-X5 and Yamaha MSP5 have 5-inch woofers, whereas the HS7 and Studio 1A have 6.5-inch woofers. To make accurate comparisons, I compared only two pairs of monitors at a time. I mounted the speakers in a horizontal configuration and used Auralex MoPADs to minimize the possibility of the inactive speakers becoming passive radiators.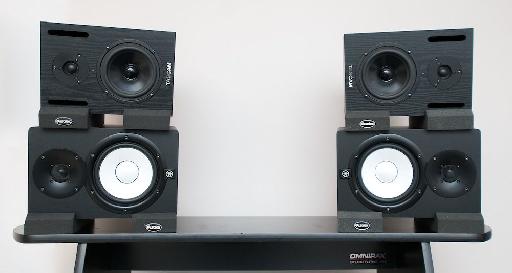 A-B testing configuration, showing Tascam VL-X5 (top) and Yamaha HS7 (bottom), separated by Auralex MoPADs.
All connections were made with balanced Monster Cable Studio Interconnect cables for consistency. I used the Decibel Meter Pro 2 app from Performance Audio on an iPhone to keep the volumes at an average of 85 dB. With that in mind, how did the HS7 measure up?
HS7 ($299.00 street*) vs. Tascam VL-X5 ($149.00 street*, discontinued)
I bought the VL-X5 monitors because they have a somewhat ragged high end. Women tend to be more sensitive to high frequencies, so I like to use the VL-X5 with female clients to make sure I never get too generous with the high end. But when compared to the HS7, the VL-X5 sounded almost shrill. That's probably due in part to the more subtle high frequency response of the HS7, but it was striking to hear the difference. The VL-X5 also don't have as firm and accurate a low end, which you'd expect with a smaller woofer.
But it wasn't until I listened to 'All Blues' from Miles Davis' Kind of Blue that I realized where the HS7 shines: The alto sax sounded exactly like an alto sax, whereas it was harder to discern from the muted trumpet on the Tascam. The HS7 simply sounded more natural.
HS7 ($299.00 street*) vs. Yamaha MSP5 ($274.99 street*)
I love my MSP5s. They have a very sophisticated top end and a surprisingly rich low end for such a small cabinet. However, as with most 5-inch monitors, I'll use a subwoofer when I'm mixing or mastering full-spectrum audio projects. I'm very familiar with how they sound, so I was quite sure I'd like my MSP5 better than the HS7.
But to my surprise, the HS7 were more revealing in the low-midrange. I was shocked at how natural the HS7 sounded compared to every speaker, including the MSP series. In fact, I was so surprised that I compared them to the larger MSP7. I even grabbed my 26-year-old daughter and had her offer an opinion. We both came to the same conclusion: The HS7 had the most natural and overall even sound.
But then we listened to 'The Way You Make Me Feel' from Michael Jackson's Bad album. Both MSP speakers were able to pick out the sparse offbeat tambourine samples Quincy Jones had added to the intro and verses, whereas I had to hunt for them a bit with the HS7. The MSP series just has a more revealing top end. But with a street price* of $399.00, which is $100.00 more than each HS7, you'd expect a more subtle nuances. That's when I realized that the HS7 did not sound better than the MSP7, rather they both sounded great for different reasons.
With that in mind, have a look at the frequency response charts below: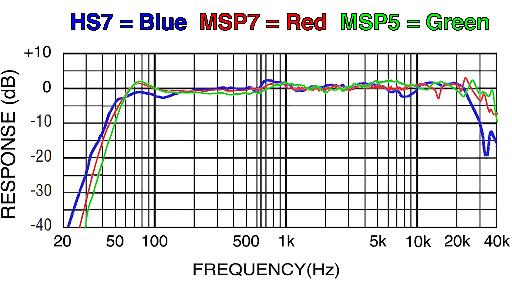 Frequency response chart, HS7, MSP7, & MSP5.
The HS7 certainly has more low-mids from 125 Hz to 1 kHz, but you'll notice a dip between 6 and 10 kHz. The MSP speakers are more sensitive in that high frequency range. Like all near-field monitors, the low end tends to roll off pretty dramatically from 75 Hz and below, which is why I'd recommend a subwoofer for a 2.1 full-spectrum configuration.
HS7 ($299.00 street*) vs. Audix Studio 1A ($239.00 street*, non-powered, discontinued)
The Audix allowed me to test the HS7 against a non-powered monitor. Out of all the speakers I tested, the Audix sounded closer to the HS7. But they also exposed the advantages of a modern self-powered monitor. Since the HS7 has amplifiers and active crossovers matched to the speakers to which they're attached, the HS7 simply has a more consistent and even response. The Audix did sound a bit more hyped, which was indicative of other monitors of the same mid-90s vintage (like the Alesis Monitor One and Event 20/20.) While I enjoy my Audix monitors, I have to admit that I prefer the sound of the HS7.
Conclusions
With the new HS series, Yamaha certainly has winners on their hands. And I really appreciate that they've listened to their customers and offered a 6.5-inch configuration for those of us who don't have large control rooms where an 8-inch speaker might be more appropriate. The HS7 simply sounds the way a studio monitor should sound, revealing, honest, and accurate, without the hype that leads to dodgy mixes.
If you're mixing electronic music, the natural characteristics of the HS7 might not be immediately beneficial. However, if you're mixing music with vocals and non-sampled instrumentation, the HS7 will provide you with the clarity and character requisite for consistent results on any and every headphones, earbuds, and speaker system.
Pros: Natural sound, classic reference monitor characteristics, consistency, price, and build quality.

Cons: Subtle high end, rear ports require thoughtful placement against back walls, and Yamaha wants me to send them back... and I'd much rather keep them!

*Price is per-speaker, not per-pair.
Web: http://usa.yamaha.com/products/music-production/speakers/hs_series/hs7