Join Steve H as he meets the team behind the Sensel Morph, and witness this unique controller in action triggering Buchla synths and other instruments.
Sensel Morph is a unique, touch sensitive input device device with way more up its sleeve than you might have thought. In this video from the NAMM show 2019, Ask.Audio publisher and synth expert Steve H joins the team behind the controller to see just what it can do - and even manages to get it hooked up to one of his favourite synths - the Buchla.
Sensel Morph Buchla Thunder Overlay
When it comes to expressive and unique instrument design, Buchla is a towering legend. 30 years ago, with the release of the Thunder, Buchla introduced a musical playing interface inspired by Native American art and the natural playing positions of the human hands and fingers.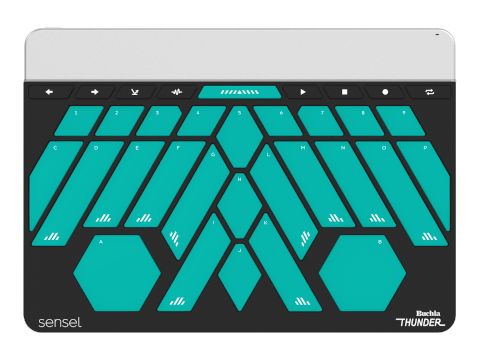 "We're thrilled to partner with Buchla to bring the Thunder to the Morph, for a modern update that combines the genius of Don Buchla's ergonomic designs with the unparalleled force sensitivity of the Morph.
The Buchla Thunder Overlay is uniquely well-suited to a variety of instruments - from synthesizers with rich and evolving timbres to acoustic samples that benefit from a more "human" touch to hardware synthesizers like the legendary Buchla Easel. All of these and more will be on display at the Sensel booth during NAMM!"
Features
Unmatched pressure sensitivity
Per-note pressure, pitch bend, and timbre (MPE)
Bluetooth or USB connection
Make beats, melodies, and mixes
Control your DAW
A truly portable design
More than music - video, illustration, typing, and inventing