Skwitch Is a Clever, Compact, Wireless, One Button MPE & MIDI Music Controller
Skwitch is a curious and versatile MIDI controller with MPE, mappable modulation, a real-time step sequencing and pressure-sensitive arpeggiator designed for your iPhone.
Hailing from the great Scottish city of enlightenment, famed for its arts, culture, thriving tech community and its long history of invention (think telephone, penicillin, dolly the sheep, x-rays, the toaster and digestive biscuits), Skoogmusic is back with a brand new innovation that makes music-making easier than ever before.
In 2015, Leith (Edinburgh)-based Skoogmusic ran a successful funding campaign on Indiegogo to completely redesign their original tactile music interface, Skoog. Skoog 2.0 was delivered to backers within a few months of the campaign close, and has been shipping worldwide with Apple ever since.
Skwitch is a clever one-button music making gadget and app. It clips straight on to your iPhone and uses the onboard sensors to create a super low-cost musical instrument so simple that you already know how to play it. Just press the button to play notes. It's that easy.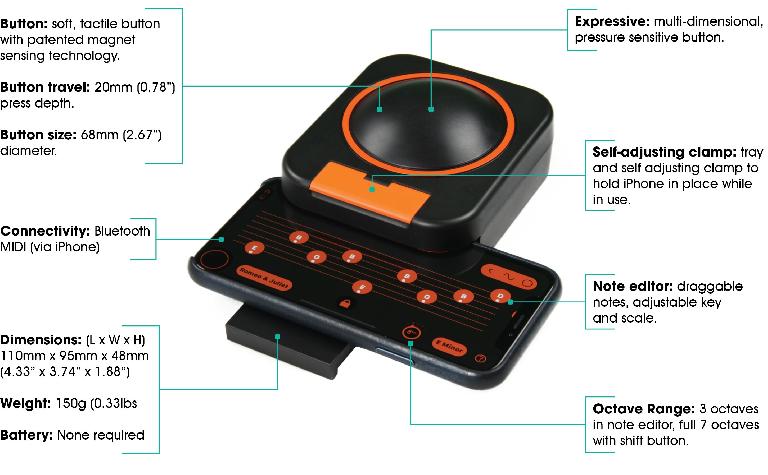 Skwitch is the only accessory designed specifically to transform your iPhone into a fully expressive, tactile musical instrument. It works like magic (but actually it's science), with no electronics and no battery- take Skwitch anywhere - just drop it in your bag and you are good to go.
Fun and easy to get started, you don't need an in-depth understanding of theory or technique. The perfect holiday gift, Skwitch is great for all those budding musicians out there who wish they could play an instrument - now they can. With Skwitch you can just dive right in.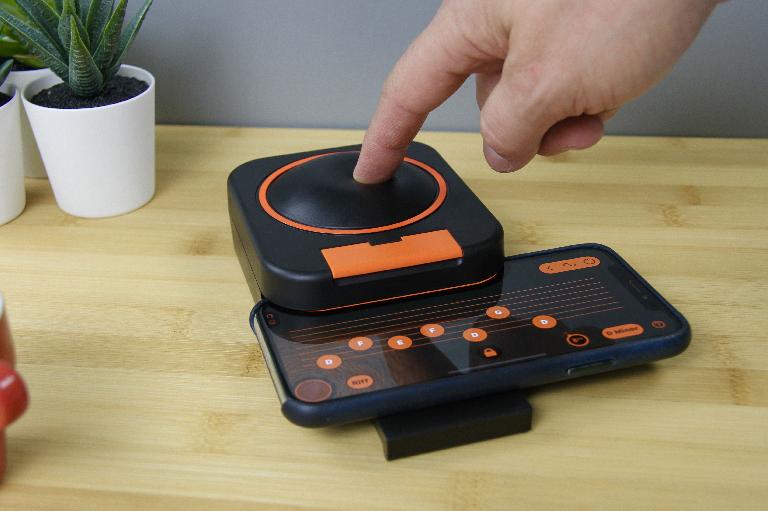 Packed with pro features, Skwitch is suitable for experienced musicians and technologists too. It's a versatile MIDI controller with MPE, mappable modulation, real-time step sequencing and pressure-sensitive arpeggiator that is arguably the most compact and inexpensive way to add wireless hardware control to your music making setup.
Skwitch is ready to ship, the app is already available to try out on the App Store, but Skoogmusic are looking for help with the finishing touches. Throughout the campaign they're running the "SkwitchLab takeover", where backers take control of their development team to decide what app features to work on next.
With great discounts and guaranteed shipping, Skwitch is the perfect holiday gift.