Sleight Of Hand Is A Unique & Useful 3-Channel CV Footswitch For Modular & Semi-Modular Synths
Imagine being able to to quickly and effortlessly switch CV sources on your modular synthesizers with a flick of your foot. Sleight of Hand gives you that hands-free control in three affordable boxes.
AskAudio reader, Adam from Tricks Magic Shop, has created a very cool CV footswitch for semi-modular / modular synthesizer setups called Sleight of Hand.
This 3-channel CV footswitch comes in three varieties depending on the synthesizers you're rocking: Buchla, Moog and Eurorack.
Here's what Adam tells us about Sleight of Hand and a video of it in action:
"The Sleight of Hand is a passive, three-channel, CV signal footswitch for modular/semi-modular synthesizers. Upon the click of the footswitch, up to three CV source signals switch simultaneously between their respective A and B inputs to their correlating outputs. This hands-free tool was conceived out of a basic desire to switch CV modulation sources to an oscillator over the course of a performance while both hands were occupied playing their parts – but clearly, its uses are many beyond that. Alternatively, the functionality, per channel, can be reversed to switch a single CV signal to either its respective A and B outputs.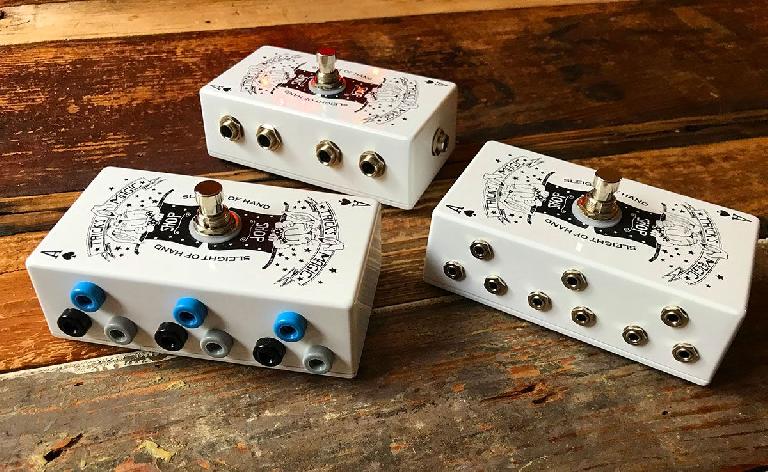 Sleight of Hand is available in Buchla, Eurorack, and Moog formats.
Price: $75 - $87 depending on model