SoundMachines Arches: Impressive Next Generation Synth & Modular Controller Available To Pre-Order
We've heard it all before: a futuristic, next-generation music controller... But SoundMachines' tactile Arches controller has the design and functionality to actually deliver on this promise.
There have been some notable new hardware controller and interface additions to the market recently. If we briefly skip over the original ROLI Seaboard, the ROLI Lightpad Blocks are very interesting as is the modular Joué multi-purpose controller and instrument.
Now SoundMachines, responsible for some of the cooler modular synthesizer systems and tactile controllers out there, have unleashed Arches. We actually saw an early prototype at Superbooth 2017, a year ago. To call it a "universal tactile interface" perhaps doesn't do it justice. It's hard to know exactly what name could impress upon you just how unique it is and why this could completely change the way you sequence, play and program your synths, modular gear and other electronic music instruments.
SoundMachines Arches wouldn't look out of place on the Starship Enterprise. Its design is more than a nod to a future time for exploring other space systems. In fact, Arches, or (arches) as Soundmachines prefer to write it, is inspired by Buchla controllers and is designed to help us explore and push new territories and boundaries of sound. A lofty claim, perhaps? Well, the videos below will show exactly what is possible and it's a little bit mind-blowing.
Could (arches) be your next music instrument controller?
Arches is now on Kickstarter and available from €750 EUR. So, let's dig deeper and see what Arches is all about and capable of...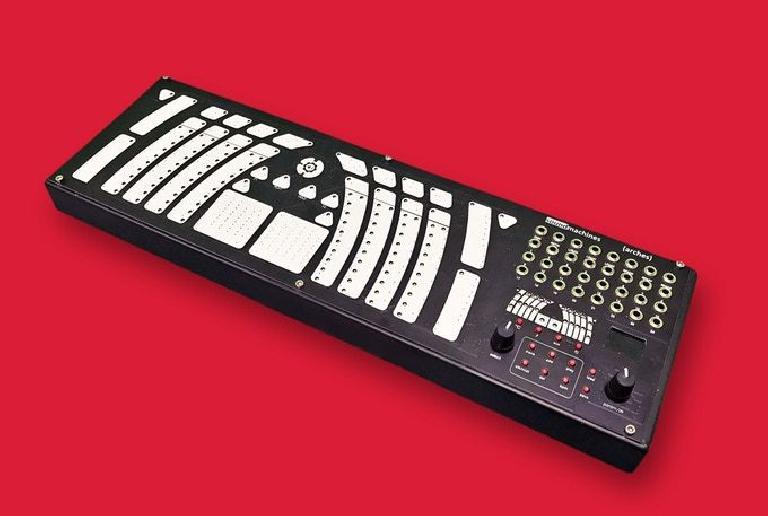 "Blending inspiration, power and ease of use, we created the perfect evolution of the concept of tactile controller. Built on the foundation of our first class touch interfaces (LS1lightstrip and LP1lightplane), found today on thousands of eurorack systems around the world, we designed a beautiful work of art and technology."
"(arches) put a never seen before set of controllers at your fingertips. Sliders, lightstrips (with rec/loop capabilities), lightplanes/thumbpads with z-axis sensitivity and a row of pressure sensitive buttons. Behind those state of the art touch controllers lies a high-speed microcontroller that joins the elements to create keyboards, sequencers, arpeggiators and, finally, your perfect performance setup."
Here's Arches controlling a modulör114 vcos and filter...
A complex demo using the arches as the centerpiece of an improvisation. Left part is used as a position sensitive keyboard that drives one of the Modulor114 oscillators and the cutoff of the other oscillator (driven by a TuringMachine and the internal M114 quantizer). The second lightstrip opens the drum VCA, the third drives the bitcrusher that shreds a rhythmic pattern generated with a filter. The last lightstrip is used as a quantized controller that controls an SD1simpledrum in synth mode with a string patch bathed in the SD1 internal reverb....
Two keyboards drive two voices of the Modulör114. Left keyboard (KB3) drives the first VCO and sets the pwm with the slider position. Left thumbpad drives the VCF of the second VCO that is driven by the upper buttons keyboard (KB1):
(arches) is a powerful user interface capable of interacting with many instruments and systems thanks to its 30+ CV/GATE outputs and full MIDI connectivity (DIN, USB and wireless MIDI over BLE):
Pressure sensitive buttons: Each of those buttons can be configured to ourput GATE and CV signals or to be a part of an 8 buttons keyboard. Each buttons will output a pitch information and an overall 'pressure' information will be available to a separate CV out or midi #CC.
Sliders and Lightstrips: 12 slider-type elements can be configured either as indiviual elements (with configurable range, midi channel, quantization and CV standard) or grouped together in one of the many keyboard configurations (see below). You can assign each element to a couple of I/O jacks (CV and GATE)
Thumbpads/Lightplanes: Just under your thumbs lies a couple of sensitive three-dimensional surfaces (X-Y-Z) that are available as standard outputs all the time. They can also generate gate informatino.
Virtual Keyboards:
(arches) can create up to three concurrent independent keyboards, each one with its own set of outputs and its own arpeggiator. For each of the keyboards you can define the standard (eurorack, buchla, v/hz), the note associated with every 'element' and the MIDI channel. With this powerful modularity you can control up to three voices for melodic and rhythmic stuff, having the free lightplanes as a mean of modulating other parameters of your setup/patch. On top of this you have the layered functionalities that can run in parallel (one 8 step sequencer and one 8step, 5 track drum sequencer).
Check out Arches on Kickstarter for more info!
Arches can be pre-ordered from €750 EUR with delivery estimated as July 2018 shipping anywhere in the world. The overall Kickstarter goal is €30,000 which we expect and hope will be met fairly quickly.
Pre-Order Price: €750 EUR
Shipping: July 2018