This multi-talented MIDI controller looks like nothing else we saw at Soundmit. But just what can it do? Find out in this short hands-on video demo.
enJOY is a controller that combines analog CV world with digital MIDI world. The front panel is dominated by the joystick lever, while the rear panel contains three input jacks (two for expression type pedals, one for sustain type pedals), three output stereo jacks (6 analog cv) and one usb type B socket. We caught up with its developer at Soundmit 2019 and you can see it in action below.
"Enjoy is a USB class compliant MIDI device. You can use it with your USB-MIDI host like Sipario or a PC, without the need for any drivers. Once programmed you can use it as standalone and generate MIDI pitch and control change (expression, volume, filter cutoff, etc.) by moving the joystick or pedals.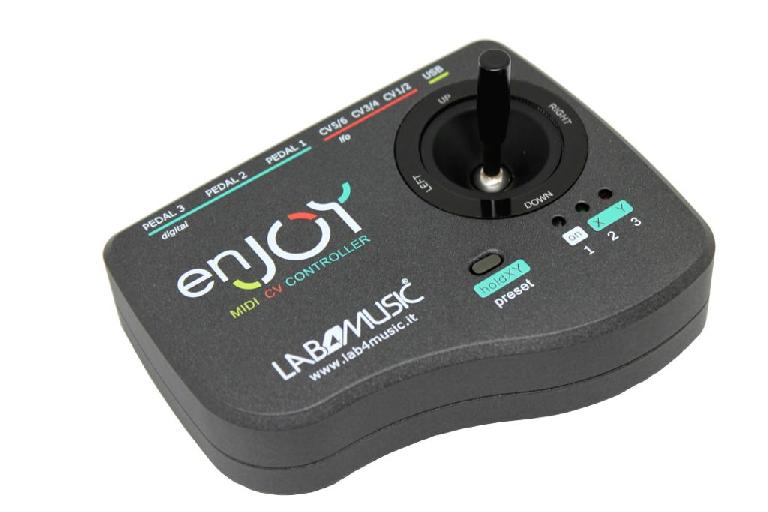 Four of six analog outputs can generate cv, gate, pitch and trigger, two outputs can also generate LFO. All CV's can be modulated by joystick, pedals or from MIDI messages like control changes coming from USB port. To program the device just connect by browser to www.lab4music.it on the program section and set the parameters. There are ten memory locations, selectable by the web application, with which to switch to various configurations. It is also possible, using the button, to scroll through the first three presets without using the browser."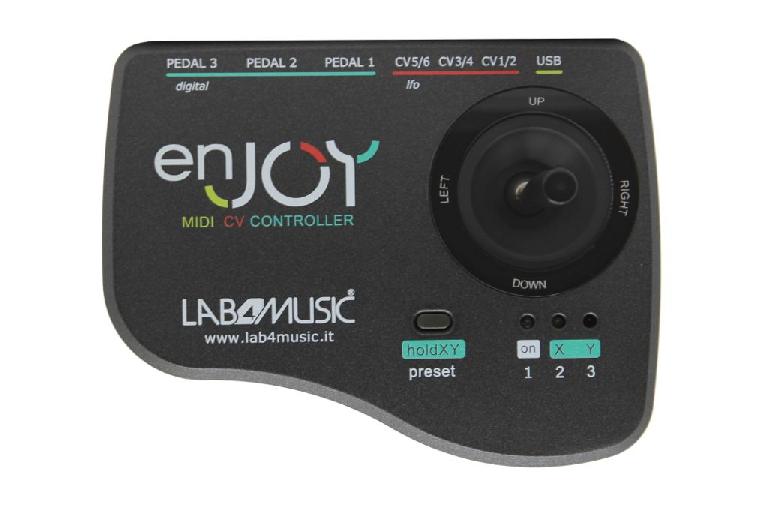 Features
MIDI-USB: control change generator according joystick and pedals movements. MIDI-CV: control change remapping incoming CC from USB external device to Control Voltage outputs (-4.5V +4.5V).
MIDI-CV: MIDI note messages conversion to PITCH, GATE and VELOCITY signals (0V +5V).
MIDI-CV: MIDI System Real-Time messages conversion to TRIGGER signals (0V +5V).
CV: Control Voltage generation modulated by joystick or pedals (-4.5V +4.5V).
CV-LFO: sine, square, saw, tringle LFO generation, with AMP and FREQ modulated by joystick or pedals (-4.5V +4.5V, max 100Hz).