You might think the Pyramid Polyrhythmic Sequencer, advanced 64-track desktop design with MIDI, MIDI USB, CV/Gate, and DIN Sync connectivity has it all. This update brings 30 additions to the table.
PARIS, FRANCE: following five months of beta testing, avant-garde musical machines developer Squarp Instruments is proud to announce availability of pyraOS 3.0 — a free, major update of the radical realtime processing system firmware for its innovative Pyramid Polyrhythmic Sequencer, an advanced 64-track desktop design with MIDI, MIDI USB, CV/Gate, and (Sync48- and Sync24-configurable) DIN Sync connectivity, creatively adding all the most requested features from its supportive user base alongside innovative ideas from its design team to total over 30 additions.
A polyrhythm is defined as a rhythm which makes use of two or more rhythms simultaneously, so Squarp Instruments' Pyramid Polyrhythmic Sequencer certainly takes some beating as an advanced 64-track desktop design with MIDI, MIDI USB, CV/Gate, and (Sync48- and Sync24-configurable) DIN Sync connectivity ('re-released' last year as a more robust MKII version, thanks to the machined aluminium housing and a sturdy screen protecting its graphical display); different and unusual time signatures can creatively be set to work on each of those tracks to shape shifted-beat sequences, sowing the seeds for freshly-flavoured musical productions.
Perfectly designed from the ground up as a modern, easy-to-use and versatile hardware sequencer, the Pyramid Polyrhythmic Sequencer deftly delivers a radical workflow and almost unlimited possibilities - powerful sequencing, looping, rhythm generation, real-time effect processing, MIDI control and input/output interfacing to name but a few. Put it this way: Pyramid Polyrhythmic Sequencer is perfectly positioned to take centre stage in any musical setup — from studio to stage.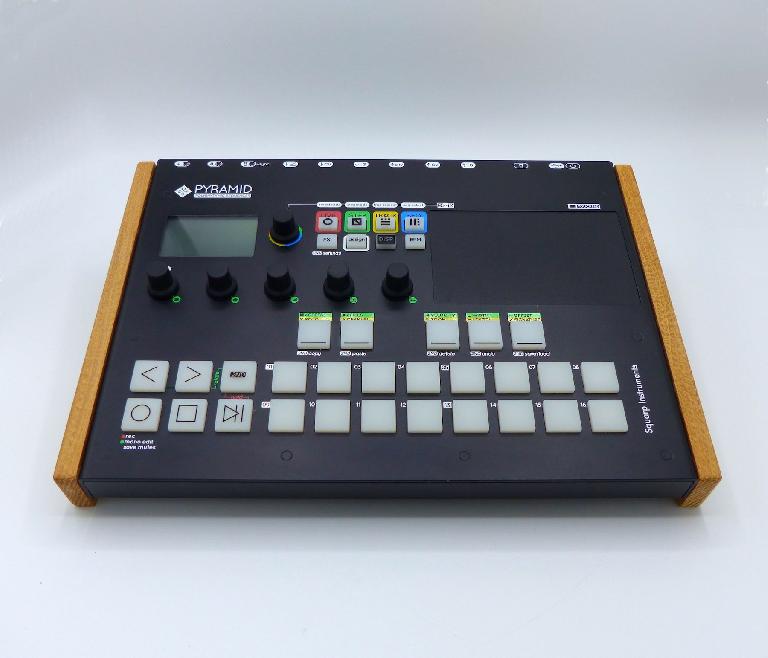 Squarp Instruments' ever-evolving pyraOS radical realtime processing system firmware for its Pyramid Polyrhythmic Sequencer is the brains behind unleashing so much musical creativity. Control any parameter such as track length, MIDI channel, quantisation grid, swing percentage, and arpeggiator rate — on the fly and listen to the changes. Seventeen updates have been released so far — and all for free - of which pyraOS 3.0 is the latest and greatest.
New Features
New CUSTOM CHORD smart pads mode (lets users create and save their own chords); five EFFECTS per track (up from four previously); SEND CLOCK WHILE LOADING A PROJECT (keeps slaved MIDI instruments synchronised — even when the Pyramid Polyrhythmic Sequencer is loading a new project); DEFINITION FILES (lets users create custom text labels for connected synthesizers' CC MESSAGES and NOTES, so the Pyramid Polyrhythmic Sequencer will display more meaningful text like FILTER instead of CC33 or KICK instead of C4, for example); 15 new ARPEGGIATOR styles; POLYMETRIC LOOPER (creates polymetric patterns on the fly by using or combining two or more meters, rhythms, or time signatures); DUPLICATE (duplicates or divides the track); CONSOLIDATE (writes the NOTES and CC MESSAGES computed by the effects); new SEQ mode display (includes all new sequence features); possibility to ASSIGN the touchpad, five encoders, and analogue inputs per track; EFFECT MASTER (assigns and sets FX parameters of all tracks with a single control — such as SCALE, for example); and ANALOG SYNC (synchronises and slaves the Pyramid Polyrhythmic Sequencer to an analogue clock).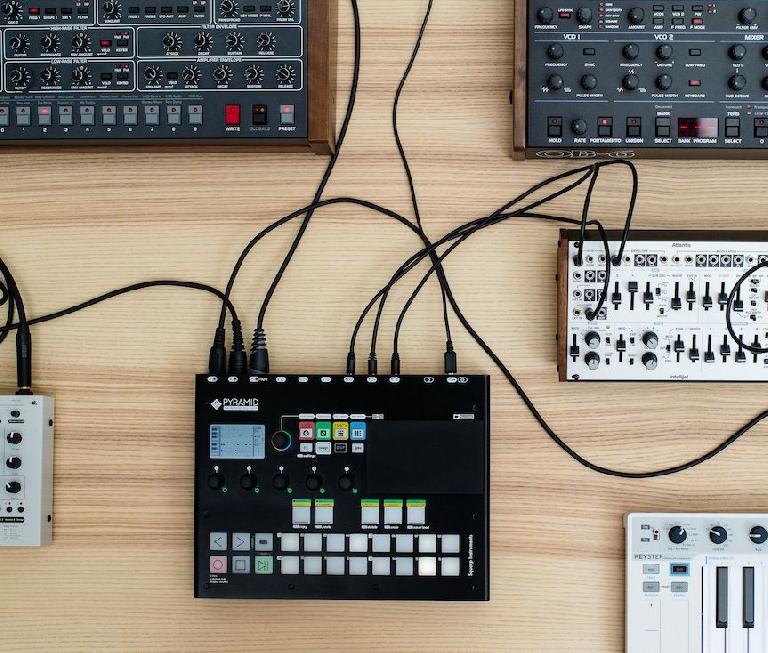 PyraOS 2.0-created projects are forward-compatible with pyraOS 3.0; indeed, its creators were careful not to change established workflow so as to make transitioning to their latest realtime processing system firmware upgrade easy and transparent for longterm users. Ultimately, then, the Pyramid Polyrhythmic Sequencer is the same as it ever was... an advanced, standalone sequencing solution full of creative tools to use as an instant source of inspiration with which to start, finish, and perform music — but it's better than ever before!
pyraOS 3.0 can be downloaded for free via the dedicated pyraOS product webpage (http://squarp.net/pyraos), where a full features list is also available.
The MKII version of the Pyramid Polyrhythmic Sequencer can be purchased for €619.00 EUR (excluding VAT) with free worldwide shipping through the dedicated online store (https://squarp.store/home/11-pyramid-sequencer.html) or via Squarp Instruments' growing global dealership network (http://squarp.net/dealers).