Squarp Instruments Updates Software & Pyramid 64-Track Hardware Sequencer
The team behind the Pyramid 64-track sequencer have released a new software OS 2.0 and introduced version 2 of the hardware sequencer with a new aluminium case.
We just got news from Squarp Instruments, the makers of Pyramid the 64-track step sequencer, that not only have they updated the sequencer OS to 2.0, but they've also released an updated version of the hardware too. Here's all the details.
Here is a short summary of the main new features in this version:
PATTERNS: Each track can now have 32 variations with different notes, FX automations, CC messages automations, Program Changes and track parameters.

MASTER TRANSPOSE: Any track (or group of tracks) can be transposed according to a master track.

TRACK NAMING: Each track can be named.

EUCLIDEAN CHORDS: The euclidean mode can learn played chords, each track can store its own chord.

STEP MUTES: Steps now can be quickly muted in STEP mode.

Display improvements, new settings, new effect parameters, bug fixes, ...
This update contains all the features that we originally intended to put in Pyramid when we came up with the idea five years ago. It is a major step in the development of Pyramid, especially regarding the patterns implementation.
We think that it is the final step for having the complete control on a set in a live jamming situation, and also to develop ideas in the studio, using Pyramid patterns as pages in a sketchbook. Now we reached what we wanted to create with Pyramid: an easy-to-use professional sequencer, full of creative tools, rock-solid from studio to live, with endless fun.
We will always take care of artists feedback, and we plan to work on some more minor updates. Pyramid will stay the most creative sequencer out there!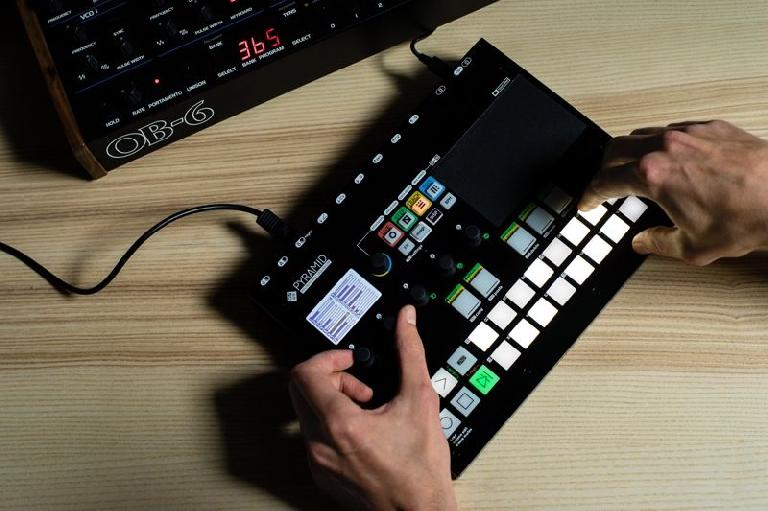 Pyramid is the perfect brain for your setup, from studio to live
Pyramid provides you with a radical new workflow and almost unlimited possibilities. Push, rotate, slide and draw to play the Pyramid sequencer. We focused our energy on designing a truly inspirational machine: it has never been so easy to start, finish and perform a song.
Full connectivity: midi in/out, midi usb in/out, cv gate in/out, din sync out, footswitch. With Pyramid's high precision clock, the sequencer becomes a great synchronisation tool for both vintage and recent devices.

Capture your inspiration in a flash: record your performance at any time with the built-in keyboard, the smartpads (generates chords, scales or repeats), the touchpad, the 5 encoders or an external controller... with true polyphony and high precision.

Create and arrange complex rhythms and polyphonic melodies with the advanced step sequencer, or edit your live recording.

Draw CC or effect automation with the touchpad. Create an infinite number of automation per track.

Use the euclidean pattern generator to create outstanding grooves.

Add up to 4 midi effects per track: quantizer, swing, scaler, delay, equalizer, probability, LFO, randomizer, humanizer, harmonizer, arpeggiator, ...

Play together short tracks (e.g. 1-bar) with very long tracks (e.g. 256-bar). Bring new flavors to your productions by using polyrhythms and polymeters.

Deeply play with your tracks to perform your live. Pyramid offers several ways to play with your sequences: mute/unmute your 64 tracks on the fly, launch sequences (group of tracks), or chain sequences to create a complete, structured song.

Flexible interface: Pyramid includes 5 assignable encoders and a wide touchpad.

Import and export standard midi files between Pyramid and your DAW.
You can use Pyramid in many ways. It can be your studio and/or live centerpiece, whether you're a studio musician making music from scratch, a live performer looking for a complete solution to manage your set, a keyboardist who wants a powerful tool to get the best out of your instrument... You can also use it as a rock-solid interface for your setup, to synchronize your instruments, to convert CV or midi to USB, to route and filter midi messages, ...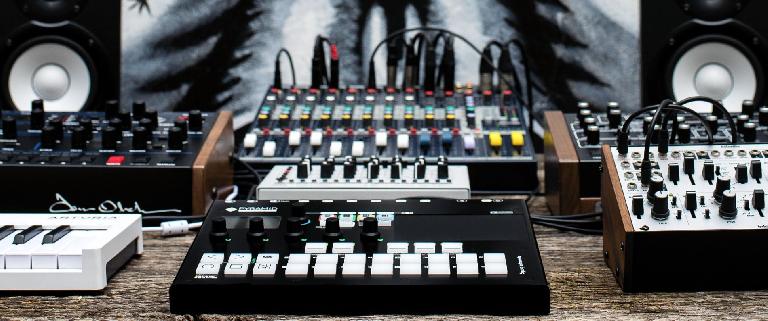 Pyramid MK2: New Aluminium Design
Pyramid now comes with a brand new machined aluminium housing, more robust than ever, with a beautiful mat painting. The form factor is the same, but we replaced the old plastic overlay with the new aluminium screen-printed front face, and we improved the touchpad integration in order to make it more playable. Moreover, the graphical display is now protected by a sturdy screen protector. There is no price increase for this new MK2 version.