Bringing together the best of form and function, Jens Paldam has created these sawtooth wooden panels for the Moog Mother 32 and other eurorack synth modules... and shows you how to build your own!
Almost a year to the day in 2016 Jens Paldam wowed us with a video and in-depth instructions on how to make your own eurorack cases from cardboard. The results were much more appealing aesthetically than it might sound.
Well Jens is back. This time he's created some awesome wooden panels ideal for the Moog Mother 32. These wooden side panels feature a sexy sawtooth design and Jens kindly shows you how to build your own sawtooth panels.
Jens Paldam contacted us directly before publishing the video above to explain the through process behind his creative concept:
"Wooden panels usually serve only one function, and that is to lend vintage class and credibility to your synthesizer, mixer, vibraphone et cetera, and maybe to be fair, they also protect the corners of your device from damage. But, I thought that it would be great to create some panels, that actually have a function. The function here being holding together modular cases. Both the ones of my own cardboard design or those of my cherished Moog Mother 32's.
"I should mention here, that if my designs share some traits with Moog's, it is because I have crafted my whole modular system, to match the style of the Moog Mother-32's. One of the reasons why I started building my own cases, was that I had bought the three Mother's, and I thought they looked so unbelievably cool, that I wanted my whole setup to be visually complementary. If that makes me a Moog design hacker, so be it.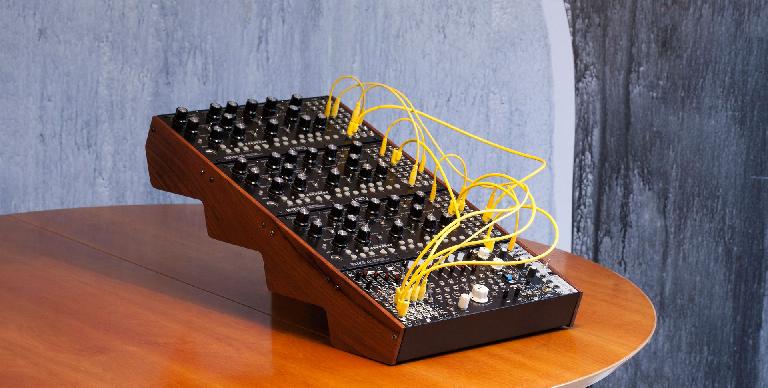 "I am a huge fan of the Moog, and I will never part with my Mothers (weird sentence I know) or the Moog Prodigy that shares my birth year. I actually did a bit of customizing on that too, I got rid of the brown veneer on the panels and sanded them down to the pine wood underneath.
So, why even join the cases together and not just build one big square box that could hold all the modules?
Well, I like to create small setups, detach a couple of 84hp cases from the system and bring them to a gig, or hook a case up to some home built instrument with contact microphones. To me, it defies the mobility of modular synthesizers to stick them all into a big case never to leave the studio."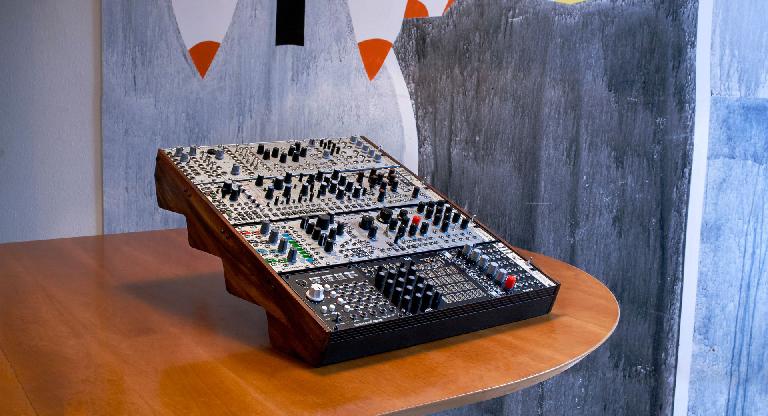 "What's next? Now I am taking a break from buying or building stuff and devote the cold half of the year to just playing my instrument and making tunes. In a year's time I hope to be back with something new."
Equipment used in the video
Moog Mother-32, Moog Prodigy, Doepfer A-180-2, Doepfer A-183-2, Doepfer A-183- 1, Doepfer A-185-2, Doepfer A-119, Doepfer A-160-2, Doepfer A-188-1 C, Erica Synths Pico VCO, Mutable Instruments Kinks, Xaoc Devices Batumi, Xaoc Devices Poti, 4MS Spectral Multiband Resonator, 4MS Pingable Envelope Generator, 4MS Quad Pingable LFO, 4MS Shuffling Clock Multiplier, 4MS Shuffling Clock Multiplier Expander, 4MS Rotating Clock Divider, 4MS Rotating Clock Divider Expander, Music Thing Modular Radio Music, Music Thing Modular Turing Machine, Music Thing Modular Pulses Expander, Make Noise Rosie, Make Noise Maths, Make Noise René, Make Noise LxD, Manhattan Analogue SVVCF, Intellijel Spock, Intellijel Rubicon, Intellijel Ustep II, Intellijel Dixie II+, Intellijel Buffered Multiple, Intellijel UVCA II, Intellijel Quadra, Befaco HEXA VCA, 2 hp Tune, 2 hp Mix, 2 hp LPF, Rob Hordijk Benjolin, Mannequins Three Sisters, Vermona qMI 2
[courses_slider]