1983 and Timber are a polyphonic MIDI to CV and a waveshaping module respectively. See them in action and find out more below.
Bastl Instruments is showing off two brand new modules at Superbooth 2018. The first is a MIDI / CV interface and the second a waveshaping module. Meet 1983 and Timber.
1983 MIDI To CV Module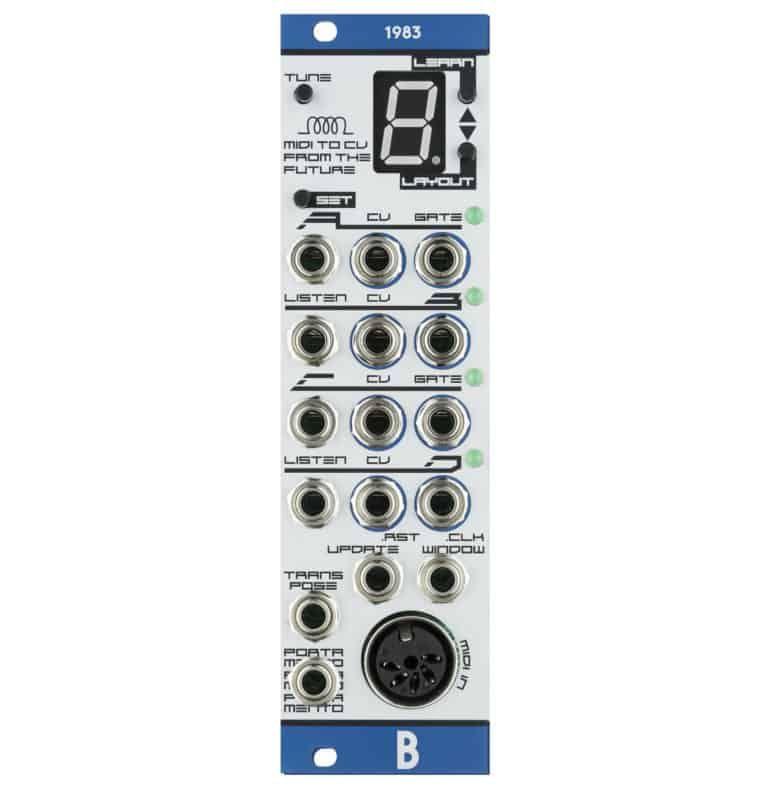 1983 is a polyphonic MIDI to CV interface with creative voice allocation and automatic tuning capabilities. There are 4 channels of CV and GATE outputs that can be used in various layouts such as hybrid splits between monophonic and polyphonic voices or velocity, CC, aftertouch, triggers, clock or reset.
Each channel is able to LISTEN to the simple waveforms of the oscillators and with a single press of the TUNE button, it adjusts the CV outputs to the same tuning (such as A = 440 Hz in equal temperament or others). It also maps the response for all 7 octaves so all the oscillators are perfectly in tune with each other (and with other instruments). PURE MAGIC!
When the UPDATE jack is used, it forces the outputs to update only when a trigger is detected.
1983 always stores the notes played in a legato sequence in a buffer and the WINDOW jack allows for selecting which of these notes appear at the outputs.
This way the MIDI keyboard can be used as an input interface for harmonies and note sets that are further creatively processed with triggers and CV in the modular environment.
The TRANSPOSE jack shifts the outputs by semitones, fifths or octaves and the PORTAMENTO jack sets the glide time by CV.
Features
4 channels of CV and GATE
LISTEN input per channel for automatic tuning
automatic tuning by a single button press (offset & scaling correction)
several tuning systems (equal temperament, just intonation, A = 440/432 Hz etc.)
LAYOUT selection (4 voice, 3+1 voice, 2 velocity voice, 4×1 voice, 8 triggers, 8 CCs, 4 triggers + velocity)
each layout can map outputs of channel D to MIDI Clock (adjustable divider) and reset
LEARN mode to assign MIDI channel and other properties
UPDATE jack to quantize outputs to clock or trigger sequences
WINDOW jack to creatively allocate notes in the buffer to available voices
TRANSPOSE CV to shift outputs by semitones, fifths or octaves
PORTAMENTO CV to adjust glide time
Timber Waveshaping Module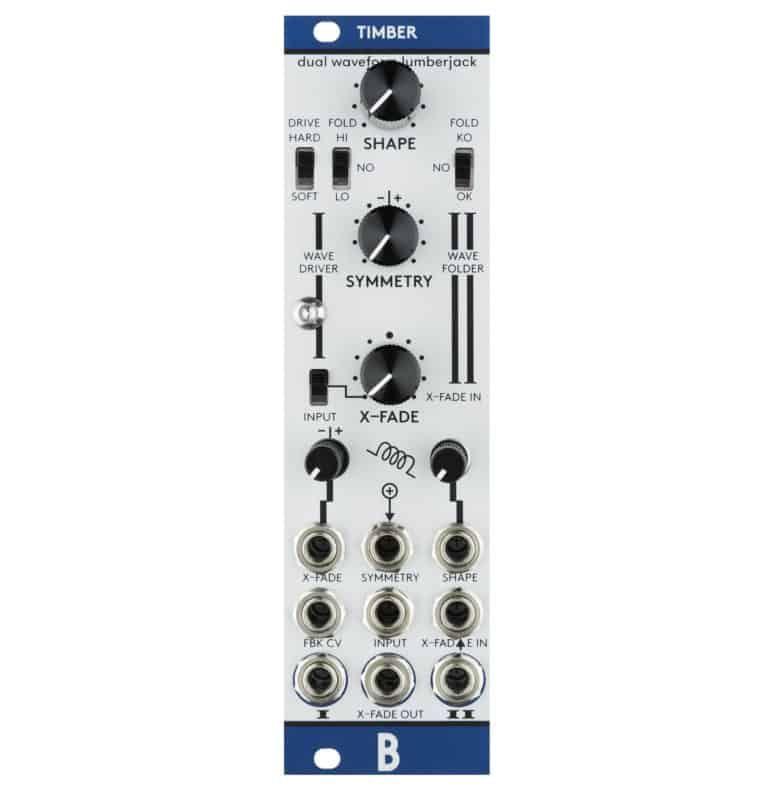 Timber is very flexible wave shaping module that can produce rich timbres by adding harmonics to simple waveforms (triangles and sinewaves) or any other signal. It has 2 different unique wave shaping circuits – I. – the WAVE DRIVER and II. -the WAVE FOLDER and voltage controlled crossfader to fade between the different circuits or between one of them and the clean input signal.
Both circuits share the same control voltages: the SHAPE which sets the input amplification before the wave shaping circuit and the SYMMETRY control which adds voltage offset to the input signal to provide various asymmetric overdrives or wave folding sounds. There is also voltage FBK CV jack which when provided with positive voltages feeds respective portion of the output signal back to the input which results in chaotic and aggressive behaviours. It is calibrated to work well with 5V gate voltages.
Features
I. WAVE DRIVER is overdrive circuit with one folding stage.

3-way DRIVE SWITCH to set character of overdrive (SOFT-MID-HARD)
3-way FOLD SWITCH to configure the folding threshold level (LO-NO-HI)
independent output I. OUT

II. WAVE FOLDER is 4 stage wavefolding circuit

3-way FOLD SWITCH to set character of folding stages (OK-NO-KO)
independent output II. OUTcommon INPUT for both circuits

SHAPE sets input amplification before signal enters waveshaping stages
SYMMETRY adds voltage offset to the input signal
SYMMETRY becomes bipolar attenuator when the jack is connected
X-FADE voltage controlled crossfader with bipolar attenuator

switch to select between INPUT and I. WAVE DRIVER for the left side of the X-FADE
X-FADE IN jack breaks normalisation of II. WAVE FOLDER on the right side of X-FADE

positive voltage at FBK CV jack sends signal from the output or II. back to the INPUT
Timber is available now for 170 EUR plus tax. 1983 will be around 250 Eur plus tax and be available in September.
Find out more at http://www.bastl-instruments.com