Synth Stories: Mack Bartsch / spaceprodigi Reveals Moog Mother 32 Secrets & Reconstructs Antimony
Join us for another episode of Synth Stories in which we talk to up-and-coming producer and musician spaceprodigi aka. Mack Martsch about her track Antimony and her beloved Moog Mother 32.
spaceprodigi, aka. Mack Bartsch is a talented 16 year old musician and analog synthesizer enthusiast who has become well known on social media for creating popular synth performance videos using eurorack modules and synths like the Moog Mother 32. Mack has just released her first EP, aptly named "Launch". And within days it has been climbing very high in the Beatport Techno chart.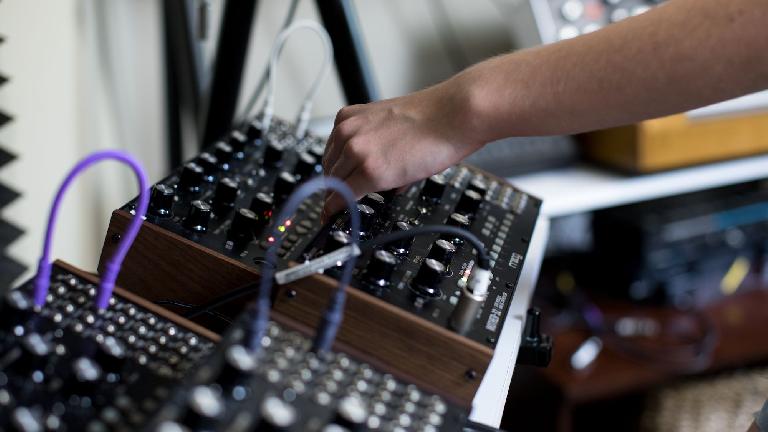 Combining learned and self-created synthesis techniques, Mack deconstructs her synth workflows and composition techniques for the powerful and playful track Antimony from this EP. The focus is on the Moog Mother 32 and the Dave Smith Instruments Prophet 6.
Before getting into synths, Mack was already a classically trained musician who plays violin by ear, and she feels this helps her compose.
Like any true virtuoso, Mack played and was more than comfortable with the minimal setup required to recreate the parts from the track Antimony using the Mother 32, one of her favorite synths. The podcast interview below is well worth listening to to find out more about Mack, her musical influences, her creative process and to hear the synths in action.
Mack first caught the synth bug after discovering Deadmau5 used analog synths in his setup. The sound of the machines and everything about them attracted her to them and on her 14th birthday Mack got her first synth, a Moog Sub 37. She hasn't looked back since then and her synth collection continues to expand.
Before getting into synths, Mack was already a classically trained musician who plays violin by ear, and she feels this helps her compose. The piano came next and she has a desire to record traditional instruments with synths in future projects. But one of her favorite instruments, an electric violin, can be routed into her eurorack synthesizer which can transform the violin's sound. Although the violin hasn't featured on her Launch EP, the modular synth has been used extensively for background sounds "alongside atmospheric field recordings".
From our conversation it became clear early on that Mack is disciplined and driven by her desire to create and express herself through music and sound. After getting her Sub37 Mack immersed herself in learning the basics of synthesis and experimenting for almost two years. The musical ideas came next and she is evidently reaping the rewards of her hard work. As a result Mack is more than capable of quickly transferring her synth skills to any synthesizer she encounters.
Mack also reminds us that synthesis is universal. It's not the sole domain for any one age, gender or race of people.
Staying motivated as an artist can be tricky. And not to make too much of a point about age, it might be considered even more challenging for younger artists. Mack explained she kept her motivation high by going to events such as Sweetwater Gearfest and Moogfest where she made "real life connections." Mack believes this has helped her get to where she is today. For example, she met Moog Music at Moogfest and ever since then she's had "a really close connection with them".
Age is an often irrelevant benchmark for how talented a musician or artist is or should be. How old was Mozart when he wrote his first musical composition? (Answer: 4 or 5). But, of course, Mack Bartsch being a 16 year old teenager, and perhaps female as well, has encountered her fair share of closed-minded patronising attitudes. Some are simply surprised Mack is really 16 years old, "because [she] has a lot of knowledge about these synthesizers". Others ask her questions whether she was taught about synthesis by her parents as if she would be unable to learn by herself. And this in turn drives Mack to do "tons and tons of videos" to "boost credibility".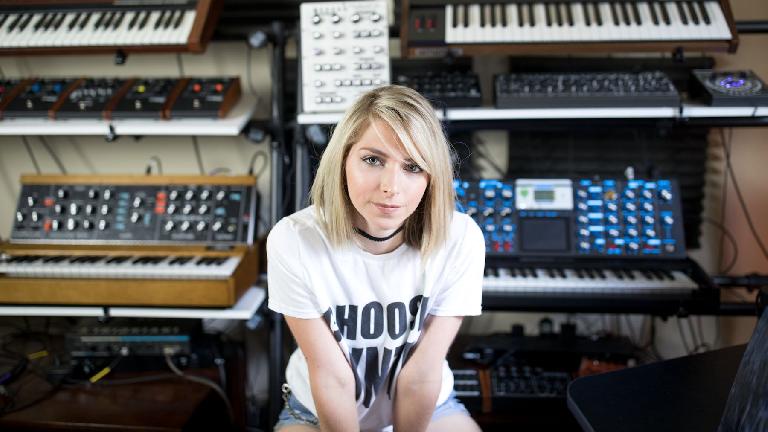 Mack also reminds us that synthesis is universal. It's not the sole domain for any one age, gender or race of people. Furthermore, a lot of artists who serve as her inspirations started young too. "There's singer's who are 16 and they are credible." Additionally, Mack feels "spending the first years experimenting" rather than focusing on creating finished tracks has helped her and those she is inspired by in the long term.
Aside from DeadMau5, Mack Bartsch mentioned some of her favorite inspirations as Nine Inch Nails, Synth Wave bands, 80s bands, Stranger Things and "anything that has tons of synths used in creative ways!"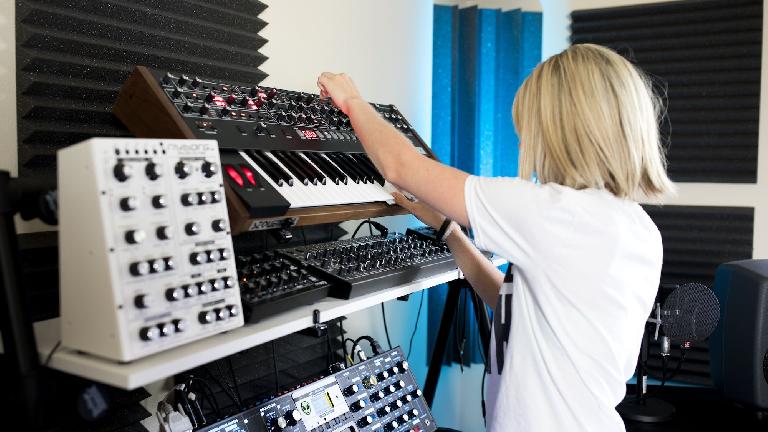 [courses_slider]
The "inspirational" Moog Mother 32 analog synth forms the backbone of Antimony and many of the tracks by spaceprodigi. Mack describes it as being "unlike any other Moog [synth] and it's small but the sound is huge. It's incredible. It has an 80s, Stranger Things kind of tone to it. It's a beast". She continues to explain that the Mother 32 is an "all around amazing synth," with "incredible bass" and "really pretty shimmering highs".
As a result Mack got three more Mother 32s this year and likes to use multiple Mother 32s in songs like Antimony. Mack loves the Mother 32 so much she has her own "signature sound", her own preset (a pluck lead sound) which she uses when writing tracks or putting ideas down.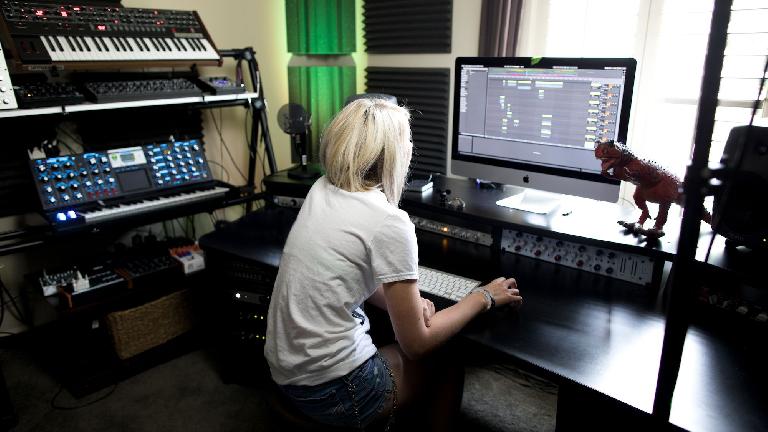 Listen to the podcast interview above to hear Mack describing all her synth techniques with the Mother 32 and some general tips for all synths. One of Mack's synth secrets is a technique she calls multi-ing. It's "where I'll have one MIDI line and I'll send that line to different synths. So for example, I can send to my Mother 32 and to the Moog Model D and then I can mix the two signals together to make one solid synth sound." Mack uses this to create fatter bass sounds and using the same principle sends the same MIDI line to another synth an octave up or down which she does a lot on this EP.
Learn the Moog Mother 32 inside and out in this video course in the AskAudio Academy HERE.