Looping and QWERTY mode are coming - see the loop functionality demonstrated in this teaser video for version 3 of the Deluge firmware.
Synthstrom Audible has teased a massive new feature in the upcoming V3.0 of the firmware for Deluge, its synth / sampler / sequencer which we have written about before: https://ask.audio/articles/synthstrom-audible-details-upcoming-3-0-firmware-for-deluge-qwerty-mode-and-more
Looping Tools
Looping introduces a whole suite of features, and its implementation has seen multiple other major requests from users incorporated along the way including, but not limited to:
• Line in monitoring (without needing to create a "synth")'¨
• Tempo snap
Looping / sampling of audio clips may be done in such a way that the Deluge's tempo automatically snaps to the tempo of the recorded audio (according to its length) the instant you tell it to stop or loop. A manual option is available for similarly deriving the tempo from imported audio clips (e.g. those containing beats or loops).
• Recording a sampling of a set length'¨
• USB MIDI Host functionality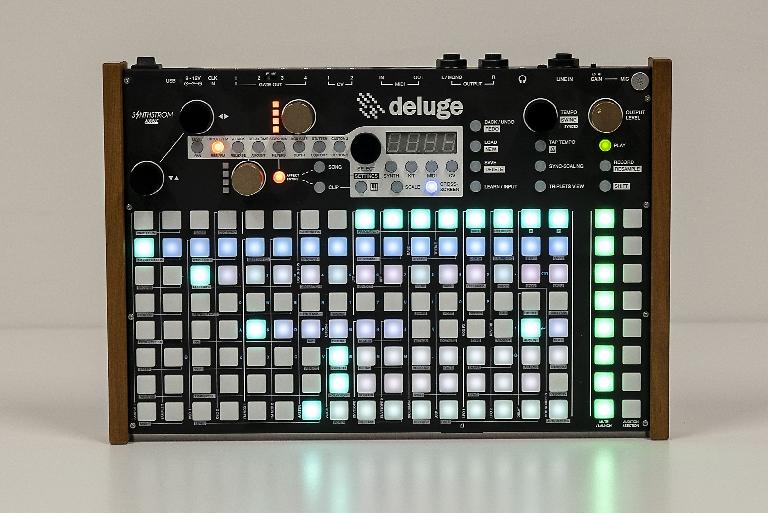 With the right cable or adapter, firmware 3.0 lets you connect a USB MIDI controller directly to the Deluge's USB port, with no computer or hub needed. The Deluge will provide power to the connected device so long as the Deluge itself is receiving DC power. Though the current provided will be a little limited, it will be enough for many keyboards, foot controllers* and more.
*We are currently working on an affordable MIDI foot controller solution for users to accompany the Deluge.