Not everything that looks like it belongs in your studio should be in your studio. This Allen & Heath inspired mixer cake, for example, should be in the kitchen or in your plate.
There's somerthing about musicians and producers that make us a strange bunch. We get excited about our studio gear beyond what many might term as being a healthy obsession. Maybe it's down to being locked up in a studio for hours or end. Perhaps it's from playing and listening to the same sounds over and over and over again. Whatever the reason we're certainly not averse to trying to deify our most loved studio synths and hardware in edible formats.
As far as synthesizer cakes go, we've covered (and even created) some pretty cool ones. We even came across a Kraftwerk inspired synth cake at this wedding. But it's not just synthesizer heads that want the strawberry on top as this Allen & Heath-inspired mixer cake proves.
The Kup-cake Kitchen Café created possibly the most realistic and impressive mixer cake for a customer we've ever seen. And their video has been viewed almost 100,000 times on Facebook already.
It took the maker 40 hours to make this replica Allen & Heath Zed 10FX mixer cake! Here's some pics of the stages of its creation: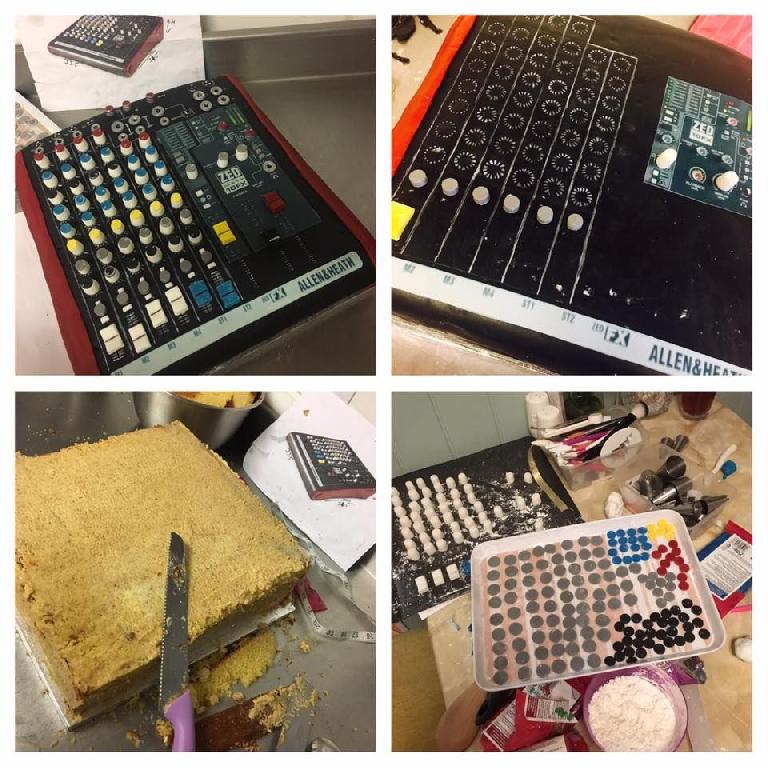 Sadly, there's no photos yet of this cake being eaten or indeed cut. Hi cut or low cut anyone? ;-)
Inspired by cakes and synthesizers in general, we created our own concept cake for the Korg Monologue earlier this year. Think rich, dark tones with a wafery, crunchy filter section...