You won't find many / any videos online now showing off how to sequence parameter values in the upcoming Roland SE-02 analog synth, so Rishabh Rajan shows you how in this short video.
As more SE-02s analog synths are released to artists, we're witnessing more videos coming online that show off the sonic capabilities of Roland's $500 synth collaboration with Studio Electronics. And its sounds really punch above the size of this machine.
But there's very few videos that focus on what's possible with the sequencer built-in to the SE-02. In this short video Rishabh Rajan shows what SE-02 step sequencer parameter modulation is and how it works: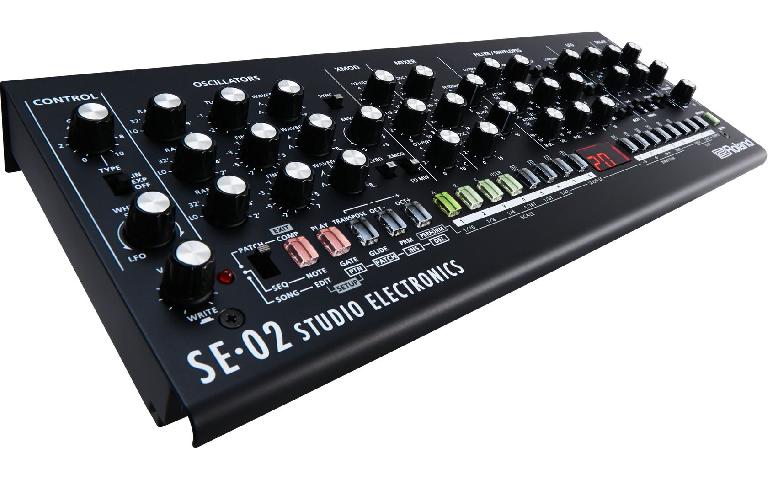 SE-02 Main Features:
Discrete analog circuitry with knob-per-function interface
Three voltage controlled oscillators with six waveforms
Temperature-stabilized oscillators with automatic tuning
24 dB low-pass filter and dual gain-stage amplifier
Three types of cross modulation (XMOD), feedback loop, and noise generator
Tempo-syncing LFO with nine waveforms
Tempo-syncing digital delay with bypass to maintain analog signal path
Save and recall sounds with 384 preset and 128 user locations
Musical and intuitive pattern sequencer with song mode
Sequence notes, gate time, glide, and synth parameters
CV, VCF CV and gate inputs, plus trigger in/out
External Input for routing audio through the SE-02's filter section
Standard MIDI, USB-MIDI, and USB-Audio
Create a polyphonic synth by using Chain Mode to connect two or more SE-02s together via MIDI
Rishabh is also working on a full review and, by popular demand, an in-depth video course of the SE-02 for AskAudio Academy, AskVideo and macProVideo. So stay tuned for both of these.