UAD v9.9 also features the updated Tube-Tech CL 1B MkII Compressor plug''in. Here's the lowdown on the new features in the latest release.
SCOTTS VALLEY, CA • May 21, 2019 — Universal Audio is proud to release UAD Software v9.9 featuring the Capitol Chambers plug-in, the world's first authentic plug-in emulation of Capitol Studios' iconic underground echo chambers, exclusively for UAD hardware and UA Audio Interfaces.
Capitol Chambers Plug-In — $349
Prized for their natural sound and dense ambience, the subterranean echo chambers at Capitol Studios were designed by recording pioneer Les Paul. Famous for their smooth response and lengthy decay times, these chambers have graced thousands of hits — from Ray Charles to Frank Sinatra, Beck to Muse.

In crafting the Capitol Chambers plug-in, UA were granted unprecedented access to Capitol's four most popular chambers, 30-feet beneath the studio, and used historic technical diagrams from the early '60s to recreate the exact microphone and speaker/horn arrangements. New and creative mic/speaker combos were also devised by UA and Capitol's chief engineer, Steve Genewick.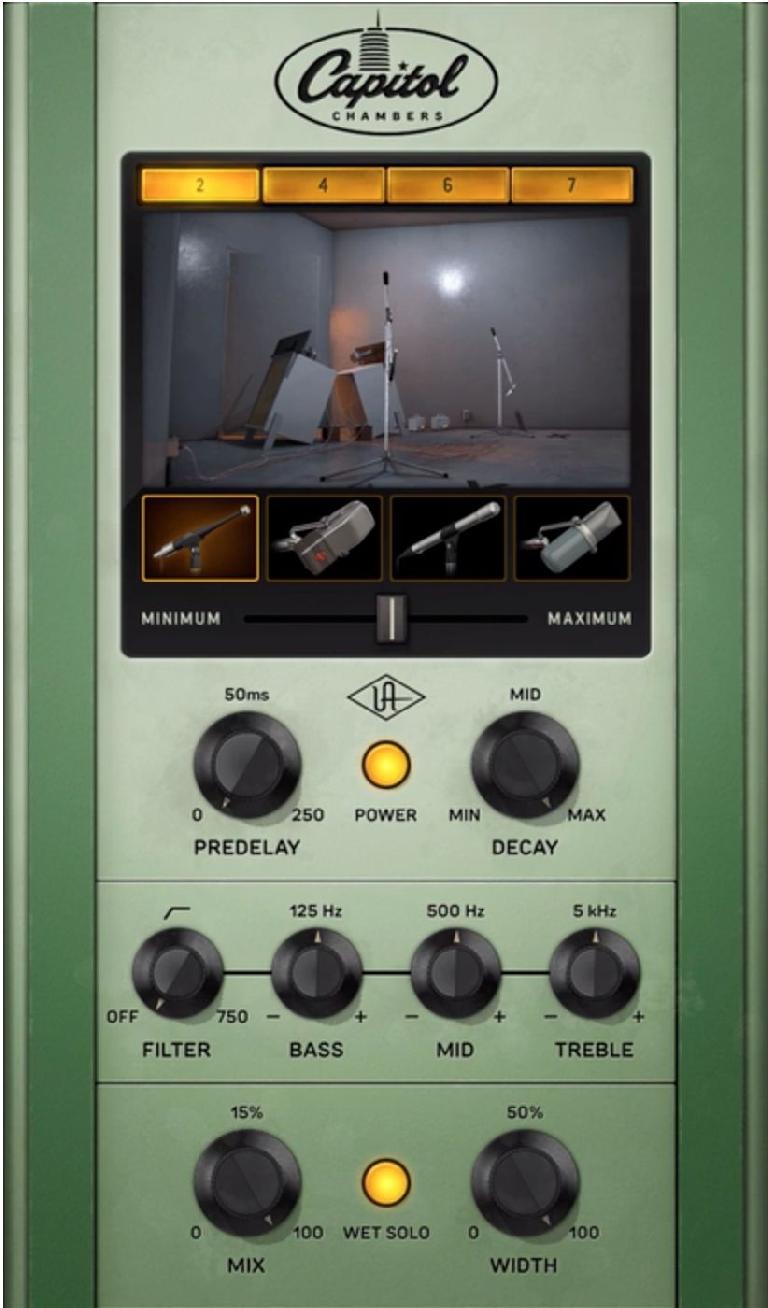 Harnessing the same technology as the award-winning Ocean Way Studios plug-in, Capitol Chambers uses UA's proprietary Dynamic Room Modeling technology, an exclusive combination of physical modeling and advanced measurement techniques, letting the user reposition the mics within the chamber for next-level ambience control.
Capitol Chambers Plug-In — Key Features
Precisely modeled emulation of Capitol Studios' historic echo chambers, exclusively for UAD hardware and UA Audio Interfaces
Licensed and endorsed by Capitol Studios with mic/speaker setups curated by Capitol's Steve Genewick
Dynamic Room Modeling allows users to create new sounds by repositioning chamber microphones
Access the chamber's entire signal chain including amplifiers, speakers, custom preamps, and mics
Presets from legendary Grammy-winning engineers Al Schmitt (Ray Charles, Steely Dan), Darrell Thorp (Beck, Radiohead), Frank Filipetti (Madonna, Paul McCartney) and more
Other features include adjustable Decay, Pre Delay, sweepable low-cut filter, three-band EQ, Dry/Wet mix, and Width
Tube-Tech CL 1B MkII Compressor — $299
*$99 for current Tube-Tech CL 1B owners

Developed by Softube, the Tube-Tech CL 1B MkII is an updated emulation of a modern classic opto compressor, fully authenticated by Tube-Tech, Denmark. A go-to vocal compressor for major pop, R&B, and hip-hop artists from Kanye to Jennifer Lopez and more, the new CL 1B MkII adds Sidechain Low Cut and Parallel Compression controls, as well as updated hi-res graphics.
Tube-Tech CL 1B MkII Compressor Plug-In — Key Features
An updated emulation of a modern classic compressor, fully authenticated by Tube-Tech, Denmark
Optical tube compression with a modern sound and reimagined features
New Sidechain Low Cut and Parallel Compression controls
Updated hi-res graphics for 4K and Ultra HD screens