Waldorf's new wavetable synth, Nave, is now available as a Mac & PC plug-in: VST, AU & AAX. But that's not all! They've also released their popular drum synth, Attack, for iPad wielding producers.
REMAGEN, GERMANY: high-quality synthesizer developer Waldorf is proud to announce availability of both its eagerly-awaited Nave advanced wavetable synthesizer plug-in for Mac '" OS X 10.7 or higher (running 32- bit as well as 64-bit host software supporting AAX64-, AU-, VST2.4-, and/or VST3-compatible virtual instruments) '" and PC '" Windows 7 or higher (running 32-bit as well as 64-bit host software supporting AAX64-, VST2.4-, and/or VST3-compatible virtual instruments) '" and Attack advanced drum synthesizer for iPad '" iPad 3 (retina), iPad mini (1, 2, 3), and iPad Air (1, 2) running iOS 7 or higher '" as of June 12...
Waldorf Nave Plug-In for Mac/PC
Originally announced amid a media feeding frenzy over a flurry of hardy hardware synthesizer launches '" looking more to the past than the future for inspiration, it appeared '" at The NAMM Show 2015, January 22-25 in Anaheim, California, Waldorf's wilful software-centric showcase made for a convincing case for wavetable synthesis '" it's back... but better! Having seriously succeeded in changing perceptions of what a serious iOS instrument can be, thanks to unique sounds simply unachievable with any other synthesizer, Waldorf willingly responded to requests to make its award-winning Nave advanced wavetable synthesizer available on more powerful platforms by introducing the Nave advanced wavetable synthesizer plug-in for Mac and PC. Professionals and amateurs alike can comfortably kick back and musically rejoice, safe in the knowledge that this '˜new' Nave brings that notable Nave sound engine to their favourite DAW (Digital Audio Workstation).
While Waldorf's deft design team has helpfully succeeded in optimising Nave's nifty GUI (Graphical User Interface) to readily work with the tried-and-tested computer combo of keyboard and mouse (or track pad) rather than touch screen surface technology, that nothing has been lost in translation is nothing short of a musical miracle! More to the point, the feature-packed plug-in comes pre-packed with superb sounds, ranging from spatial pads to vivid wavetable scans and cutting leads to solid basses, but, above and beyond that, also an abundance of incredibly imaginative sound worlds '" many of them professionally produced by some of the top sound designers around. As a synthesizer thoroughbred through and through, Nave really represents a phenomenal playground for sound creation creativity. For instance, its oscillators offer expanded wavetable functionality with elaborate editing facilities and an extremely effective speech synthesizer.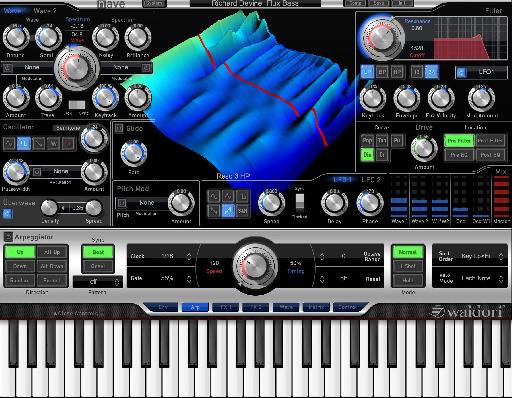 Waldorf Nave for Mac/PC
Anyone at all familiar with Waldorf software instruments will immediately feel right at home with the typical Waldorf workflow where sound- shaping modules are always directly accessible and all arpeggiator, envelopes, effects (Phaser, Flanger, Chorus, Reverb, Equalizer, Compressor), and Modulation Matrix management controls are only one push of a virtual button away. Edited highlights include two independent advanced wavetable oscillators per voice with saw, triangle, PWM (Pulse Width Modulation), white and pink noise (and up to eight-oscillator Ãœberwave); two ring modulators; multimode filter (with LP/ BP/ HP, 12 dB, and 24 dB settings); three envelopes; two LFOs (Low Frequency Oscillators); and much more besides. And besides its standard yet classy chromatic keyboard, Nave also includes innovative '˜blades' and pads to control the sound in different ways. Why restrict yourself to iOS-imposed limitations? The Nave advanced wavetable synthesizer plug-in now lets you work wherever and however you want. Whether Mac- or PC-based, desktop-bound or laptop-mobile, with the CPU (Central Processing Unit) firepower to truly deliver, Nave gives your professional productions a truly cutting-edge sound like no other.

Waldorf Attack for iPad
Of course, Waldorf's masterful migration of its long-running Attack virtual drum and percussion soft synth that took the virtual instrument world by storm back in early 2001 to iPad 3 (Retina), iPad mini (1, 2, 3), and iPad Air (1, 2) brings us back to where we started with Nave '" namely, the wonderful world of iOS. It is now complete, and available as of today on Apple's App Store. See how its impressive sound engine is cleverly complimented by an integrated 16-step sequencer that is as fun to use as it is useful. Unbelievably, the Attack advanced drum synthesizer for iPad offers 24 instruments '" each entirely programmable through a stunning, touch-optimised user interface. Its oscillators are fat, the filter flexible, and envelopes lightning fast. Each drum sound can be enriched with one of four independent insert multi-effects with Delay, Equalizer, Drive, Phaser, Flanger, Chorus, and Phrase Vocoder. Input lyrics, output song! Alter gender, just as you've always wanted? Why not! Notable phrase vocoding technology apart, Attack 's sound engine is also capable of producing powerful polyphonic synth, bass, and lead sounds suitable for creating full-blown backing sequences. Just like the original Nave, it's a seriously in- depth musical instrument for iPad. It's easy to use and fun for sure, but at its core it's truly a sonic beast of an instrument, instrumental in inflicting out-and-out drum power '" out of the tablet and into the wider world!

Whether you're looking to make a musical move from iPad to Mac or PC or, conversely, Mac or PC to iPad, Waldorf has got you covered with its now-available Nave advanced wavetable synthesizer plug-in and Attack advanced drum synthesizer for iPad. If you want both products on all platforms, well... what can we say? Waldorf won't leave you wanting!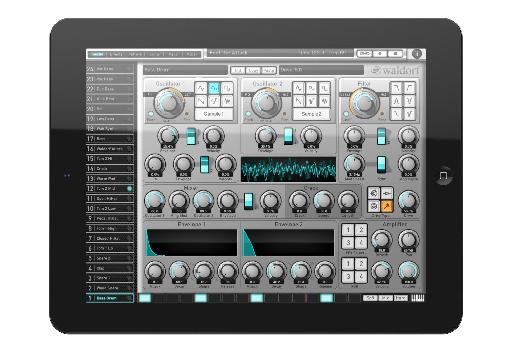 Waldorf Attack for iPad.
The Nave advanced wavetable plug-in for Mac and PC is available to buy online directly from Waldorf via the Waldorf Shop (http://www.waldorfmusic-shop.de) for €149.00 EUR (including VAT for EU countries) or through the company's global network of dealers and retailers for €149.00 EUR/$199.00 USD.

Listen to some stunning sound examples of the Nave advanced wavetable plug-in in this inspiring introductory video: https://www.youtube.com/watch?v=HInbyeWoXsI

For more detailed info, please visit the dedicated Nave product webpage here: http://www.waldorf-music.info/en/nave-plugin

Owners of Apple's iPad 3 (retina), iPad mini (1, 2, 3), and iPad Air (1, 2) can purchase and download the Attack advanced drum synthesizer from Apple's App Store for an introductory discounted price of €14.99 EUR/$14.99 USD/£10.99 GBP until June 26, 2015 (rising to €19.99 EUR/$19.99 USD/£14.99 GBP thereafter) from here: https://itunes.apple.com/us/app/attack-drums/id956450390?mt=8