Hot shot music tech developers Teenage Engineering (of OP-1 & Pocket Operator fame) performed live @Symposium Stockholm on June 11th in Stockholm, Sweden. You've never seen them like this before.
When was the last time we saw the staff of a cool synth company actually performing with their products'¦ creating something musical'¦ and I'd like to use that word again, 'musical'. It's a breath of fresh air and it suddenly makes sense that it'd be Teenage Engineering doing this. They're more than hardware magicians and rockstar coders, they're also talented musicians.
On June 11th at the Brilliant Minds Conference, Teenage Engineering got up on stage to demonstrate how they are reimagining the aesthetic of live performances with the use of technology. On stage we spotted an OP-1 being played with some gear wheels!), more OP-1s, OD-11s, Ortho remotes and pocket operators.
As technology continues to play an increasingly prominent role in creating and performing music, being able to see and interact with the human element on stage is something we'd love to see more of here at AskAudio.
(We reviewed the Pocket Operator synths here.)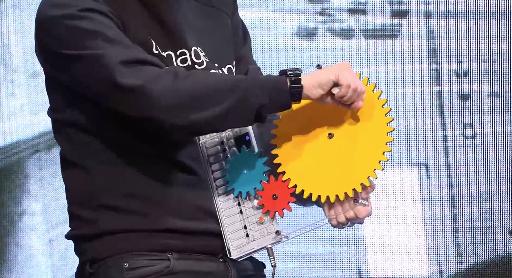 Top Gear: The OP-1 being cranked up... literally!
About Teenage Engineering
Teenage Engineering, founded in 2007, has transformed from an early days consultancy company to be one of the hottest developers of music technology. Today Teenage Engineering focus on products such as the highly acclaimed OP-1 portable synthesizer and OD-11, the all-in-one loudspeaker made to play cloud music.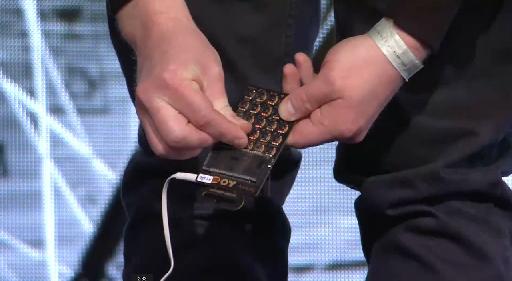 Despite being portable beyind belief, the Pocket Operators had a big presence on stage at Brilliant Minds.
Web: https://www.teenageengineering.com
About Symposium Stockholm & The Brilliant Minds Conference
Symposium Stockholm is a meeting ground for the world's most innovative individuals to come together and experience the creative capital of the world - Stockholm. The first-ever Symposium will give participants a unique look at the technology, music, creativity and innovation that happens locally yet disrupts industries and changes culture globally.
Symposium Stockholm will feature numerous music, tech and cultural events including the Brilliant Minds Conference, Denniz Pop Awards, Polar Prize, Polar Talks, Scandinavian Music Summit, and Summerburst/AVICII Fest, alongside numerous dinners, artists showcases, receptions, festivals and after-parties.
The centerpiece of the week is the Brilliant Minds conference, a two-day gathering of some of the greatest minds in music and tech. Participants will explore the evolution of the local and global tech and music industries, bring insight on the latest trends, and forecast future movements. But the real magic is in the unforeseen: the connections, ideas and conversations that the conference will generate.