From September 21st to September 30th, Arturia will give away 10 entries for the Arturia Experience Event that will take place on October 14th, 2015, during the Amsterdam Dance Event.
Arturia are offering you the chance to win entry to their Arturia Experience Event where you see and hear a wide range of electronic artists and DJs filling the air with their tunes, and get hands-on with the gear they use. Here's what Arturia have told us about the event:
The Arturia Experience is an evening showcase of artists presenting their experience with Arturia gear. Both the stage and DJ-Booth will be filled with the progressive electronic music of today.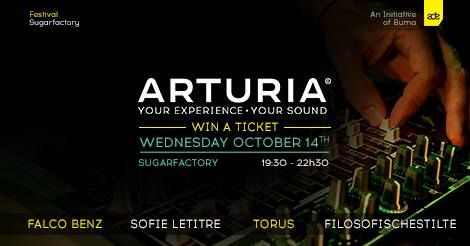 Arturia Experience Event
As well as the music there will be the opportunity to get hands-on experience with Arturia gear, investigate the educational program Musicasa and get in touch with innovative startups such as Tuna DJ Gear.
To enter the contest, simply follow this link and comment on their Facebook post by giving us the names of three Arturia endorsers that will be playing during the Amsterdam Dance Event.