Yamaha MONTAGE OS v2.5 Adds New Sounds, Enhanced Control, DAW Remote Function to Flagship Synth
The fifth free firmware update for Yamaha Montage expands the sounds, control and workflow features with the biggest enhancement being the new DAW Remote feature.
Less than a month ago we reviewed the v2.0 update for Yamaha's flagship synthesizer, Montage. You can read it here. But time stands still for no synth player and Montage has just received another update (v2.5) which adds new sounds, control, and a DAW remote function. Here's the official press release from Yamaha:
BUENA PARK, Calif. (July 31, 2018) — Yamaha today released MONTAGE OS version 2.5, the fifth free firmware update to its flagship synthesizer line. The update further expands the MONTAGE sound, control and workflow features with the biggest enhancement being the new DAW Remote functionality.
MONTAGE OS v2.5 now includes all the original MOTIF XF Performances, bringing the total number of MONTAGE preset Performances to 2,655. Each of the MOTIF XF Performances has been updated for MONTAGE with new Super Knob programming and Audition demos for more creative possibilities. From the beginning, MONTAGE contained all of the MOTIF XF Voice content. This update gives MONTAGE all of the same sound content that's in MOTIF XF, along with the all-new, multi-gigabyte sized MONTAGE AWM2 and FM-X content.
The new DAW Remote mode lets users control Steinberg Cubase, Apple Logic Pro, Ableton Live and Avid Pro Tools directly from the MONTAGE hardware and on-screen controls. Beyond the feature's transport and mixer control, it is now also possible to select, arm, mute and solo DAW tracks as well as edit plug-ins all from the MONTAGE front panel. Combined with powerful USB Multichannel Audio/MIDI connectivity, DAW Remote makes MONTAGE a totally integrated music production system.
The updated OS also makes it possible to record the Arpeggiator output to the Song Recorder. This allows users to capture the individual notes generated by the Arpeggiator, as opposed to only the chords being played.
Yamaha has added simple, but useful, waveform management tools. These include Waveform Keyboard Select, which enables users to load an audio file directly to a key via a "Keyboard Select" box that appears when loading an external audio file. Waveform Center Note designates a "Center Note" matching the keyboard note to the original waveform pitch, which is useful when a pitched waveform is in a particular key and must be placed on the respective keyboard note.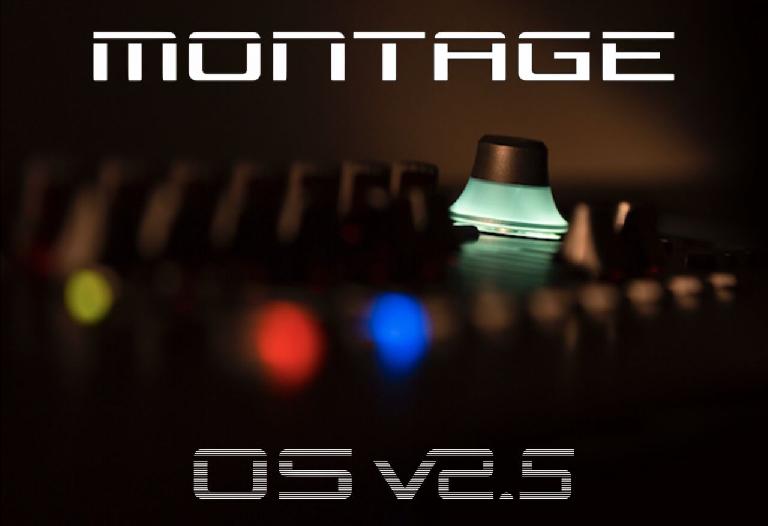 The panel lock is another new feature geared toward live performers. Users can now lock the panel during a live performance, preventing any accidental front panel changes during setup and while performing on stage.
"MONTAGE is an incredibly deep, powerful and versatile synthesizer. OS v2.5 adds DAW Remote for tighter integration with music-making systems," said Nate Tschetter, marketing manager, Yamaha Synthesizers. "Yamaha continues MONTAGE OS development to help music-makers get the most out of their instrument."