When it comes to guitar know-how there aren't many people better positioned than Toby Pitman. In this quick tutorial he shows how to build a "freaky octave lead sound" in IK Multimedia's AmpliTube 3.
AmpliTube has some real gems in the stompbox department. In this quick tip, I'm going to combine my two favorites to make an aggressive, freaky, synth-like lead tone.
The main component of this sound is generated by the Octa-V pedal which is found in the Fuzz category in the Stomp window of Amplitube. This was originally part of the Jimi Hendrix version of Amplitube but now comes included in Amplitube 3. It's based on the Octavia Fuzz pedal developed for Jimi Hendrix by his tech Jim Morris.
As pedals go, this one is pretty special and can produce a wide variety of effects from Ring Modulator type tones to Pitch Doubling and Distortion. If you play near the nut you get more Amplitude/Ring Mod sounds.
Using anything other than fourths, fiftths and octaves can produce some very weird sounds, which is good!
Playing higher up the neck with the neck pickup and the volume rolled off produces an octave above the note.
Both of these sounds were played straight through the Octa-V stomp pedal. As modeling goes, IK has done a pretty darn good job with this one. If you're looking for a real world version try the Roger Mayer Octavia or the Fulltone Octafuzz (below). I have one of these and it's awesome!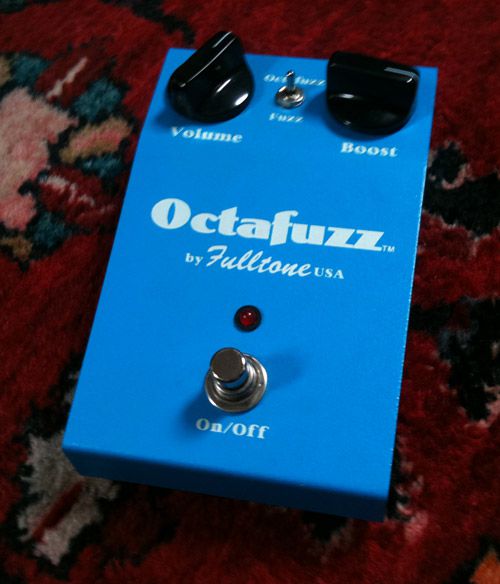 The Octafuzz.
The second pedal in this sound is the Octav based on the mighty Boss Octaver! This can produce two additional octaves below the original.
Step 1 - Basic Setup
Here's how I've set this up: firstly I've chosen setting '˜1' for the signal path which is basically Stompboxes running into one Amp and Cab then into the rack FX.

The signal-path.
The Amp is the American Vintage T which is a model of a Fender Twin '˜Silverface'. It's pretty much the default setting, I've just removed the Reverb.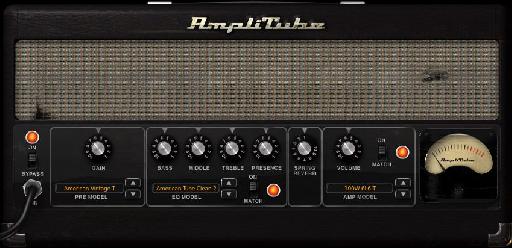 The Amp.
The Cab section is also default, with the addition of some Large Room reverb.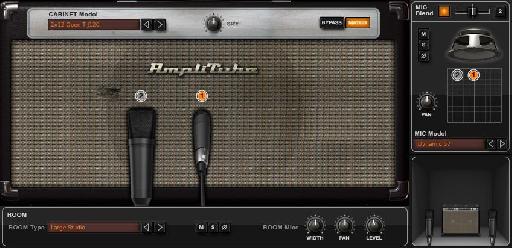 The Cabinet.
Step 2 - Stomp

The effects in the Stomp window are set up as follows: first is a regular Compressor pedal to even out the levels. Then we go into the Octav pedal. The original signal is 100% and the two additional are set a 12 o'clock, giving me three octaves of awesomeness!!
It's probably a good time to make you aware that the Octav pedal is monophonic and can't deal with anything other than a single note, which is fine as this sound is so awesome you'll only need one note!!
These are then fed into the Octa-V with the Drive set to about 4 o'clock: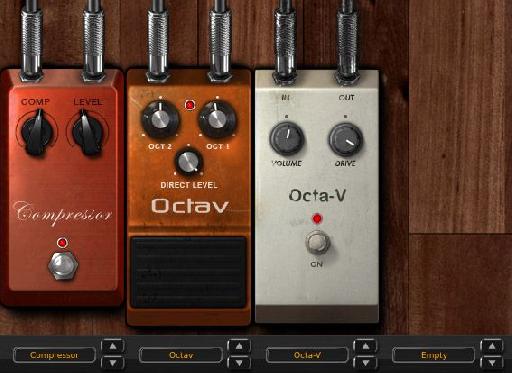 Stomps.
Step 3 - Noise Gate

I've added some Noise Gate as this sound can get a bit out of control!!!

Noise.
Freaky!!!
So what does it sound like? Here's the sound with the guitar opened up full on the bridge pickup (a DiMarzio Chopper T) and really hammered.
Final Thoughts

You almost might be mistaken for thinking it's some sort of synth run into an amp. It responds really well to vibrato which almost produces a subtle filtering effect. It's also a bit Jack White!!
If you back off the volume on the guitar you get that nice high octave and a much tighter sound and some spank.
This sound is really fun to play with and could be used for all sorts of nonsense. It also reminds me how quick and creative AmpliTube can be!
One piece of advice: you'll need to play this sound in the mid to high range of the guitar as once you get too low things can start to fall apart a bit! Enjoy!!