Raise your hand if you've ever wanted to customize Logic Pro's click track/metronome behavior? Yes, sometimes you need it to play on certain divisions. And right on time with a solution is Jay Asher.
Logic Pro users who have known me for many years know that even before Apple bought Logic Pro lock, stock, and barrel from Emagic, I frequently joked that the developer's motto was, 'The impossible we do easily. The basic may take a little longer.'

Some of them laughed, others did not. In some cases of more utilitarian stuff that many of us felt the need for, like the ability to move more than one track at a time in the Track List, it took quite a while, but eventually it happened, as that one finally did with Logic Pro X. But some still have not been implemented, to this date.

A perfect instance of is Logic Pro's inability to customize its metronome or 'click' feature as to what note value is played. For instance, there is no way to have Logic Pro beat dotted quarter notes in 6/8, 9/8, 12/8 meters etc.
Logic Pro defaults to produce the sound with a software instrument called the Klopfgeist, which is a German term I am told means 'knock ghost.' It is automatically instantiated as software instrument #256 in new projects. See Pic 1.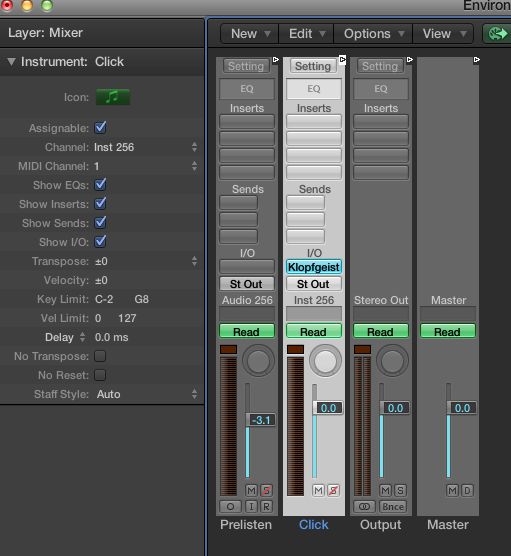 Pic 1
To be fair, the Klopfgeist itself does have a nice range of options for level, tuning, tonality, etc. and even has some nice presets, as you can see in Pics 2 & 3.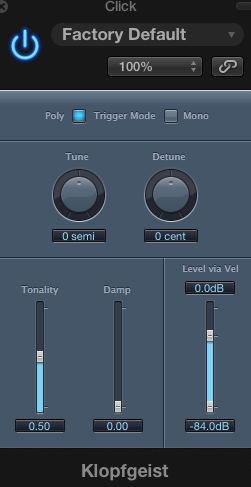 Pic 2

Pic 3
So what's the problem, Jay? The problem is that you have little choice over what divisions are played with the metronome on.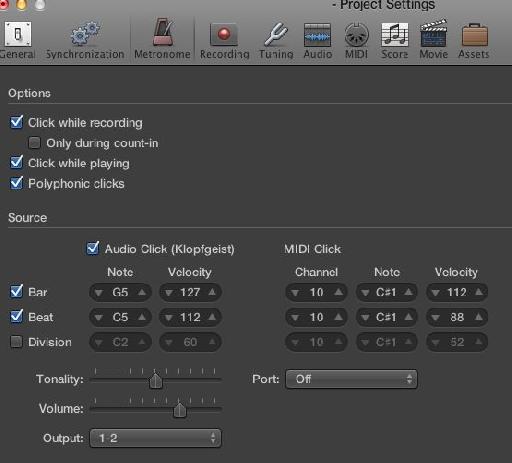 Pic 4
Nowhere in there do you see an option to beat eight notes or dotted quarter notes.

So this means that if you are in 4/4 or 3/4, etc., the click is going to beat quarter notes and if you are in 6/8, it is going to beat eighth notes. It follows the denominator, period.
If you have been a bad person in this life, it is my belief that you spend eternity listening to a 6/8 or 12/8 click track playing eighth notes. It is incredibly distracting, annoying, and unmusical and although many of us have been asking for this since 1.0, the ability to configure what the click plays has not been implemented. I can only assume that there is something in its architecture that has made it very difficult to implement, since developers do not enjoy annoying their users.
So we need a workaround. In Pic 5, I have a project where the meter is in fact switching from 6/8 to 12/8 and finishing in 6/4. Clearly, I need to create a custom click track, not only because of my need to preserve my own sanity, but that of any instrumentalist or singer who may be called upon to record parts for me in my Logic Pro X project.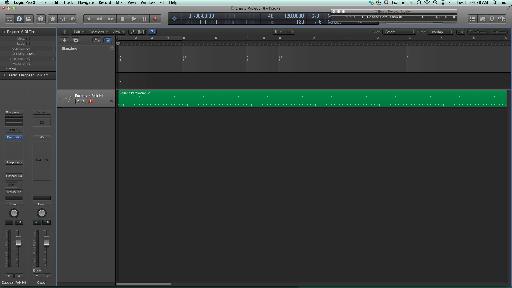 Pic 5
I could use the Klopfgeist for this task, but I prefer to use a cross stick (side stick) in an EXS24 drum kit. Any sound that is acceptable to you is fine.
In Pic 6, I am creating a software instrument without Open Library checked so that Logic Pro X will not create the default Classic Electric Piano Channel Strip.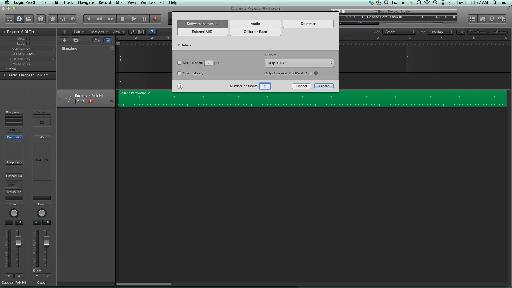 Pic 6
In the Inspector, I hold the mouse down on the I/O box of the newly created software instrument and load a mono EXS24 instance. See Pic 7.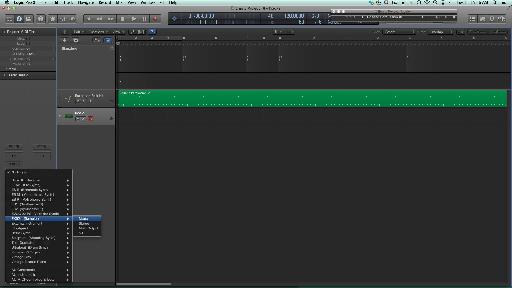 Pic 7
I then load in the Dry Standard Kit that comes with the Logic Pro X content, because it is, well, dry, and it is General MIDI, which means I know for certain that the cross stick sample will be assigned to MIDI note C#1. See Pic 8.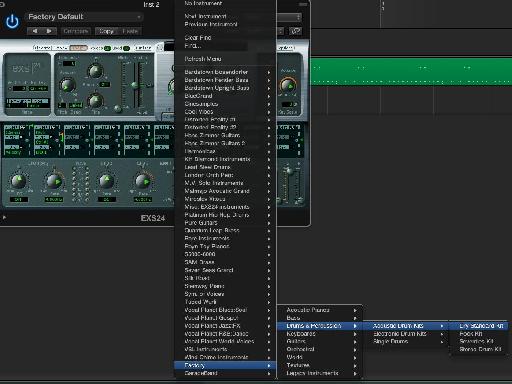 Pic 8
I now need to create some MIDI regions. In this project, I need two : one beating eight notes and one beating quarter notes. There are of course, many ways to enter MIDI data with Logic Pro, but for this article I will use the Step Input Keyboard, which I can bring up either by going under the Window menu or by pressing the key command combo you see in Pic 9.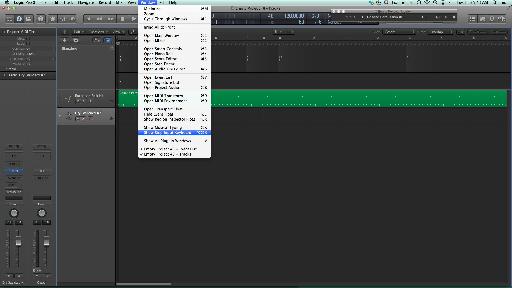 Pic 9
Using the Pencil Tool, I create a blank region. After making sure that the Playhead is back at the beginning of measure one, in the Step Input Keyboard, I select the quarter note, dot, and ff symbols, the latter because it will give me a nice, strong click with a MIDI velocity of 112. You have the option of course to choose a different dynamic if you choose, or drag the fader of the EXS24 up or down. See Pic 10.

Pic 10
All I have to do now is click the C#1 key on the Step Input Keyboard twice, and voila, as you see in Pic 11, it is accomplished. As easy as you could wish, right?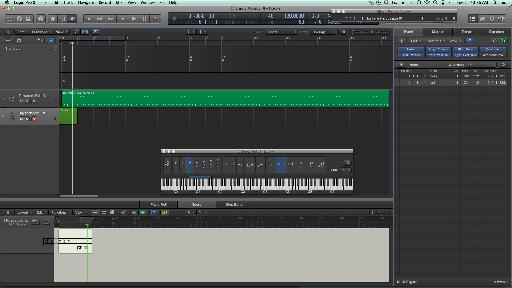 Pic 11
Since I want to hear dotted quarters with both 6/8 and 12/8, I can now use the Loop Tool (upper right hand corner of the region) and draw in the loops until bar 13, where it switches to 6/4. See Pic 12.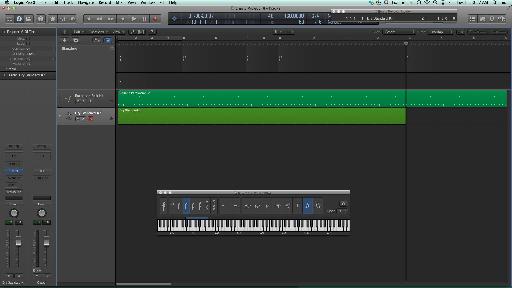 Pic 12
Now I simply repeat the process to create a region with six quarter notes.
To review:
I create a blank region at bar 13 with the Pencil Tool.

I make sure that the Playhead is at the beginning of bar 13.

I select the quarter note and ff symbols and click six times to create six quarter notes.

I loop the region until the next meter change. See Pic 13.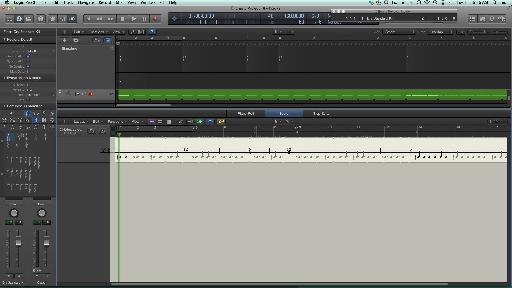 Pic 13
For any other meter changes, I can simply Option-drag the appropriate regions to the desired measures and I now have a Logic Pro X project click track that will serve me, and my fellow musicians, without inspiring a strong urge to commit seppuku.