This multi-talented new instrument for Reaktor combines looping, slicing, sampling and much more to provide a whole galaxy of ways to morph and mangle your sounds.
The latest release from Blinksonic, CATALIZ is a granular travelizer, polyphonic tone sampler, synchronized beat looper and slicer. It lets you recycle and play all kind of samples, enhance the granular stream with a Modal Filter and a Resochord for a more physical acoustic rendering of the sound. The DSP quality in granular synthesis is provided by the embedded modules of Reaktor 6. These are recontextualized and simplified in a unique concept dedicated to live performance.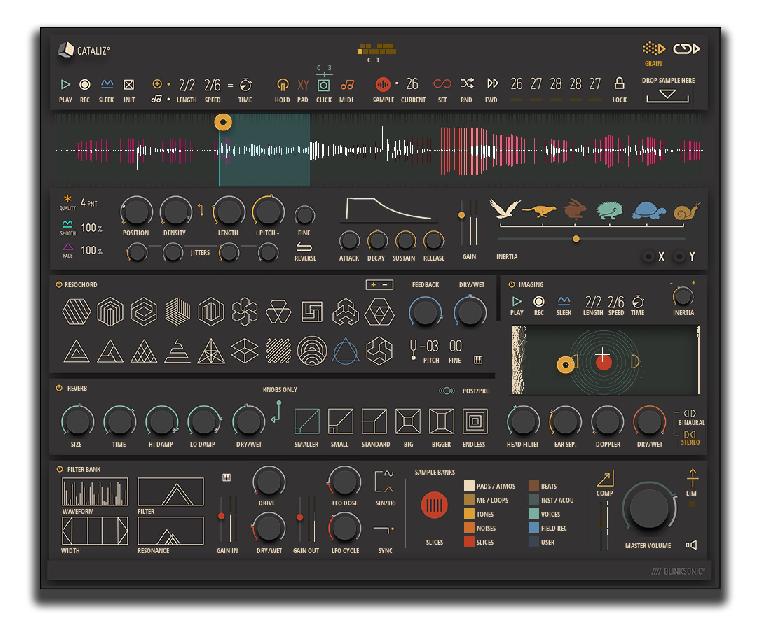 Record/overdub the envelope and the notes produced by the XY pad in real time. Manage the inertia of the playback movement over the waveform. Skip from 5 different samples on each incoming gate event with the Random and Forward mode in order to push morphing effects between sounds on your preset parameters.
A perfect device for sound designers, composers and music producers that comes with 1,84 GB of sounds of all kinds ( pads, beats, slices, noises, voices, field recordings.. ) distributed in 9 banks. An impressive collection of 500 presets which explore the various instrument scope (drones, atmos, cinematic soundscapes, SFX, whooshes, timbres and even rhythmics )
FEATURES LIST
2 sample engines (Grain Cloud and Beat Looper) based on Table Framework.
Granular engine with control of the position, density, length, pitch, reverse mode, ADSR envelope, 4 jitters modulation.
Beatlooper engine with control of the position, length, transpose, offset, slice size, warp speed
XY pad controller with inertia level to control velocity of the cursor movement and note generator on click
Notes and modulations recorder on 64 steps (self sequenced instrument)
9 banks with up to 99 sounds (1,3GB of sounds) + 1 user bank.
Drop your own samples.
6 sample selectors 1 for the current selection + 5 additionals that work in RND and FFW modes ( sample changes according the selection on each incoming gate events) Resochord with 20 switchable presets, pitch/fine tuning and feedback commands. Chords pitch can also be controlled by midi.
Space reverb with 6 types (Small Room to Endless)
Stereo/Binaural/Doppler effect with XY pad to control the imaging + inertia level and position recorder
Filter bank (Modal synthesis) with LFO + frequency control via keyboard
Pump Compressor and Brickwall Limiter