Alchemy, a relatively recent addition to Logic Pro's toolset, is a powerful and flexible synth for creating soundscapes. Here are some tips on how to get the most out of it.
In Logic, I'm a huge fan of Alchemy. I'm so glad this instrument comes bundled with Logic as it has some awesome sounds and a great selection of presets that come with it. What I really like about Alchemy is the Transform Pad section and how you can use it to build up really cool soundscapes using the assigned sounds on this pad. This works especially well if you need to create some ambient background sounds for TV, Movies, or even Video Games. Let's take a look at how this is done.
Finding Sounds
Even though there is a Soundscapes category in Alchemy, I'm going to show you how you can create your own ambient soundscapes using the Transform pad and automation in Logic. Let's first select a patch. I'm going to use the 'Dreamtime Traveler' preset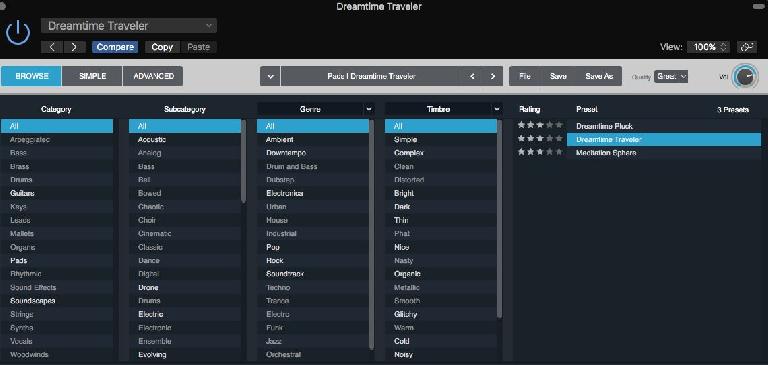 Now when I open this patch, see how it has different presets saved for the different pads in the Transform Pad section. Hold down a chord, and now you can move your mouse across and hear how the sound evolves and transforms as you move it across to different pads.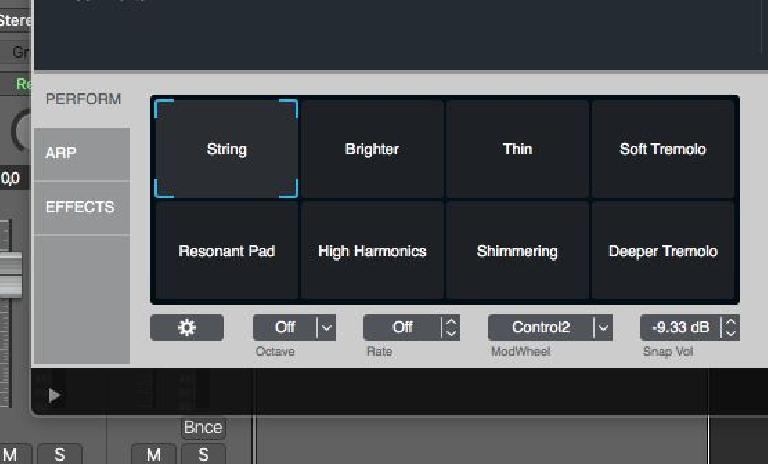 Also take a note when you move to different pads to see how the settings change on the parameters above on the synth. These pads are snapshots of different settings on the Alchemy instrument.
For example, click across to the Advanced Tab, then Click on 'Sting' on the Transform pad. Then move it across to 'Harmonics' pad and see how the parameters change. The envelope is different, and the dials next to the transform pads are different as well for each pad.
Creating your Soundscape
How do you capture the sound moving across the pads like this in Logic? Well, the best way to do this is via writing in your automation movements. First set the Automation mode to Write.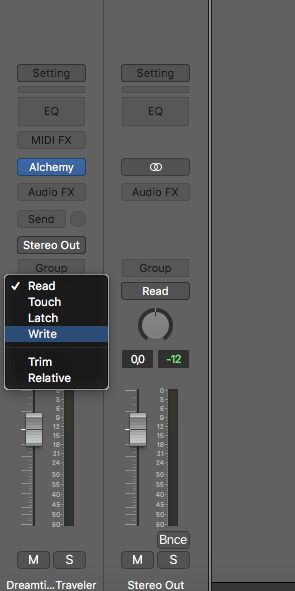 Whatever movements you do on the Transform pad during playback will be recorded into the track on Logic. What I like to do is use the Logic Remote app on my iPad. I then switch to the Smart Controls view, as the Transform pads will show on there. Or you can just use your mouse to move around on the XY Pad while holding down the chord. Now let's start recording.

Hold down a chord and then slowly start moving around on the Transform pad. To create an evolving soundscape, it's probably best to move quite slowly across these pads. Maybe even do a recording of about 2 minutes where you're slowly moving across the selection of pads. Then when you're finished recording, the automation mode will now go to Read, and it will read the automation recorded on the transform pad during playback. You can view this automation by using the default shortcut of A – now this will show the automation lanes for the track. It has been recorded on multiple lanes, so you can click on the down arrow next to the track to reveal the other lanes with automation on them. This shows the X-Axis automation and the Y-axis.

Now when you play back, you can hear how the recorded soundscape evolves over a length of time. The benefit to this is that it will always be the same as it follows the automation, But you can edit this automation or even record other automation if you wish to change the soundscape.
Conclusion
That's how easy it is to take an instrument like Alchemy and create these lush, evolving soundscapes that you can use in all types of media like music for TV, movies and video games. It really works well, and you can get great results within a matter of minutes. So go in and start creating your own soundscapes with Alchemy.
Learn advanced synthesis and sound design using Logic Pro's Alchemy instrument in this excellent video course HERE.