Where can you download a FREE 3-oscillator subtractive synth for Reaktor courtesy of Code:MONO? Here of course... follow the links and get it free :)
If you want a cool FREE synth for Reaktor 6 (yes, we said "free") then you're in the right place. Code:MONO (Rishabh Rajan) has created an awesome Reaktor 3 oscillator synth for everyone to enjoy! He's calling it Code:Mono Subtractive Synth and you download it exclusively here at Ask.Audio.
Download Code:MONO Subtractive Synth (For Free) HERE
We chatted with Rishabh fresh from completing the synth AND after releasing another excellent Reaktor video course in The Ask.Audio Academy, where he explores and explains 9 of his favorite factory Ensembles.
Ask: What inspired you to create this beautiful subtractive synth?
Even though this is a very straightforward synth, I made it to have just the main elements that I need for most of my common sounds. Also, its great to have a custom synth that is made just for you.
Ask: Tell us a little about how you made it (and how long it took you to make)
I would consider this to be an intermediate level synth for a Reaktor user. It took about 2 hours to finish the whole thing but I kept fine tuning the interface elements for a couple of days. The design uses mainly primary level modules and the engine is purely subtractive synthesis based. Reaktor has a phenomenal engine for this type of synthesis and it really shows in this design.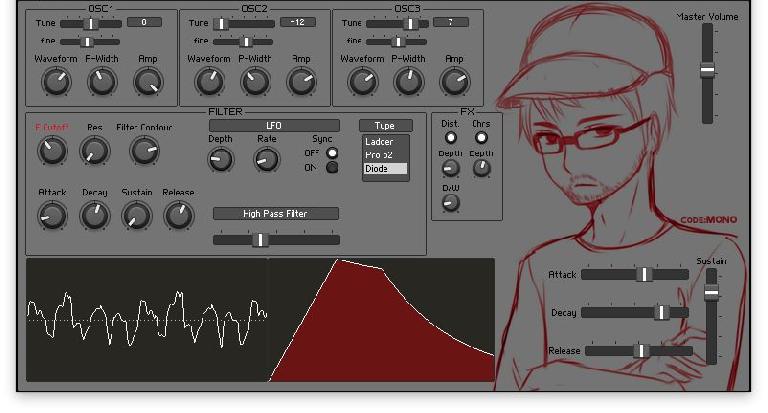 Ask: What are your favourite new features in Reaktor 6?
There are a lot of very helpful improvements in Reaktor 6 from a builder's perspective. The curved patch cables, ease with which you can rename modules and macros, and the overall GUI improvements has made things much better to use. I also really like how the Factory Library is now organized. Its a lot easier to access content.
Ask: What tips would you give to those wanting to make their own synths and effects in Reaktor?
Building in Reaktor can be quite intimidating for newcomers. Especially if you do not have that programming background. From a musician's perspective, I can say the best way to get into it is to read through the PDF file in the documentation folder called 'Building in Primary' its a great starting point and will get you up and running with creating your own synths & effects in Reaktor.