Quick out of the blocks since the previous update, Elektron have pushed out 1.0.3 for Digitakt users with a host of changes and bug fixes. Good news all round. Here's what's new.
Just a matter of days after updating their drum sampler and sequencer, Digitakt, Elektron have released a new version 1.0.3 firware update to address more issues and add additional features.
The crew at Elektron are certainly not resting on their laurels and are listening carefully to user feedback and squashing bugs (MIDI anyone?) that are lingering. In all, the speed at which Elektron are issuing updates is very welcome and a great sign overall for their intention that Digitakt becomes the machine we all want it to be. Having said that, it already has been well-received, and I personally love playing with this inspiring machine, and just a few fixes and tweaks will help make it the powerhouse in my setup I know it can be.
One change I appreciate a lot is the new shortcut to toggle the metronome on and off. Another is that now pasting or reloading a pattern should update the tempo. There's more I haven't had a chance to dig into at the time of writing.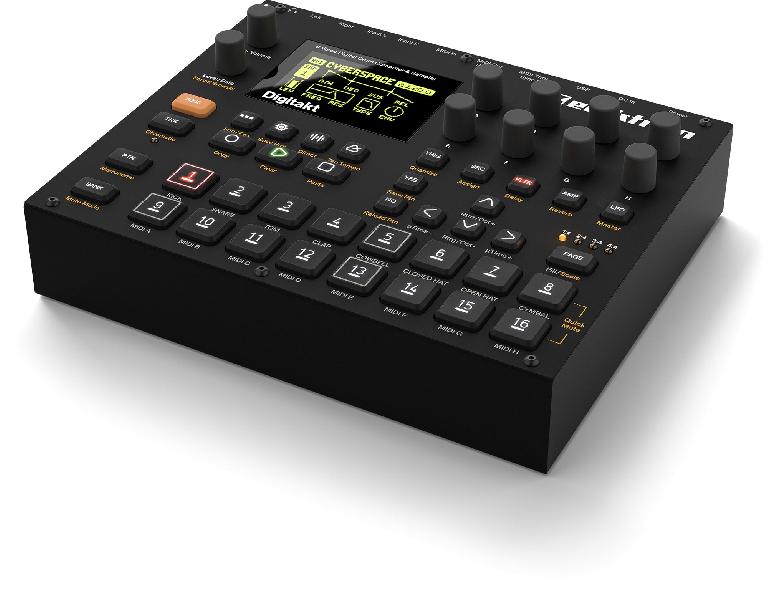 Here's what new from Digitakt 1.0.2 to 1.0.3:
Changes
Updated factory presets. In total there are now 32 patterns and 64 sounds. To install the factory presets you must perform a Factory Reset. WARNING: Factory reset overwrites Sound Bank A and Project 001.

Metronome can be disabled/enabled using Func+PTN long press.

Help text is shown when attempting to change a disabled MIDI parameter. Help text is shown when switching mute modes.

The shortcut operations for saving/reloading patterns have been changed so they don't apply to the saved plus drive project. In order to save patterns to (or reload ditto from) the plus drive project you must now use the pattern menu. This means you can use the quick save/reload operations to work with the pattern in a way that's not destructive for the saved project. The operations will now also work for unsaved and write-protected projects.

New default MIDI settings for new projects: USB output is enabled and parameter output is set to CC.

Active mute mode (global vs pattern) is now remembered, so that both the mute mode and the quick mute mode shows last visible mode instead of always defaulting to global mutes.

Write-protected samples are now marked with a padlock in the sample manager.

On/off switch-type trig parameters retain their names on screen when parameter locking. Were previously replaced by the text on or off.

Improved bank selection mode.
Bug fixes
Exception error when loading/deleting/moving samples. FX Settings not remembered after reboot.

FX settings not applied correctly after pattern reload Track levels not applied after pattern reload.

Having any MIDI track active causes internal tracks to ignore external MIDI notes. Changing to a Pattern in a different Bank while playing displays incorrectly. Pattern selection would go away before PTN button was released.

Project sub-menus not restored properly when toggling settings menu.

Not possible to edit or record trigs via USB MIDI auto channel.

Pattern paste and pattern reload wouldn't update tempo.

Clearing the trig page would incorrectly reset the note length.

Zooming on the recorder screen could cause big delays when saving the sample.

MIDI transport input ignored its designated setting, and would be received or not depending on whether clock input was enabled.

Applying minimum trim in the recorder screen would make the unit freeze.

Power cycling the unit would preserve the currently active global mutes, with one exception: if track 16 was muted, all tracks were unmuted after a power cycle.

Some messages in the sample manager would not be displayed.

It was not possible to clear MIDI note locks using trig key + play/clear.

Pressing TRK would not close pattern change mode.

Pattern selection mode would exit once a pattern had been selected, even though the PTN key was still being pressed.

Mute mode could not be opened when in step recording mode.

Pattern mute on MIDI Track would not engage until next pattern loop, or until the second run of a pattern when changing pattern while the sequencer is stopped.

The unit would hang very easily if there were any trigs on the MIDI tracks and if transport mode was changed quickly a few times in a row.
The manual has also been updated, so it's worth downloading the PDF too.