The new Vintage EQ plug-ins that come with Logic Pro's 10.4 update may punch above their weight, but can they take on UAD's mighty DSP-powered emulations? Jay Asher finds out.
I am a huge fan of the plug-ins from Universal Audio and also their DSP cards and interfaces which have been a large part of how I make my music sound the way I want it to for years. The only downside is that they induce latency into a project in a way that native plug-ins do not, so I end up having to wait till the final mix to add some of them.
When Logic Pro X 10.4 was released and featured three new "Vintage EQs" it caught my attention. As I wrote in a previous article, Digital EQs in theory can all be made to replicate each other in a way that other types of FX cannot. With the UAD emulations, it is more difficult, but not impossible. And anyway if they sound really good, I don't need them to be identical to either the hardware or the UAD emulations, I just need them to get a result I am happy with.
So how do they stack up? The scientific method would of course be to make sure that the settings were flat out identical to as great a degree as possible but I am going to take a more general approach and let you reach your own conclusions - or do further testing if you like.
Vintage Console VS UAD Neve 1073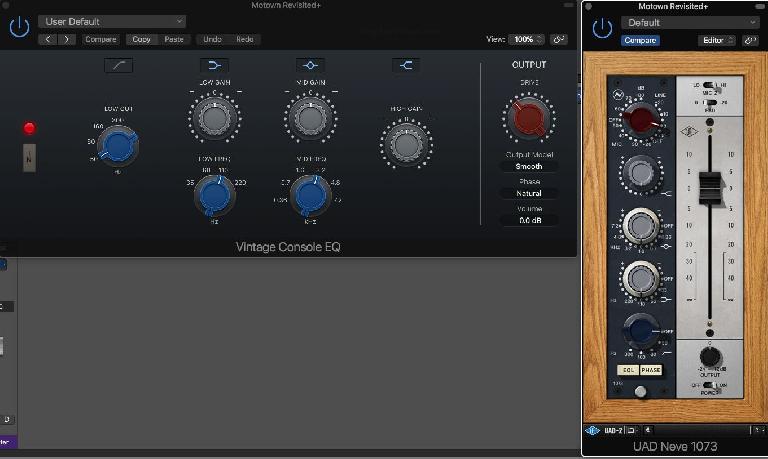 These EQs were part of the channel strips in the revered Neve 1073 console. The UAD version is designed to behave as closely as possible to the actual hardware, while the Logic version allows for more flexibility, allowing you to choose the output only for coloring or mix and match models. (With all three of the new EQs this will be true: UAD will opt for authenticity to the hardware while the Logic developers will give you more options and greater flexibility.)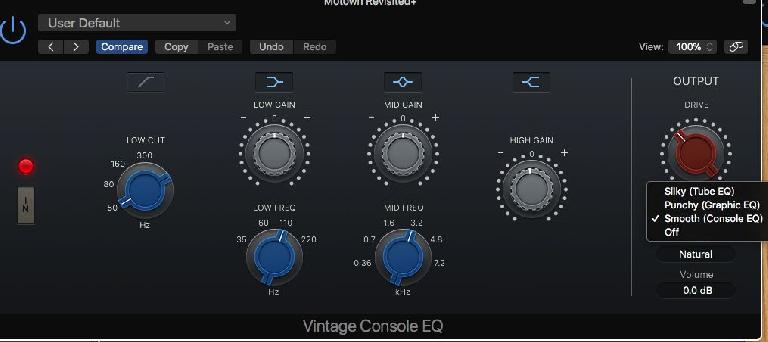 So how does it sound? In this example I have added a "Pop Snare" preset to a Logic drum kit and in the first half you hear it with the Vintage Console EQ bypassed and then it enters halfway through.
I switched to Controls view so you can see the specific settings.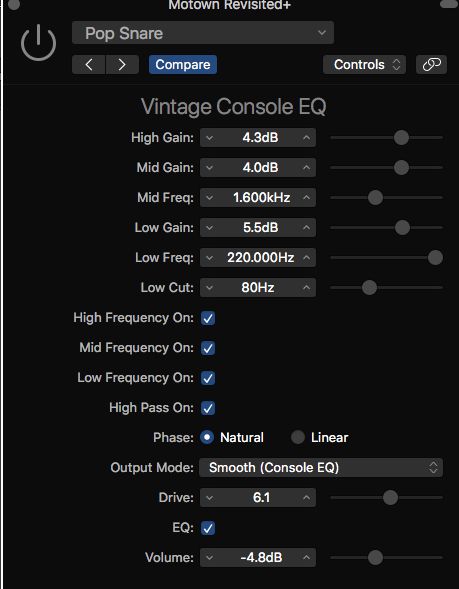 Now however, if I switch to Controls view in the UAD Neve 1073, you can see my problem, the controls are quite different.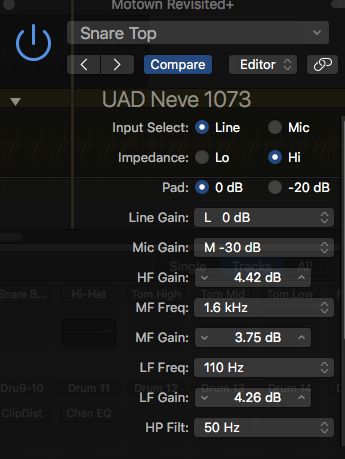 The UAD Neve sounds louder with its preset, so I simply pull down the fader in the plug-in to make it more commensurate and hear is the result. Again, this is a very unscientific approach, but hopefully it gives you some idea.
Vintage Graphic VS UAD API 560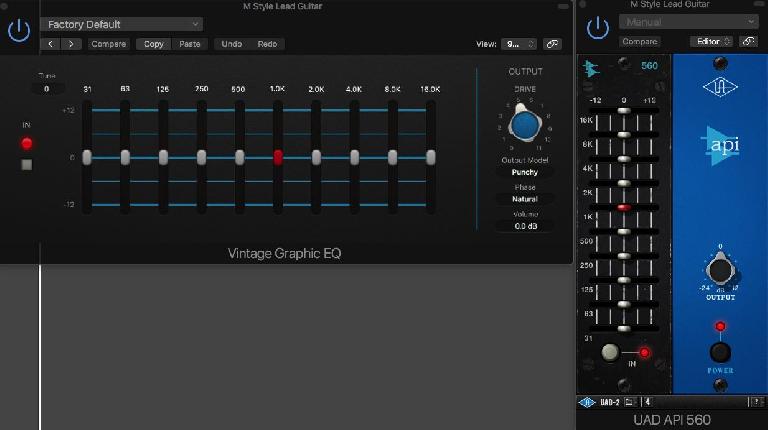 Here are the two versions of the widely prized API 560. I probably use this more than any UAD EQ because it is just so easy to understand and adjust. Notice that the UAD emulation has the bands laid out vertically like the hardware while the Logic version has them laid out horizontally. I have to say that right off the bat I prefer that, as it is easier to see on a computer screen, which is wider rather than taller.
I loaded an "Electric Lead Guitar" preset onto this lovely but kind of dull sounding Apple Loop. In the beginning it is bypassed and you can hear it kick in half way through again. In Controls view, it looks like this: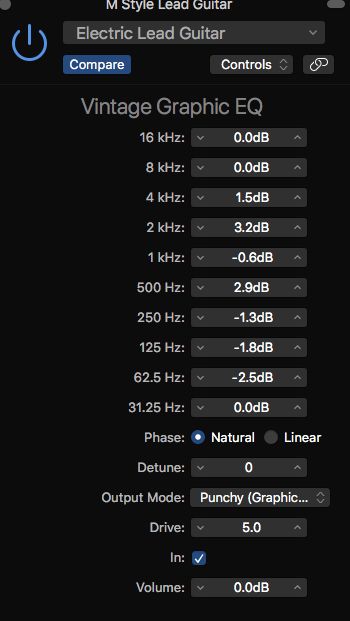 Now I insert the UAD API 560 and to my dismay, there is no electric lead guitar preset, but fortunately in Controls view it looks much more like the Controls view of the Logic Graphic EQ so perhaps I can create my own and come close?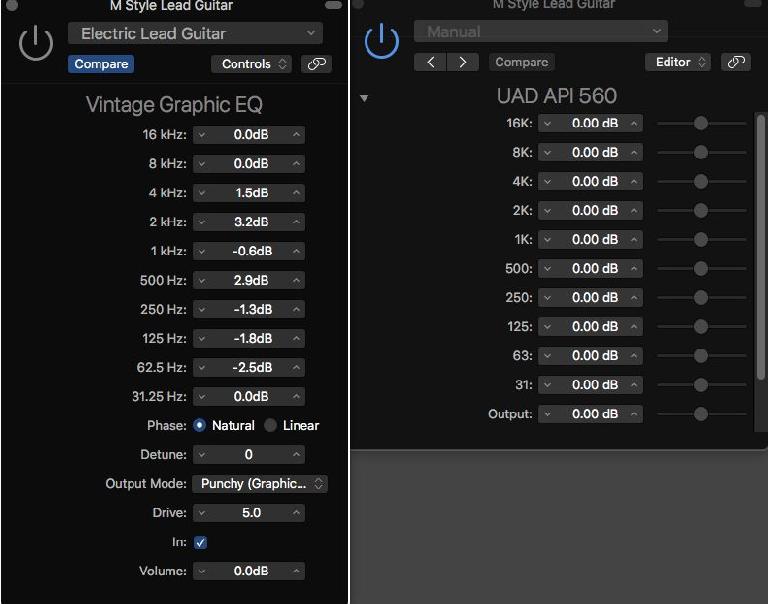 Not quite, because the UAD has 3 digits rather than 2 and no "Drive" setting, because the hardware doesn't, but it's pretty close.
Vintage Tube VS UAD Pultec
This one is the most problematic to compare. The Pultec EQ was very rare and idiosyncratic. You could not both boost and attenuate at the same time so you had separate knobs and that led to some interesting sounds when set to similar frequencies because of its unique curves. (On the hardware and the UAD emulation the knobs are notched, but not on the Logic version.)
The UAD Pultec emulations are called the Passive EQ Collection, as they have added two more plug-ins to the original EQP-1A, one for mids and another for lows. So I will limit it to the EQP-1A.

One of the truly remarkable things about the UAD Pultec is that when you instantiate it and do absolutely nothing, there is some kind of magic to it that is hard to define but audible. Will the Logic version pass this test? Here you will hear the same vocal loop three times: the first pass with no EQ, the second with the UAD Pultec, set to default, output boosted a little, and then the Logic Tube EQ, set to default, output boosted a little bit.
As you can see, the controls look very different and honestly, I have no idea what CPS and KCS mean in the UAD Pultec, but more power to you if you do.

So this is my unscientific comparison of three new Vintage EQs included for free with Logic Pro X 10.4 against three somewhat expensive UAD versions. I am not going to stack the deck by giving you my conclusions but to me the important questions for you are:
How close is the sound of the Logic versions to the UAD emulations? Is there a significant difference?
Do you own or plan to own UAD hardware that hosts the plugs? (I already do and there are plug-ins besides the EQs that I treasure.)
Do you need the additional DSP power the UAD hardware provides? (BTW, the Logic versions eat up very little CPU.)
How much does the latency issue that you have to compensate for with the UAD hardware/software matter to you?
Are there other native versions you own that you think top the Logic versions?
I will say this: I think that the Logic developers have done a remarkable job with these Vintage EQs and if you cannot make good sounding music with them, you cannot with any EQ plug-ins.