Eventide have unleashed a new multi-tap delay effect plug-in capable of many cool and crazy things. UltraTap is only $49 for the first month and you can download a free demo or watch the video below.
UltraTap is a unique multi-tap effect capable of rhythmic delays, glitchy reverbs, huge pad-like volume swells and extraordinary modulation. It's the perfect tool for creating drum fills, vocal choruses, swelling guitar chords and other evolving effects—everything from reversed reverbs to a massed church choir singing a Gregorian chant in Notre-Dame Cathedral! UltraTap is on sale for $49 through September 5, 2017. Free 30-day demo available.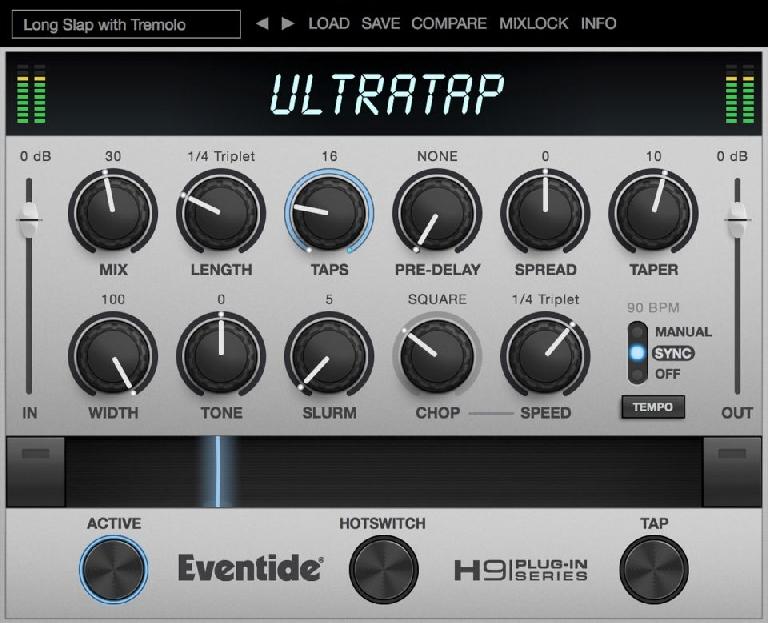 UltraTap Features
Over 150 presets designed to inspire; including artist presets by Chris Carter, Colin Newman, Sasha and many more.
The Ribbon control allows you to transition seamlessly between two settings of any combination of controls.
Innovative Slurm control lets you smear taps together or modulate them to create truly unique reverbs.
Create drastic changes in effect and sound by assigning the HotSwitch to an alternate version of the current settings.
Use up to 64 taps to create simple repeats or morph delays into chorus and reverb.
Speed up or slow down the rhythmic space between taps using the Spread knob.
Use the onboard LFOs and envelopes to chop the sound source into stuttered rhythms.
Control the stereo image of taps to alternate between hard-panned and mono.
Sync the Length and/or Chop LFO speed to the DAW session.
Use Mix Lock to scroll through presets while keeping the wet-dry mix constant.
Optimized for live use with MIDI control of The Ribbon and Tap Tempo for quick meta control on the fly.
Watch these UltraTap Demos