Create a free account (or sign-in) to grab this incredible collection of Complextro Apple Loops by Darren Burgos. These green Apple Loops contain MIDI and instrument settings for Logic Pro users!
Why aren't all your music friends making Complextro? Because it's arguably one of the most difficult genres to create. It's not about a repeating groove like in House, and it often doesn't reply on long breaks like Big Room and other genres. It's more about constant motion and change, as varied sounds cut away quickly between one another in unpredictable ways. This is traditionally made by intricately chopping audio. Because audio stops the moment it's gone, it's easy to control perfectly timed ends.
However, the biggest drawback with editing as audio is that if you change your mind about the sound(s) you've chosen, there's really no easy way to replace it/them. Basically a full re-edit awaits because Logic does not currently have a way to 'replace' an audio file that's been edited directly in the workplace/Arrange window'"I think this would be an excellent new feature by the way! Nonetheless, if you're a MIDI-head like me, you really prefer keeping things virtual anyway.
In Logic Pro, one of the easier ways to produce Complextro (or other genres that break away to multiple sounds quickly), is with MIDI regions playing the same part/musical phrase (often at different octaves). Chopping the regions up into equal pieces on each sound, then muting and un-muting the various sliced regions is a great method for making Complextro in Logic. To achieve the instant stop you get like in audio, you can easily use automation with the Marquee tool.
The free Apple Loop kit below is a collection of loops well suited for Complextro. They are mostly unprocessed so you can add your own effects. These are not simply audio regions (even though they can be used as audio). They are 'green' Apple Loops that come with the Instrument and its setting that created the sound, the MIDI that plays the part back, any effects, and even any MIDI data like Pitch Bend and Modulation. Unlike audio only loops, you can change everything about them. At the end of this article there's a 'proof of concept' song I put together with these loops'¦ no additional processing other than what was already on the loops was used. First download the pack below, then read on for tips on using them.
Download the Complextro AskAudio Loop Kit HERE!

1. Getting the Loops into Logic
Once you've downloaded the pack, you can simply drag a loop directly into an open Logic project and you're done. You can also add them to Logic's built-in Loop Browser. if you don't have one, create a space on your drive specifically for organizing loops. Place the folder of loops there. Now simply drag that folder to the open Loop Browser window. It will ask you if you'd like to 'Add Loops to the Loop Browser?' Choose current location, and they'll be indexed from where you put them on your drive. You can find the loop packs as you would for the built-in packs (from the drop-down menu at the top of the loop browser), or just search the way you normally would.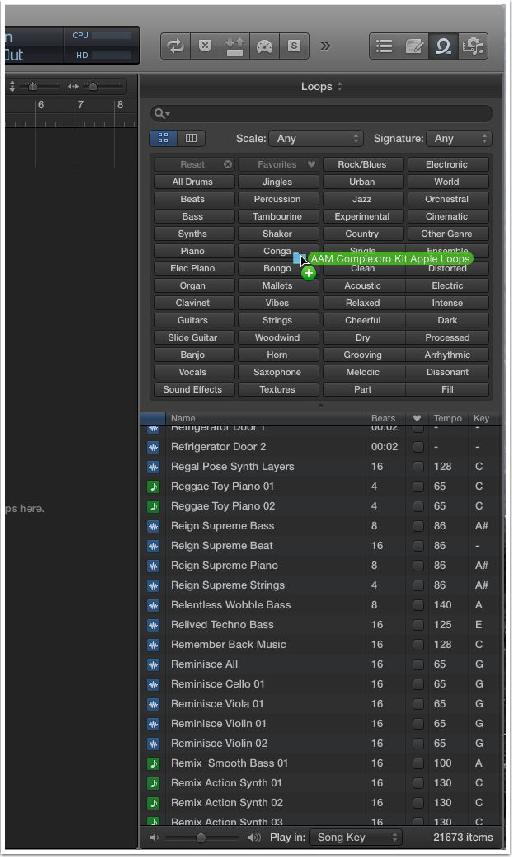 2. Set the Key and Tempo
These loops were made in the key of E running at 146 BPM and will sound the best if you match these. Press the D key to open the List Editors. Click onto the Signature tab and change the key to E, from the 'LCD' change the tempo to 146.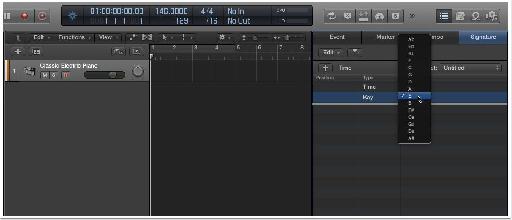 3. Chop up the Loops Equally
After you've added the loops to the workspace, zoom in on them and cut them up. Try to do it equally like in the image below, mute everything, then start un-muting different ones so they play one after the other.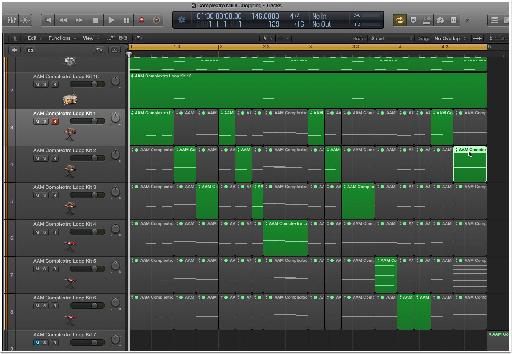 4. Make Instant Stops With Automation
Enable Automation by pressing the A key on your Mac's keyboard. Now press the T key and switch to the Marquee tool. Select the area you want no sound on, switch back to the pointer tool and pull down on the selected area. You'll in effect, make perfect blocked volume changes that will immediately stop the sound much like a chopped audio edit.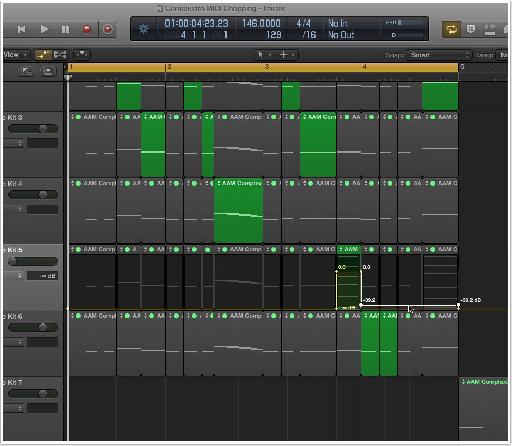 5. Change the Sound Any Way You Like
Unlike audio, everything can be changed. Feel free to swap out the sounds, change the MIDI, add different effects, and even convert them to audio and chop in the classic way.
Thanks for reading and downloading the kit. Here's short song I put together with the loops: