Free Vintage Electric Piano VST & AU Instrument Plugin
New music software developers, NoiseAsh Audio, tell us their recently released FREE Sweetcase is a fantastic sounding electric piano plugin for Windows & Mac producers. It's FREE, so download it now!
There's something about electric pianos that can be so entrancing and captivating. We find that's even more the case when they are free also! This one from NoiseAsh Audio has some warm and sweet tones indeed, and as an AU and VST is good for Windows and Mac users.
You can listen to NoiseAsh Audio's Sweetcase in action below... or download it here.
Sweetcase is a virtual instrument plug-in that takes your electric piano parts very easy level and realistic right in your computer, with warm and professional sound quality!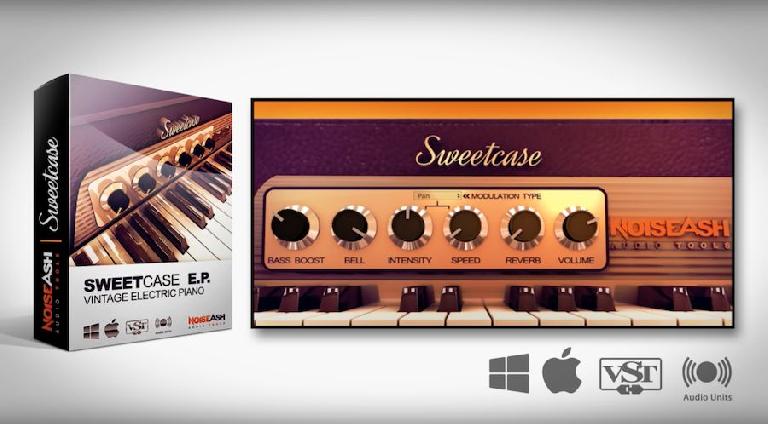 CORE SPECIFICATIONS
Warm, shiny realistic and customisable professional vintage electric piano sound with nice special 3D GUI.

Like most of NoiseAsh Audio products, this is a Ready to mix instrument. That means your e-piano tracks won't need to be tweaked hard for modern analog vibe. It can be used in any kind of music that needs piano / electric piano tracks.

All samples were recorded, mixed / mastered through classic analog gears such as tape saturator, tube EQ and compressors.

Many round robins and different velocity layers for realistic sound.

Bass Boost, Bell, Modulation (Pan, Tremolo and Pitch), Built in Reverb controls.
PC / MAC REQUIREMENTS
Windows XP SP2 or later / OSX 10.6.8 or later

4 GB RAM / 250 MB HD

1024×768 screen resolution

VST, AU instrument plugin 32-bit or 64-bit host

Ability to download
Web: http://noiseash.com/downloads/sweetcase_vintage_electric_piano_vst_au_win_mac/