Future Audio Workshop Releases SubLab, 808-Style Bass Synth With Intro Pricing Available
Get the classic sound of the 808 along with a whole world of sound tweaking tools and features with this new bass softsynth, which is discounted for a limited time only.
Good news for bass heads everywhere - a brand new bass synth to bring ground-shaking low end to your tracks! Here's what the develoeprs told us about it. "Our new synth is finally here! Create powerful 808 style sub-bass that sounds punchy on every speaker with SubLab; a new class of synthesizer designed for hip-hop, future bass, and trap genres. Get all the tools you need to sample, layer, widen and distort any kick into a uniquely powerful sub in one plug-in. SubLab's innovative yet simple mix workflow includes X-SubTM, our psychoacoustic sub-bass oscillator. This newly invented oscillator works as a sub-bass maximizer to achieve consistent, accurate and deep subs on any speaker system."
SubLab comes packed with 6 signature Bass Packs and 250 kick samples meticulously recorded from classic analog drum machines and modern modular systems. You can also drag and drop your own samples into the sampler and SubLab will automatically detect the pitch of your sample for a faster workflow. Build your own sample library and Bass Packs as you go.
Bass Packs
Richie Souf Signature Sounds : 808 sounds created by Atlanta's Richie Souf, producer for Future, Young Thug, Gunna and more '¨
Hits DNA Vol. 1 : the 808 sounds of the moment, deconstructed and recreated in SubLab '¨
Divine Bass : smooth 808s and deep, dark basses made by YouTube trap production educator, Sean Divine '¨
Crushed : the heaviest distorted 808 basses '¨
Analog Machines : warm analog sounds straight out of classic analog '¨machines, modernized in SubLab '¨
Pure Subs : the purest of subs designed for layering when your track '¨already has a kick drum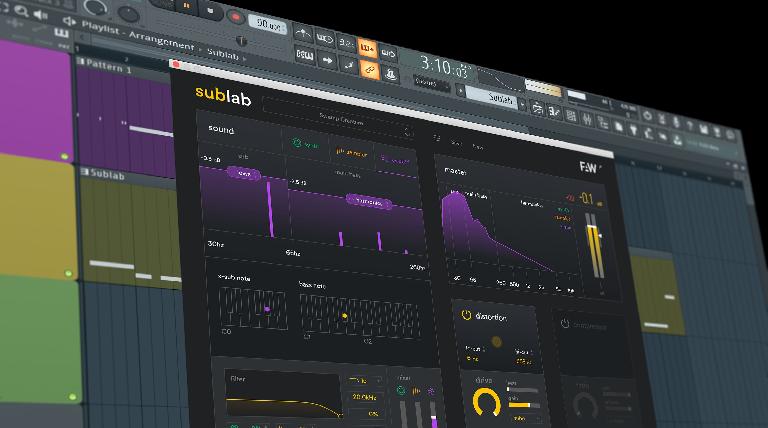 250 kick samples recorded from:
Roland TR-808 '¨
Roland TR-707 '¨
Waldorf Blofeld '¨
JoMoX MBase 11 '¨
MFB 522 '¨
Nord Lead '¨
Noise Engineering Basimilus Iteritas '¨
Befaco Kickall '¨
Intellijel Dixie '¨
Hexinverter BD9 (Module) '¨
Mutable Instruments Plaits '¨
Dave Smith Tempest '¨
Korg Volca Beats '¨
Korg Volca Kick '¨
Vermona Mono Lancet '15
Price: Intro price $40, regular price $70