You want a warm, punchy sound, right? We all like that analog tape sound in this digital world. That's why Rich Tozzoli has turned to Universal Audio's Studer A800 for that extra punchy sound!
Ah, die guten alten Sound der analogen Bandmaschinen. Viele Adjektive verwendet wurden, um ihren Charakter warm, druckvoll, Fett, luftig, dick und so weiter beschreiben. Aber die sind selten verwendet werden, um den Klang unserer Lieblings-DAWs (Digital Audio Workstations) zu beschreiben. So ein Weg, um sie zusammen zu arbeiten ist ein Plug-in wie den Einsatz Universal Audio Studer A800 Multichannel Tape Recorder. Dies ist besonders nützlich, um Drums und Loops, Punsch durch einen Mix etwas, was wir hier zu erkunden wird mit 5 einfache Tipps.
First in Line
Universal Audio empfiehlt die Verwendung des Studer A800 als erste Einsatz auf dem gewählten Kanal (n) so ihr Bestes, um jedes andere Plug-Ins, die Sie haben und beginnen, es zu umgehen. Einzelnen Drum-Tracks, Gruppen oder auf einer Stereo-oder Master-Bus: Sie können es in einer Vielzahl von Möglichkeiten.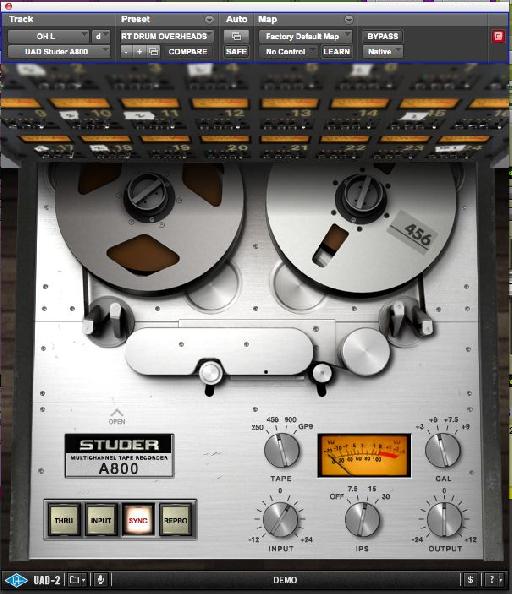 Lochen Sie den Eingang
Einer der großen Dinge über Aufnahme Trommeln auf analogen Bandmaschinen ist, können Sie das klassische erfreuliche Sättigung zu erhalten. Durch Aufdrehen des Eingangs Knopf, treibt er das Tonsignal auf das Band-Schaltung. Niedrigere haben einen saubereren Klang, aber höheren Ebenen wird in mehr Verzerrung und Sättigung führen. Beachten Sie, dass die Output-Regler keine Kontrolle außer Einstellung der Verstärkung am Ausgang des Steckers hat in.
Ich neige dazu, die A800-Plug-in verwenden auf Drum-Overheads, um einige große Dicke und analoge Farbe zu erhalten. Aber es klingt auch gut Antreiben des Eingangs bei der Verwendung des A800 auf Drum-Loops. So oder so, versuchen Sie schlagen, dass die Eingabe für einigen zusätzlichen Klangcharakter.
Zentimeter und Sekunden
Ein weiteres wichtiges Steuerelement auf der A800 ist das IPS-Knopf oder Zentimeter pro Sekunde. Dies steuert die Geschwindigkeit des Bandes Transport, sowie den Kopf stoßen ein schickes Wort für Bassfrequenz aufzubauen. 30 IPS ist die sauberste und unberührtesten der drei mit seiner relativ flachen EQ Antwort. 15 IPS ist ein Favorit für Rock-und R
Meine Lieblings-Einstellung am Schlagzeug ist 15 IPS, weil youll hören zähmen und knackig in den Becken zischen, und Punsch ein wenig der Kick Drum.
Versteckte EQ
Durch Klick auf den Studer-Abzeichen, öffnet sich eine sekundäre Wand der Kontrollen. Wenn Sie Sync oder Repro auf dem primären Pfad wählen (Thru / Input / Sync / Repro), der Sync und Repro wählen EQs aktiv. Diese Filter können prägen das HF (Hochfrequenz) und LF (Low Frequency) EQ.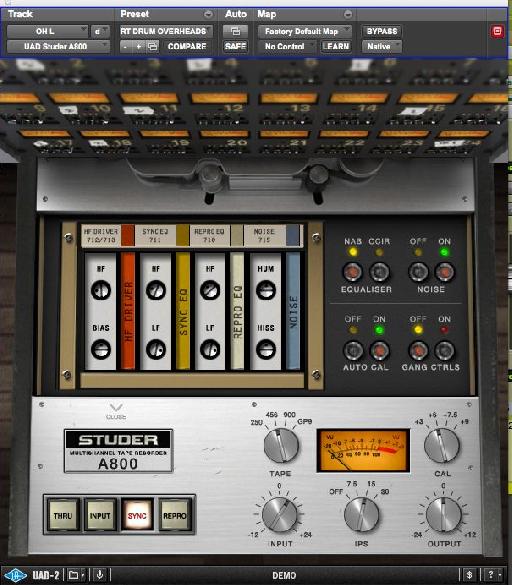 Zum Beispiel, wenn Sie mit dem A800 auf Gemeinkosten und die Becken sind zu hell, wählen Sie Sync auf dem primären Pfad auswählen. Dann drehen Sie den Sync HF EQ unten (gegen den Uhrzeigersinn). Youll hören die hohe brutzeln reduzieren wie mit EQ. Im Gegenteil, wenn Sie den Ton heller machen wollen, drehen Sie den HF EQ up. Es ist eine Reihe von leistungsfähigen Filter / EQ-Tools, die dazu beitragen, dass das Detail in Fässer können.
Join the Gang
Wenn Sie wählen, um es über mehrere Drum-Spuren legen und Sie wollen eine globale Änderung auf alle Instanzen auf einmal ist es einfach zu machen. Einfach auf den Studer Abzeichen klicken zur Öffnung der sekundären Kontrollen (wie in der Spitze oben erwähnt). Wählen Sie dann den Gang Button Controls und schalten es ein. Eine rote LED blinkt dass Sie wissen, seine aktive.
Nun kann jeder A800 Plug-in, haben Sie Gang Bedienelemente aktiv werden, um Änderungen an einer von ihnen reagieren! Einfach. Um einzelne Änderungen (nicht für alle von ihnen) zu machen, drehen Sie einfach Gang Bedienelemente OFF, und machen Sie Ihre Einstellung. Um es wieder in den Gang, setzen die Kontrollen wieder EIN (das rote Licht blinkt). Jetzt youre gut zu gehen.