You want a warm, punchy sound, right? We all like that analog tape sound in this digital world. That's why Rich Tozzoli has turned to Universal Audio's Studer A800 for that extra punchy sound!
Ah, el viejo sonido de cinta analógica. Muchos adjetivos se han utilizado para describir su carácter cálido, potente, graso, amplio, grueso y así sucesivamente. Pero esos casi nunca se usan para describir el sonido de nuestras aplicaciones musicales favoritos (estaciones de trabajo de audio digital). Así que una manera de hacer que trabajen juntos es usar un enchufe como el Audio Studer A800 universal Grabadora Multicanal. Esto es especialmente útil para obtener tambores y bucles para perforar a través de una mezcla de algo que exploraremos aquí con 5 sencillos consejos.
First In Line
Universal Audio recomienda utilizar el Studer A800 como la primera inserción en el canal elegido (s) así que es mejor para evitar cualquier otro plug-ins que tiene y comenzar allí. Se puede utilizar en una variedad de formas: pistas individuales de percusión, grupos o en un equipo de música o el bus maestro.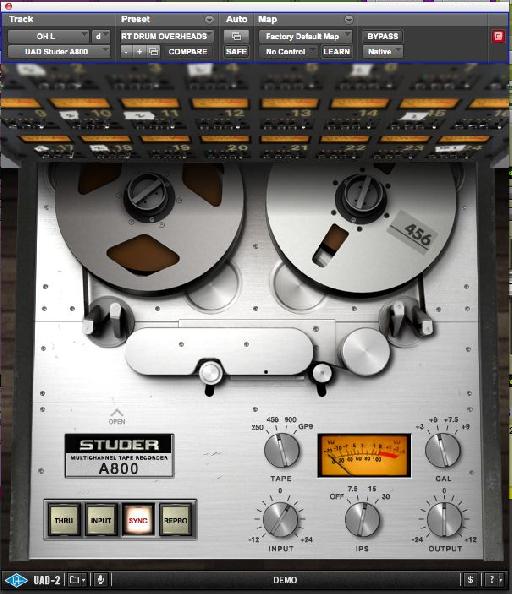 Perfore la entrada
Una de las mejores cosas de los tambores de grabación en cinta analógica se puede obtener ese clásico saturación agradable. Al girar la perilla de entrada, que conduce la señal que va al circuito de la cinta. Los niveles más bajos tendrán un sonido más limpio, pero los niveles más altos resultarán en más distorsión y saturación. Tenga en cuenta que el mando de salida no tiene control que no sea el ajuste de la ganancia en la salida de la clavija pulg
Tiendo a utilizar el A800 plug-in de gastos generales del tambor para conseguir algo de gran grosor y el color analógica. Pero también suena bien conducir la entrada al utilizar el A800 en loops de batería. De cualquier manera, intenta golpear esa entrada para algún personaje Sonic.
Pulgadas y segundos
Otro control importante sobre el A800 es el mando de IPS o pulgadas por segundo. Controla la velocidad de la cinta de transporte, así como su cabeza golpee una palabra elegante para la frecuencia de graves se acumulan. 30 IPS es el más limpio y más puro de los tres con su respuesta relativamente plana EQ. 15 IPS es uno de los favoritos para el rock y R
Mi escenario favorito en la batería es de 15 IPS, porque usted escuchará que domar y crujiente chisporroteo en los platillos, y golpear un poco de bombo.
Hidden EQ
Al hacer clic en el Badge Studer, se abre un panel secundario de los controles. Si selecciona Sync o Repro en el Camino Select Primaria (Thru / Entrada / Sync / Repro), la sincronización y Repro ecualizadores se activan. Estos filtros pueden dar forma al HF (alta frecuencia) y LF (baja frecuencia) EQ.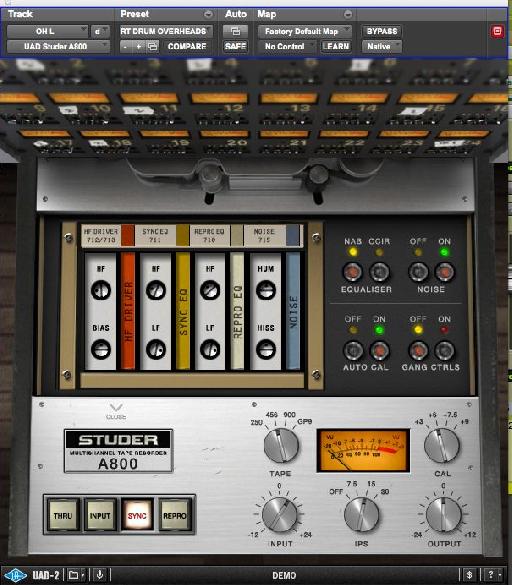 Por ejemplo, si está utilizando el A800 en los gastos generales y los platos son demasiado brillantes, seleccione Sync en el Camino Principal Select. A continuación, gire la sincronización HF EQ hacia abajo (hacia la izquierda). Usted escuchará el alto chisporroteo reducir como usar EQ. Por el contrario, si desea aumentar el brillo de sonido, gire el EQ HF arriba. Es un potente conjunto de filtros / EQ herramientas que pueden ayudar a poner de manifiesto el detalle en los tambores.
Únete a la pandilla
Si decide colocarlo en varias pistas de percusión y quiere hacer un cambio global a todas las instancias a la vez que es fácil. Simplemente haga clic en la insignia Studer para abrir los controles secundarios (como se menciona en el extremo superior). A continuación, seleccione el botón Controles Gang y vuelva a encenderlo. Un LED rojo parpadea para hacerle saber de su activo.
Ahora cualquier enchufe A800 de que usted tiene los controles activos de pandillas en responderá a los cambios realizados en cualquiera de ellos! Fácil. Para realizar cambios individuales (no a todas), simplemente gire Controles Gang OFF, y hacer su ajuste. Para poner de nuevo en la banda, coloque los controles en ON (la luz roja parpadea). Ahora usted está listo para salir.