You want a warm, punchy sound, right? We all like that analog tape sound in this digital world. That's why Rich Tozzoli has turned to Universal Audio's Studer A800 for that extra punchy sound!
Ah, le bon vieux son de bande analogique. Beaucoup d'adjectifs ont été utilisés pour décrire son caractère chaleureux, percutant, gras, bien aéré, épais et ainsi de suite. Mais ceux-ci sont rarement utilisés pour décrire le bruit de nos DAW préférés (stations de travail audio numérique). Donc, une façon de les amener à travailler ensemble est d'utiliser un plug-in comme le Audio Studer A800 Universal Multichannel magnétophone. Ceci est particulièrement utile pour obtenir des tambours et des boucles de punch au travers d'un quelque chose de mélange, nous allons explorer ici 5 conseils faciles.
En première ligne
Universal Audio recommande d'utiliser le Studer A800 que la première insertion sur le canal choisi (s) est donc préférable de contourner n'importe quel autre plug-ins que vous avez et commencer là. Vous pouvez l'utiliser dans une variété de façons: les pistes individuelles de batterie, de groupes ou sur une chaîne stéréo ou un bus Master.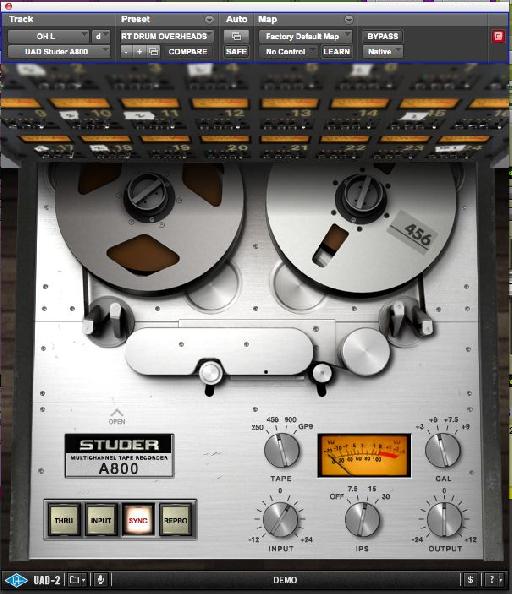 Percez le Input
Une des grandes choses au sujet de l'enregistrement des fûts sur une bande analogique, c'est que vous pouvez obtenir que la saturation agréable classique. En tournant le bouton d'entrée, il entraîne le signal allant vers le circuit de bande. Les niveaux inférieurs auront un son plus propre, mais des niveaux plus élevés se traduiront par plus de distorsion et saturation. A noter que le bouton de sortie n'a pas de contrôle autre que l'ajustement du gain à la sortie de la fiche po
J'ai tendance à utiliser l'A800 plug-in sur les frais généraux tambour pour obtenir une grande épaisseur et la couleur analogique. Mais il semble aussi bonne conduite de l'entrée lorsque vous utilisez l'A800 sur des boucles de batterie. De toute façon, essayer de frapper cette entrée pour un personnage ajoutée sonique.
Pouces et secondes
Un autre paramètre important de l'A800 est le bouton IPS, ou pouces par seconde. Ce contrôle la vitesse de défilement de la bande, ainsi que sa tête cogne un mot de fantaisie pour des basses fréquences s'accumuler. 30 IPS est la plus propre et la plus primitive des trois avec sa réponse relativement plate EQ. 15 IPS est un favori pour le rock et R
Mon réglage favori à la batterie est de 15 IPS, parce que vous aurez entendu il apprivoiser et croquant grésiller dans les cymbales, et de punch un peu de la grosse caisse.
Invisible EQ
En cliquant sur le badge Studer, un panneau secondaire de commandes s'ouvre. Si vous sélectionnez Sync ou Repro sur la principale voie Select (Thru / Input / synchronisation / Repro), la synchronisation et Repro égaliseurs deviennent actives. Ces filtres peuvent façonner la HF (haute fréquence) et LF (basse fréquence) EQ.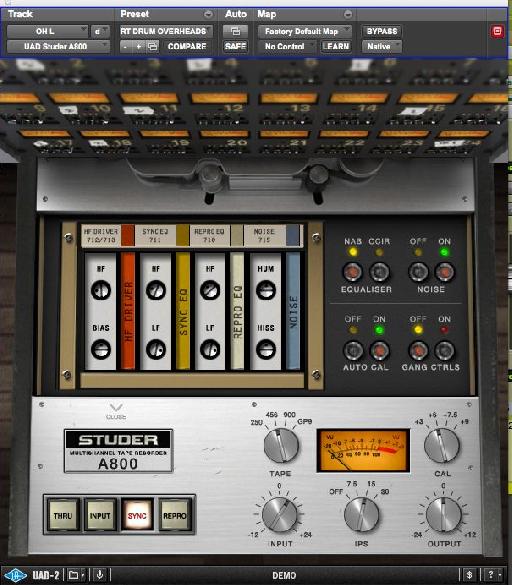 Par exemple, si vous utilisez l'A800 sur les frais généraux, et les cymbales sont trop lumineuses, sélectionnez Sync sur le chemin principal Choisir. Puis tournez la synchronisation HF EQ vers le bas (vers la gauche). Vous aurez entendre le grésillement haute réduire comme l'utilisation d'EQ. Au contraire, si vous voulez faire le meilleur son, tournez le EQ HF up. C'est un ensemble puissant de filtre / EQ outils qui peuvent aider à faire ressortir les détails dans des fûts.
Rejoignez le Gang
Si vous choisissez de le placer sur plusieurs pistes de batterie et vous voulez faire un changement global à toutes les instances à la fois son facile. Il suffit de cliquer sur le badge Studer pour ouvrir les contrôles secondaires (comme mentionné dans l'astuce ci-dessus). Puis cliquez sur le bouton Commandes de Gang et allumez-le. Une LED rouge clignote en vous signalant son actif.
Maintenant, n'importe quel plug A800 à qui vous avez des contrôles actifs de gangs sur répondra aux modifications apportées à l'un d'eux! Facile. Pour apporter des modifications individuelles (pas tous), il suffit de tourner Contrôles Gang OFF, et de faciliter votre adaptation. Pour le remettre dans le Gang, mettre les commandes en arrière (le voyant rouge clignote). Maintenant vous êtes prêt à partir.