You want a warm, punchy sound, right? We all like that analog tape sound in this digital world. That's why Rich Tozzoli has turned to Universal Audio's Studer A800 for that extra punchy sound!
Ah, il buon vecchio suono del nastro analogico. Molti aggettivi sono stati usati per descrivere il suo carattere caldo, incisivo, grasso, arioso, spessore e così via. Ma quelli sono raramente utilizzati per descrivere il suono dei nostri preferiti DAW (Digital Audio Workstation). Quindi un modo per farli lavorare insieme è quello di utilizzare un plug-in come la Universal Audio Studer A800 Multichannel Tape Recorder. Ciò è particolarmente utile per ottenere tamburi e loop a punzone attraverso un mix qualcosa che esploreremo qui con 5 semplici consigli.
First In Line
Universal Audio consiglia di utilizzare lo Studer A800 come il primo inserto sul canale scelto (s) in modo del suo meglio per ignorare qualsiasi altro plug-in che hai e lì iniziare. Si può usare in vari modi: singole tracce di batteria, gruppi o su uno stereo o bus master.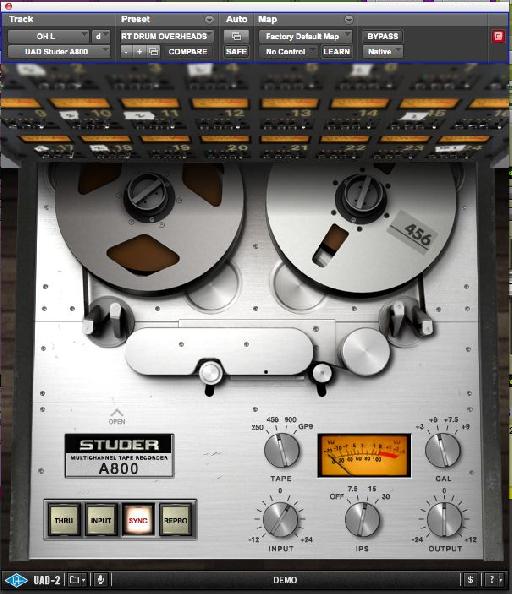 Perforare fino all'ingresso
Una delle grandi cose di tamburi di registrazione su nastro analogico è che si può ottenere che il classico piacevole saturazione. Ruotando la manopola Input, spinge il segnale che il circuito tape. Livelli più bassi avranno un suono più pulito, ma i livelli più elevati si tradurrà in più distorsione e saturazione. Notare che la manopola di uscita non ha controllo diversa regolazione del guadagno in uscita della spina dentro
Io tendo ad usare l'A800 plug-in su spese generali tamburo per ottenere qualche grande spessore e colore analogico. Ma suona anche bene alla guida del Input quando si utilizza l'A800 su loop di batteria. In entrambi i casi, provare a colpire quel Ingresso per un certo carattere sonoro aggiunto.
Pollici e Secondi
Un altro importante controllo sulla A800 è la manopola IPS, o pollici al secondo. Questo controlla la velocità di trasporto del nastro, così come la sua testa urtare una parola di fantasia per basse frequenze costruire. 30 IPS è il più pulito e più incontaminate della tre con la sua risposta EQ relativamente piatta. 15 IPS è un favorito per il rock e R
La mia impostazione preferita alla batteria è di 15 IPS, perché youll sentire che domare e croccante sfrigolare nei piatti, e un pugno su un po 'di grancassa.
Nascosto EQ
Cliccando sul Badge Studer, si apre un pannello secondario di controlli. Se si seleziona Sincronizza o Repro sul primario Seleziona percorso (Thru / Input / Sync / Repro), il Sync e Repro EQ diventano attive. Questi filtri possono modellare la HF (alta frequenza) e LF (bassa frequenza) EQ.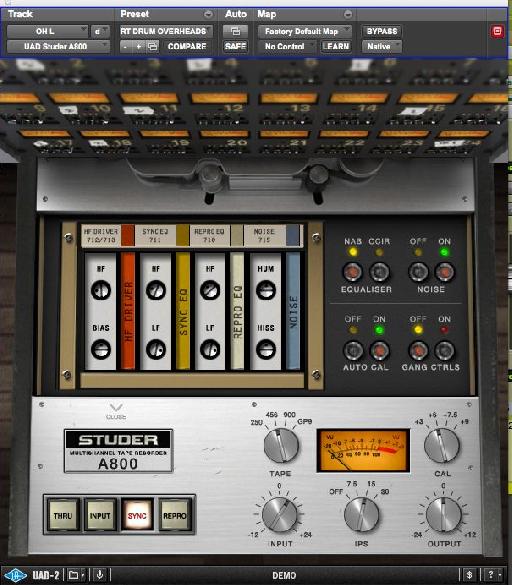 Ad esempio, se si utilizza la A800 su spese generali e dei piatti è troppo luminoso, selezionare Sync sul percorso primario Seleziona. Quindi ruotare la sincronizzazione HF EQ (in senso antiorario). Youll sentire l'alta sfrigolio ridurre come l'utilizzo di EQ. Al contrario, se si vuole fare il brillante suono, ruotare la sezione HF up. E 'un potente set di filtri / EQ strumenti che possono aiutare a far emergere il dettaglio in fusti.
Unisciti alla Gang
Se si sceglie di metterlo su più tracce di batteria e si vuole fare un cambiamento globale a tutte le istanze in una volta la sua facile. Basta fare clic sul distintivo Studer per aprire i controlli secondari (come accennato nella punta in alto). Quindi selezionare il pulsante Controlli Gang e accenderlo. Un LED rosso lampeggia ti permette di sapere il suo attivo.
Ora qualsiasi plug A800 in che avete Controlli Gang attiva risponderà alle modifiche apportate a nessuno di loro! Facile. Per rendere le singole modifiche (non a tutti), basta girare Controlli Gang OFF, e rendere la vostra regolazione. Per rimetterlo in Gang, inserire i controlli in posizione ON (la luce rossa lampeggia). Ora tu sei a posto.