You want a warm, punchy sound, right? We all like that analog tape sound in this digital world. That's why Rich Tozzoli has turned to Universal Audio's Studer A800 for that extra punchy sound!
Ah, o bom e velho som de fita analógica. Muitos adjetivos foram usados ​​para descrever o seu caráter quente, gorducho, de gordura, arejado, grossa e assim por diante. Mas aqueles que raramente são utilizados para descrever o som dos nossos favoritos DAWs (Digital Audio Workstations). Então uma maneira de levá-los a trabalhar em conjunto é a utilização de um plug-in, como o áudio Studer A800 Universal Gravador Multicanal. Isto é especialmente útil para obter bateria e loops para perfurar através de uma combinação algo que vamos explorar aqui com 5 dicas fáceis.
Na primeira linha
Universal Audio recomenda usar o Studer A800 como a primeira inserção em seu canal escolhido (s) para o seu melhor para ignorar qualquer outro plug-ins que você tem e começar por aí. Você pode usá-lo em uma variedade de maneiras: trilhas individuais de bateria, grupos ou em um aparelho de som ou de ônibus Mestre.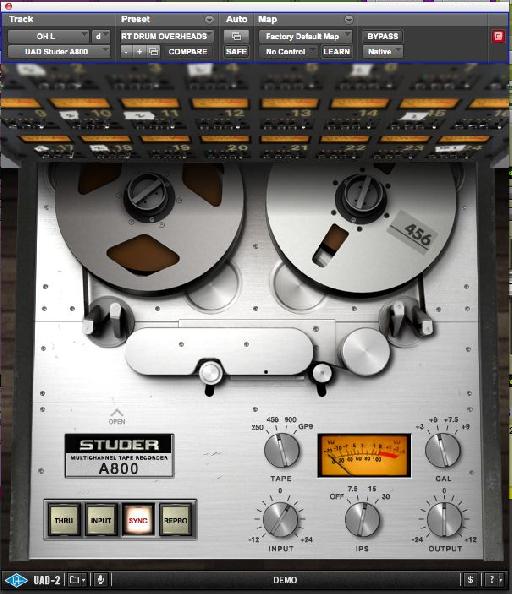 Perfurar até a entrada
Uma das grandes coisas sobre bateria de gravação em fita analógica é que você pode conseguir que a saturação agradável clássico. Girando-se o botão de entrada, que impulsiona o sinal que vai para o circuito de fita. Níveis mais baixos irão ter um som seco, mas níveis mais elevados irão resultar em mais distorção e saturação. Note-se que o botão de saída não possui controle excepto ajustando o ganho na saída do tampão dentro
Eu costumo usar o A800 plug-in em overheads de bateria para obter algum grande espessura e cor analógico. Mas também parece bom dirigindo o Input ao usar o A800 em loops de bateria. De qualquer forma, tentar bater a entrada para algum personagem sonora agregado.
Polegadas e Segundos
Outro controle importante sobre o A800 é o botão do IPS, ou polegadas por segundo. Isto controla a velocidade do transporte da fita, bem como a sua cabeça bater uma palavra chique para freqüência de graves construir. 30 IPS é o mais limpo e mais puro dos três com a sua resposta relativamente plana EQ. 15 IPS é um dos favoritos para o rock e R
Minha definição favorita na bateria é de 15 IPS, porque você vai ouvi-lo domar e crocante chiar nos pratos, e perfurar um pouco do bumbo.
Invisível EQ
Ao clicar no emblema Studer, um painel secundário de controles abre. Se você selecionar Sync ou Repro na primária Path Select (Thru / Input / Sync / Repro), o Sync e Repro EQs tornar-se ativo. Esses filtros podem moldar o HF (alta frequência) e LF (baixa frequência) EQ.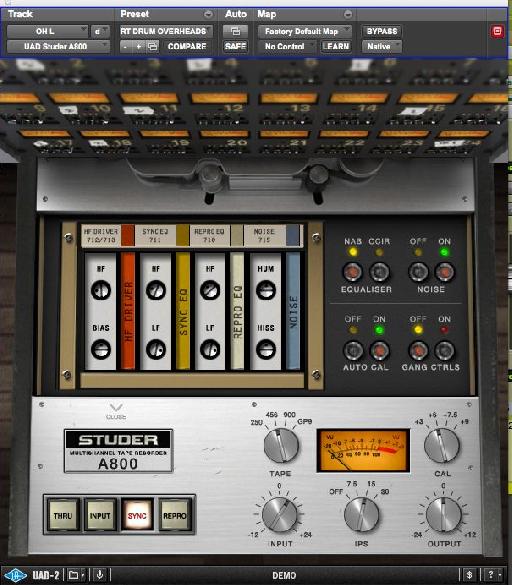 Por exemplo, se você estiver usando o A800 em despesas gerais, e os pratos são muito brilhantes, selecione Sync no caminho primário Selecionar. Em seguida, vire a sincronização HF EQ para baixo (sentido anti-horário). Youll ouvir o chiar reduzir a alta como a utilização de EQ. Pelo contrário, se você quiser aumentar o brilho do som, gire o HF EQ-se. É um poderoso conjunto de filtro / EQ ferramentas que podem ajudar a trazer para fora o detalhe na bateria.
Junte-se ao grupo
Se você optar por colocá-lo em várias faixas de bateria e você quer fazer uma mudança global para todas as instâncias de uma só vez é fácil. Basta clicar sobre o emblema Studer para abrir os controles secundários (como mencionado na dica acima). Em seguida, selecione o botão Controls Gang e ligá-lo. Um LED vermelho pisca permitindo que você saiba o seu ativo.
Agora, qualquer plug A800 em que você tem controles Gang ativo no responderá a alterações feitas em qualquer uma delas! Fácil. Para fazer alterações individuais (não todos eles), basta ligar Controls Gang OFF, e fazer o seu ajuste. Para colocá-lo de volta na Gang, colocar os controles de volta ON (a luz vermelha começa a piscar). Agora você está pronto para ir.