Put away your Upright basses, your fretless 5 strings and your Electronic-synth hardware Bass modules... Trilian is here! With over 34GB of some of the most delicious low end sounds ever created, T
Legen Sie Ihre Upright Bässe, Ihre fretless 5 Saiten und Ihre E-Synth-Bass-Hardware-Module ... Trilian ist da! Mit mehr als 34GB einige der köstlichsten Low-End-Klängen jemals geschaffen wurden, Trilian der go-to Bass-Sampler. Warten Sie ... habe ich nenne es einfach ein Sampler? Nun, dass es nicht Gerechtigkeit überhaupt. Es ist eine immense Instrument, einem Sampler, ein Synthesizer, ein Programmierer Traum und ein Musiker Freund. In der heutigen Spitze werden wir untersuchen, wie Trilian das eingebaute Arpeggiator verwenden.

Schritt 1 - Pretty Patterns

Ich bin mit Logic als mein Gastgeber, aber dies wird in einer der großen DAWs auf Mac oder PC arbeiten. Ich habe eine einfache 4 Note Muster in Logic Piano Roll erstellt. Das Muster ist auf einer Spur in Logic mit Trilian als das Instrument. Trilian erzeugt keine Töne von sich, so müssen wir entweder ein Muster oder einen Trigger MIDI-Noten in Echtzeit für Trilian den Arpeggiator zu arbeiten.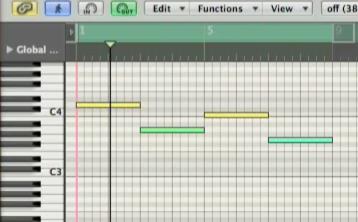 Schritt 2 - Starting from Scratch

Laden Sie eine beliebige Patch Ihrer Wahl in Trilian und klicken Sie auf den Arp Registerkarte, um die Arpeggiator Bereich anzuzeigen. Wie in Omnisphere, müssen wir uns auf Trilian der Arpeggiator aktiv zu machen einzuschalten. Klicken Sie auf die Power-Taste auf der linken Seite der Arpeggiator. Jetzt auf den Preset-Pfeil klicken rechts oben auf der Arpeggiator und wählen Sie die 00.Blank voreingestellt.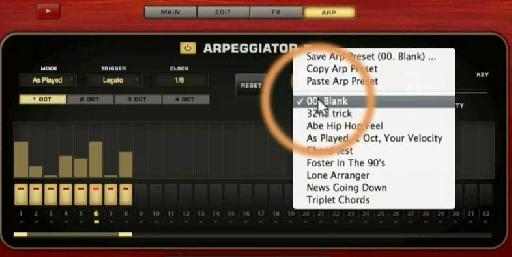 Schritt 3 - Wie viele Schritte?

Spielen Sie das Projekt (oder Trigger-Noten) in Ihre DAW. Sie sollten bemerken, die Arpeggiator generiert nicht alles. Wir müssen die Anzahl der Schritte in das Muster und die Eingabe einige Schritte gesetzt.

Ziehen Sie die gelbe Linie am unteren Rand der Arpeggiator, die Anzahl der Schritte, die Sie erstellen möchten angeben. Ich habe meine Muster gewählt, um 16 Stufen sein.
Als nächstes entscheiden, wie lange jeder Schritt sein wird. Unter dem Menü Uhr wählen Sie die gewünschte Dauer für jeden Schritt. Ich habe beschlossen jeden Schritt zu einem 16tel werden. Dies bedeutet, meine Muster wird eine Maßnahme in der Länge sein.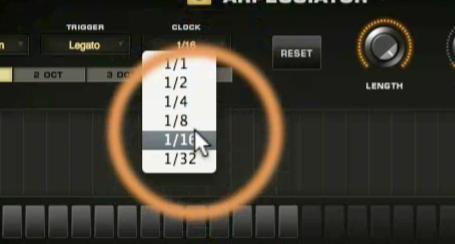 Schritt 4 - Step Up

Lassen Sie uns ein Muster durch Eingabe Schritte in die Arpeggiators Step Sequencer.
Wenn Sie auf den dunkelgrauen Taste einen Schritt erstellen Sie einen Schritt mit einer Geschwindigkeit von 127. So passen Sie die Geschwindigkeit der Schritt, ziehen Sie den gelben Balken nach unten / oben.
Alternativ erstellen Sie einen Schritt, indem Sie direkt in einem Schritt die Velocity-Bereich (wo der gelbe Balken angezeigt werden).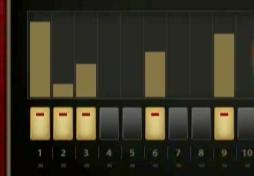 Als nächstes können wir die Dauer für alle Step Ereignisse anzupassen, indem Sie die Länge Knopf. Die Dauer der alle Schritte wird entsprechend verkürzt werden.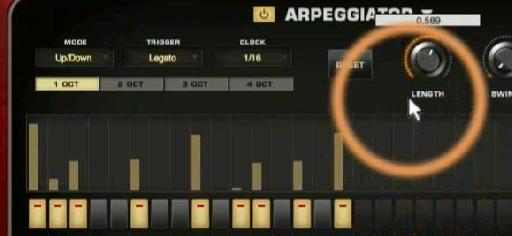 Um die Länge der einzelnen Schritte, halten Sie einfach die Umschalttaste gedrückt und ziehen Sie den gelben Balken oben ein Schritt horizontal nach links oder rechts.
Schritt 5 - Trigger Happy

Trilian der Multiple-Trigger-Optionen können Sie genau festlegen, wie die Arpeggiated Muster ausgelöst wird. Es kann Ihnen auch ermöglichen es dem "Lied" Position Ihres Host-DAW synchronisiert.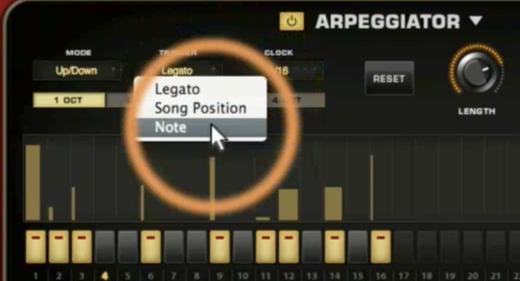 Von der Trigger-Menü Experiment mit den drei Optionen. Hier ist, was sie tun.
Hinweis: Der Arpeggiator wird von Anfang an Schritt, wenn eine neue Note ausgelöst wird neu gestartet. Das kann gut funktionieren, wenn Sie lang ausgehaltenen Ton auslöst.
Legato: In diesem Modus wird bei Staccato-Noten ausgelöst werden, wird der Arpeggiator von Anfang Schritt neu zu starten. Wenn legato gespielten Noten werden dann die Arpeggiator wird weiter spielen bei jedem Schritt.
Song Position: Dieser Modus Beziehungen Trilian der Arpeggiator die Song-Position des Gastgebers. Dies bedeutet den ersten Schritt in den Arpeggiator des Downbeat in Ihrem Projekt oder Song ausgerichtet ist.
Es gibt viel mehr erweiterte Funktionen in Trilian der Arpeggiator. Modes, Swing, Oktaven, Arp
Screenshots aus diesem Tutorial wurden von Jonathan Perl übernommen Core-Trilian: Trilian 101 Tutorial.