Put away your Upright basses, your fretless 5 strings and your Electronic-synth hardware Bass modules... Trilian is here! With over 34GB of some of the most delicious low end sounds ever created, T
Guarda tus bajos verticales, las cuerdas sin trastes 5 y el sintetizador electrónico, módulos bajos de hardware ... Trilian está aquí! Con más de 34GB de algunos de los de gama baja más deliciosos sonidos jamás creado, Trilian es la toma de muestras bajo go-to. Espera ... Qué acabo de llamar a un sampler? Bueno, eso no le hace justicia en absoluto. Se trata de un instrumento de inmenso, un sampler, sintetizadores, un sueño de los programadores y un amigo de los músicos. En la punta de hoy vamos a explorar cómo usar la memoria en Trilian de arpegiador.

Paso 1 - Pretty Patterns

Estoy usando la lógica de mi anfitrión, pero este punto en cualquiera de las aplicaciones musicales importantes en Mac o PC. He creado un simple patrón de 4 nota en Piano Roll Logic. El patrón está en una pista en Logic usando Trilian como el instrumento. Trilian no genera las notas por sí mismo, por lo que necesitamos para crear un nuevo patrón de activación o notas MIDI en tiempo real para el arpegiador Trilian para trabajar.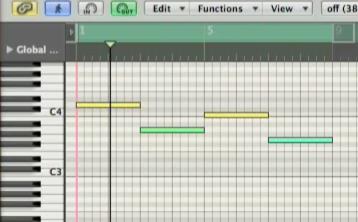 Paso 2 - Empezar desde cero

Cargar cualquier parche de su elección en Trilian y haga clic en la pestaña Arp para ver la sección arpegiador. Al igual que en Omnisphere, tenemos que activar el arpegiador Trilian para activarlo. Haga clic en el botón de encendido a la izquierda del arpegiador. Ahora haga clic en la flecha de ajustes en la parte superior derecha de la arpegiador y elegir el preset 00.Blank.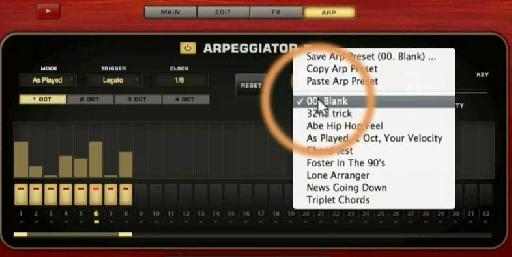 Paso 3 - ¿Cuántos pasos?

Reproducir el proyecto (o de disparo de notas) en tu DAW. Usted debe notar el arpegiador no genera nada. Tenemos que establecer el número de pasos en el patrón y la entrada de algunos pasos.

Arrastre la línea amarilla en la parte inferior de la Arpegiador para especificar el número de pasos que desea crear. He escogido a mi patrón a ser de 16 pasos.
A continuación, decida sobre la duración de cada paso va a ser. En el menú del reloj elegir la duración que desee para cada paso. He elegido cada paso a ser una nota de 16. Esto significa que mi patrón será una medida de longitud.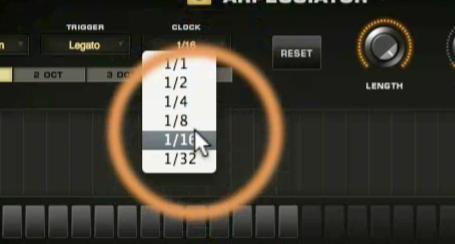 Paso 4 - Step Up

Vamos a crear un patrón mediante la introducción de medidas en el secuenciador por pasos Arpeggiators.
Si hace clic en el botón de color gris oscuro de un paso, creará un paso con una velocidad de 127. Para ajustar la velocidad del paso, arrastre la barra amarilla arriba / abajo.
Por otra parte, se crea un paso haciendo clic directamente en el área de la velocidad de un paso (en la barra amarilla se mostrará).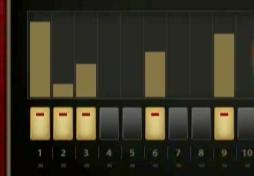 A continuación, puede ajustar la duración de todos los eventos de Paso arrastrando el botón de longitud. La duración de todos los pasos, se reducirá en consecuencia.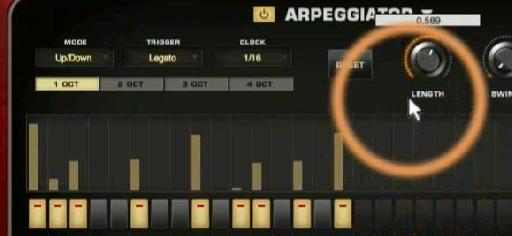 Para ajustar la longitud de los pasos individuales, simplemente mantenga pulsada la tecla Mayús y arrastre la barra amarilla sobre un paso en sentido horizontal hacia la izquierda o la derecha.
Paso 5 - Trigger Happy

Múltiples opciones de disparo de Trilian puede ayudarle a especificar exactamente cómo el patrón arpegiados se dispara. También puede permitir que se sincronizan con la canción "la posición de su DAW host.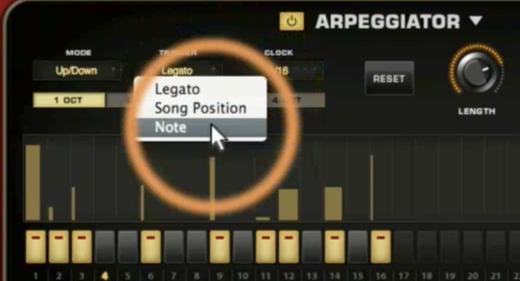 A partir del experimento menú de disparo con las tres opciones. Aquí está lo que hacen.
Nota: El arpegiador se reiniciará desde el principio, cuando paso una nueva nota se dispara. Esto puede funcionar bien cuando se usa a largo sostenido provoca nota.
Legato: En este modo, cuando las notas en staccato se activan, el arpegiador se reiniciará desde el paso inicial. Si las notas legato se juega entonces el Arpegiador seguirá jugando en cada paso.
Posición de la canción: En este modo los lazos arpegiador Trilian a la posición de la canción de la hostia. Esto significa que el primer paso en el arpegiador está alineado con el compás de su proyecto o una canción.
Hay un montón de características más avanzadas de arpegiador Trilian. Modos, Swing, octavas, Arp
Imágenes de este tutorial fueron tomadas de Jonathan Perl Trilian 101: Core Trilian tutorial.