Put away your Upright basses, your fretless 5 strings and your Electronic-synth hardware Bass modules... Trilian is here! With over 34GB of some of the most delicious low end sounds ever created, T
Metti via la tua bassi verticale, il fretless 5 corde e la vostra Electronic-synth moduli Basso hardware ... Trilian è qui! Con oltre 34GB di alcuni tra i più deliziosi fine suoni bassi mai creato, Trilian è il go-to campionatore Bass. Aspetta ... ho appena chiamare un campionatore? Bene, che non rendono giustizia a tutti. Si tratta di uno strumento di immenso, un campionatore, un synth, un sogno programmatori e un amico musicisti. In punta di oggi andremo ad esplorare modalità di utilizzo Trilian integrato in Arpeggiatore.

Fase 1 - Modelli Abbastanza

Sto usando Logic come il mio host, ma questo funzionerà in qualsiasi DAW importanti su Mac o PC. Ho creato un semplice 4 modello nota in Piano Roll Logic. Il modello è su una pista in Logic Trilian utilizzando come strumento. Trilian non genera note da sola, quindi dobbiamo creare sia uno schema o innescare note MIDI in tempo reale per Arpeggiatore Trilian di lavorare.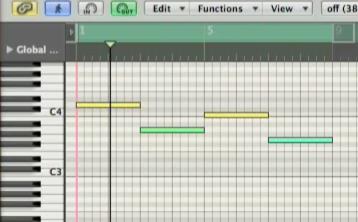 Fase 2 - A partire da zero

Carico di qualsiasi patch di vostra scelta in Trilian e fare clic sulla scheda Arp per visualizzare la sezione Arpeggiatore. Come in Omnisphere, abbiamo bisogno di accendere Arpeggiatore Trilian per renderlo attivo. Fare clic sul pulsante di accensione a sinistra l'arpeggiatore. Ora cliccate sulla freccia Preset in alto a destra della Arpeggiator e selezionare il preset 00.Blank.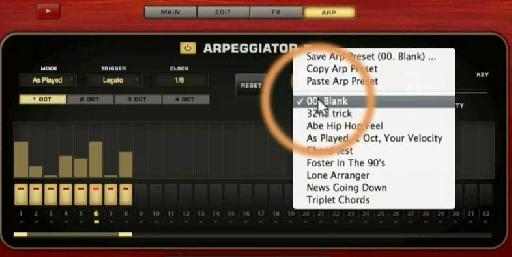 Fase 3 - Quanti passi?

Riprodurre il progetto (o trigger note) nella vostra DAW. Si dovrebbe notare l'arpeggiatore non genera nulla. Abbiamo bisogno di impostare il numero di passaggi nel modello d'ingresso e alcuni passaggi.

Trascinare la linea gialla in fondo l'Arpeggiator per specificare il numero di passi che si desidera creare. Ho scelto il mio modello da 16 passi.
Poi, decidere quanto tempo ogni passo sta per essere. Sotto il menu Orologio scegliere la durata desiderata per ciascuna fase. Ho scelto ogni passo da una nota 16. Questo significa il mio modello sarà una misura di lunghezza.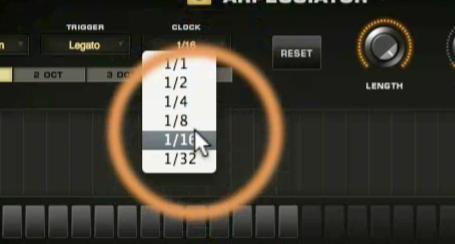 Fase 4 - Step Up

Creiamo un modello inserendo passi in Step Sequencer arpeggiatori.
Se si fa clic sul pulsante grigio scuro di un passo, verrà creato un passo con una velocità di 127. Per regolare la velocità del passo, trascinare la barra gialla down / up.
In alternativa, è creare un passaggio facendo clic direttamente nella zona Velocity un passo (dove la barra gialla sarà visualizzato).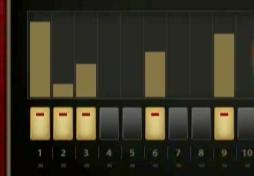 Quindi, siamo in grado di regolare la durata per tutti gli eventi Passo trascinando la manopola di Lunghezza. La durata di tutte le fasi sarà ridotta di conseguenza.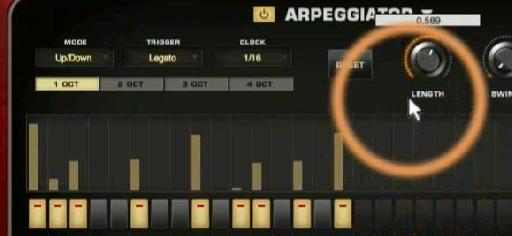 Per regolare la lunghezza delle singole fasi, è sufficiente tenere premuto il tasto Maiusc e trascinare la barra gialla sopra un passo in orizzontale a sinistra oa destra.
Fase 5 - Trigger Happy

Trilian di più-Trigger opzioni consentono di specificare esattamente come il modello arpeggiate viene attivato. Può anche consentire di sincronizzare in posizione 'canzone' della vostra DAW Host.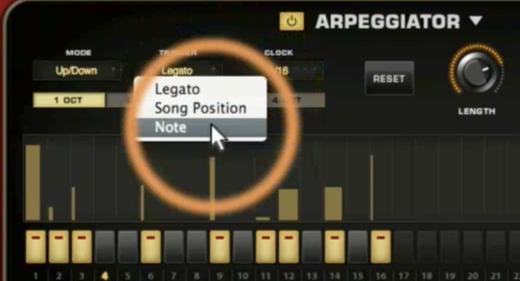 Dall'esperimento trigger menu con le tre opzioni. Ecco quello che fanno.
Nota: L'arpeggiatore riprenderà dal punto in cui inizio una nuova nota viene attivato. Questo può funzionare bene quando si usa molto attiva nota sostenuta.
Legato: In questa modalità, quando le note staccate sono attivati, l'arpeggiatore riprenderà dal punto dall'inizio. Se le note vengono suonate poi legato l'arpeggiatore continuare a giocare in ogni fase.
Song Position: Questa modalità legami Arpeggiatore Trilian alla posizione canzone dell'ospite. Questo significa che il primo passo per l'arpeggiatore è allineato al battere nel progetto o di una canzone.
Ci sono molte funzioni più avanzate in Arpeggiatore Trilian è. Modi, Swing, Ottave, Arp
Immagini di questo tutorial sono stati prelevati da Jonathan Perl Trilian 101: Core Trilian tutorial.