I2C8 Relaunched As MIDIQ MIDI Sequence Generator Under The Label Of W.A. Production
Stuck for ideas? MIDIQ can help with inspiration by generating chords, patterns, sequences and more. Plus, it's on sale for a limited time...
Under this new partnership, the first successor product to Re-Compose's existing products has been launched by W.A. Production. MIDIQ replaces I2C8 and features a slightly redesigned user interface, optimized performance, and the new branding.
Customers who have already transferred to W.A. Production, get a license code for MIDIQ as well as the Pumper 2 plug-in added for free to their W.A. Production account.
What Is MIDIQ?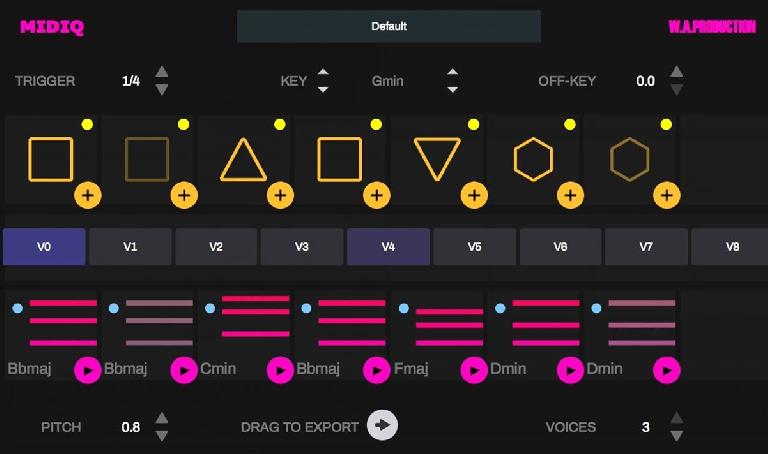 Generating near-limitless chord sequence possibilities, MIDIQ uses a simple pattern language for the definition of repeating chords. The layout resembles a slot machine so the interface is very visual. In fact, you don't need any knowledge of music theory to get some great results from MIDIQ.Whenever you add or change a pattern symbol, the algorithm generates a chord for this position and also creates a set of eight alternative chord sequences for the current pattern of symbols. A click on one of the chord boxes is enough to switch to a new variant. Truly inspiring stuff.

Preset data is automatically saved in DAW sessions and can be exported for import into other sessions. Equally, copy-and-paste, drag-and-drop and drag-to-host functionalities are all included for ultimate flexibility.

It doesn't stop there... experiment with feeding a chord progression into an arpeggiator, running several plug-in instances in parallel, generating polyrhythmic patterns and finding interesting chord progressions between two or more chords.
Features
Innovative user interface featuring a pattern definition area for chords
Individual adjustments of MIDI velocity and muting of a generated chord
Powered by intelligent algorithms for chord sequence generation
Simplified piano roll display
Factory Presets
Drag to export
Price: Sale $11.80. Regular price $59