Earlier this year we bid a fond farewell to SONAR. It looked to have truly kicked the bucket, that is until BandLab took over the reins and injected life back into the DAW. But how is it doing now?
It's been a few months since BandLab took over stewardship of the popular Cakewalk Sonar DAW for PC from Gibson Brands. Initially there were a number of concerned noises from the Cakewalk community. Another company takes over your favorite music making software and alarm bells start ringing as to what will happen to it. Will it be left to tread water in an already crowded DAW pool or will the new owner put significant thought and development into taking it to the next level?
How best then to judge how well Cakewalk by BandLab is doing since being taken over in February 2018, just seven months ago? Let's take a quick look at the new features and enhancements, the major announcements and of course the opinions from the people that know best. The dedicated users speak out too.
The Big Changes
Switching to making Cakewalk by BandLab free for everyone was a bold move and one that should significantly increase the user base - kudos to the BandLab team for looking ahead. But the fear that Cakewalk by BandLab would be left on the shelf somewhat due to being free has fortunately proved unfounded. It's also impressive how frequently updates and new features have been implemented considering the change in ownership. This might be down to BandLab prudently keeping on the inspired driving force behind the dev team for Sonar Cakewalk, Noel Borthwick.
There have been no less than five updates to Cakewalk for BandLab since the takeover. We're not only talking bug fixes either - new features and workflow improvements have made their way into every version. Here's a run down of the latest update which includes the integration of zplane élastique Pro V3 audio stretching and pitch shifting.

Version 2018.09 Features & Enhancements
Integrated zplane élastique Pro V3 audio stretching and pitch shifting '¨
Default stretch methods can be specified in the Preferences dialog'¨
Transpose, Length, and Fit to Time commands work on all clip types, including Groove clips, AudioSnap clips, Region FX clips, and slip stretched clips'¨
Slip stretching can also be performed when the edit filter is set to show audio transients.'¨
AudioSnap enabled clips display a clip icon in the top right corner'¨
AudioSnap clips show Auto Stretch icon when Clip Follows Project Tempo is enabled'¨
AudioSnap palette options now directly opens Preferences page for settings'¨
Optimizations and enhancements to time/pitch stretching and AudioSnap workflow'¨
Customize or remove Project Open notification affirmations '¨
Toast notification informs you when a new Cakewalk update is available'¨
Bug Fixes
Changing the Online Render mode for slip stretch can cause crash/glitches'¨
Looping causes stretched clip to become partially silent'¨
Slip Stretch cursor appears with Move tool'¨
Crop tool appears when holding CTRL with the Move tool'¨
Slip stretch is available without the key modifiers if cursor is placed in bottom corner of a clip'¨
Waveform display in split clip appears to adjust crop when slip stretching'¨
Cropping slip stretched clip shows 000% in header'¨
AudioSnap average tempo can show negative value '¨
AudioSnap properties do not appear when Enable Stretch is engaged in Clip Properties Inspector'¨
Clip Follows Project Tempo menu item in AudioSnap context menu does not match actual state'¨
Transient edits and merged markers from other tracks can be discarded when toggling AudioSnap Off/On'¨
When slip editing, active AudioSnap changes appear in waveform even if AudioSnap is disabled'¨
With slip edited clips, active AudioSnap changes are rendered even when AudioSnap is disabled'¨
Clip Properties Time Format setting persists across multiple open projects'¨
Transposing stereo audio file with Radius creates flat line'¨
Process > Transpose can fail or render static when transposing clips at different bit depths'¨
Potential crash on project load'¨
Potential crash in Help Module with German/Japanese text'¨
Potential crash when exiting if the app is not registered'¨
Elastique Compatibility
1. Elastique Efficient and Elastique Pro are the new default online/offline stretch methods for audio clips.'¨'¨'¨
2. Elastique is only available in Cakewalk release 2018.09 and higher. Because prior versions of Cakewalk (or SONAR) do not support this feature, projects utilizing Elastique as a stretch method will not render properly in prior versions. A warning message will be displayed when you open a new Cakewalk project in an older version of the software. If you need to share project files with a prior version of Cakewalk, select one of the older stretch methods before saving the project. Alternatively, you can reset the stretch method in the earlier version of Cakewalk.'¨'¨'¨
3. Elastique stretching with AudioSnap or slip stretching enabled can require larger disk read ahead depending on marker stretches. To optimize playback and reduce the potential for dropouts or audio glitches, we recommend a Playback I/O Buffer Size value of about 512 (KB) if you are experiencing any performance problems. You can change the Playback I/O Buffer Size value in Edit > Preferences > Audio - Sync and Caching.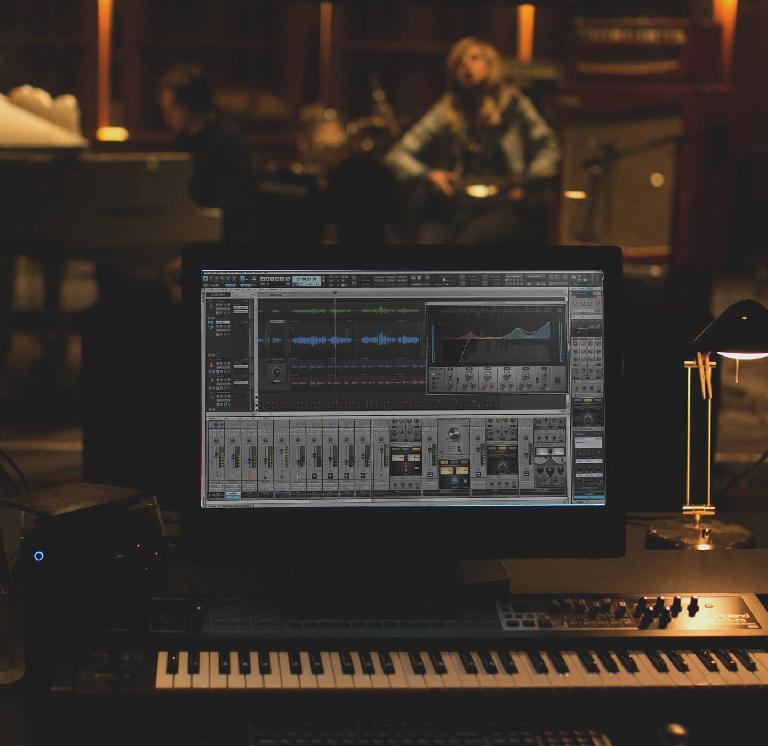 Communication Is Key
Within hours of news of the takeover of Cakewalk by BandLab the CEO of BandLab, Meng, had issued his own promises and roadmap for the future of the DAW with the community on the Cakewalk forums. It's rather unprecedented to see this kind of extensive interaction between a high-flying CEO and regular customers on a forum. But it's a fantastic way to reassure users and share visions of a brighter future.
You might want to check out the message from Meng here.
And The Users Say…
More important than my opinion or my words on the matter are the voices of dedicated Cakewalk users. Here's a few choice quotes that suggest a very bright future indeed for Cakewalk by BandLab (which we truly hope will be coming to Mac shortly)!

"Not only did BandLab rescue SONAR, they've improved it - stability, fixes and enhancements."

"Cakewalk has been my go-to sequencer and DAW since 1993 - it goes from strength to strength from owner to owner, the future is brighter now with BandLab than at any time in its history."

"This is absolutely groundbreaking in terms of what the end user has access to, and for affordability. I can imagine BandLab growing the Cakewalk brand into something very special again."

"Not in a million years would I have dreamed this would be the outcome for SONAR users. Hats off… BandLab just set a whole 'nuther standard."
With quotes like these from regular users Cakewalk by BandLab looks to have a healthy future as a recording, mixing and mastering platform. That it's now accessible to everyone (and not just in a lite version) for FREE makes it an even more intriguing digital audio workstation for Windows PC users.
Bring on the next update, we say. We're super curious to see how Cakewalk by BandLab improves over the coming years…