This state-of-the-art Max4Live synth, UltraKick, is designed around two oscillators and a noise generator to give you complete control for creating great sounding drum and percussive sounds.
Isotonik Studios have something rather tasty from Daan Pothoven: a unique and special Max for Live drum synthesizer good for kick and all your percussive needs. Here's what they tell us about it:
We were just about to put up the decorations and start winding down for the Holidays when the inbox pinged with a message from Daan, he'd been working on a MaxforLive Drum Synth for the last six months and having spoken to Pete of Surreal Machines we were delighted to get the referal.
A quick exchange of emails and a gaze at some screenshots and we couldn't wait to get our hands on this beast of a device, dissapoint it didn't! From first play ULTRAKICK is easy to get to grips with, yet it's depth of tweakability will give you hours of pleasure in creating a wide range of percussive sounds.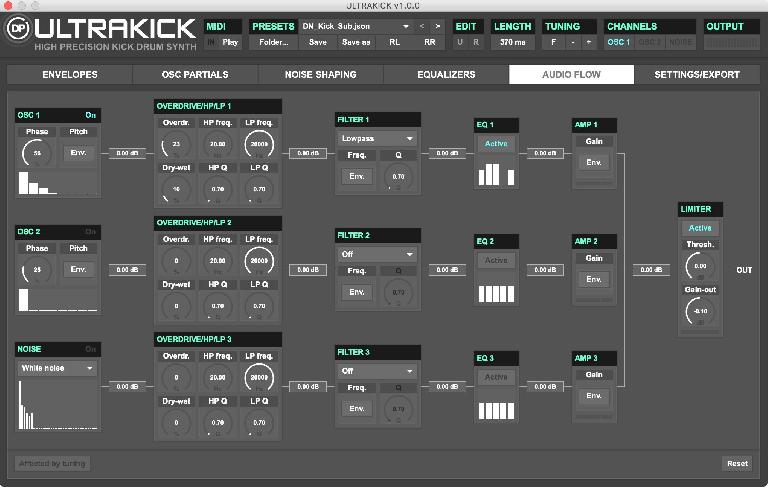 ULTRAKICK is a state-of-the-art Max for Live kick drum synthesizer based on two oscillators and a noise generator. Its intuitive user interface allows for great control and precision.
From the very beginning, ULTRAKICK has been developed with the end user in mind and has been codeveloped and tested with a select group of electronic music producers.
FEATURES
100% synthesis: no samples involved.
8 partials per oscillator with unprecedented options for sound design.
AUDIO FLOW tab: reveals all audio routing, makes synth easily understandable.
Tuning: move all frequency-related envelopes up or down with a single click.
Envelopes overlay: maintaining overview at all times.
Spread settings for frequency envelopes: create organic sounds with no effort.
Action menus for quick actions like envelope randomization and osc partial presets.
Accurate waveform image rendering.
Flawless sound retriggering: absolutely no clicks, even at high retriggering speeds.
Numerical envelope point programming for high precision sound design.
Undo/redo system.
Built-in help/tips section and mouseover hints throughout the interface.
Robust preset system with easily interchangeable preset files.