Overloud Releases EQ550 EQ Plugin. FREE For 1 Week
Overloud describes their newly released EQ550 as "the ultimate tool for professional engineers who mix with no compromises". You can judge if that's the case by downloading this $139 plugin for FREE!
Overloud releases the new EQ550 Gem and gives away 1000 free licenses each day for 1 week!
EQ550 is the simulation of the most renowned American Proportional EQ, based on custom op-amps. All the components of the original circuit have been modelled, including the rich harmonics and saturations that naturally occur when the equalizer is operating.
EQ550 is the latest product of a new high-end Overloud plugin line, called Gems, dedicated to mixing and mastering.
EQ550 is the ultimate tool for professional engineers who mix with no compromises.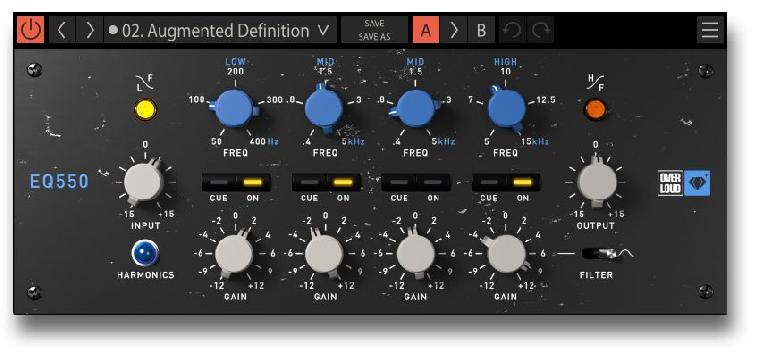 Hyper-realistic simulation of the original Proportional-Q equalizer, thanks to the 4th generation DSP technology
5 bands eq: 2 shelving/peaking, 2 peaking, 1 high cut, 1 bandpass
Individual band Cue
Continuous frequency selection
Simulation of all transformers in the original unit
Low CPU usage: more than 1500 instances on a Macbook Pro Retina
Multilevel undo-redo
A/B Comparison
Lots of presets designed in real mixing sessions
Beyond the original hardware
EQ550 extends the features of the original hardware and joins the flexibility of the digital world to the character of the analog processing.
Band Cue: the Cue button allows to hear the part of the frequency spectrum that is being affected by that band.
Continuous Frequency Selection: while the original hardware has preset frequencies only, the EQ550 allows to select all the intermediate frequencies.
Additional Mid Band: while the original hardware has one Mid band only, we added a second band for increased flexibility.
EQ550 introductory offer
EQ550 is available as VST, AudioUnit and AAX plug-ins as well as stand-alone application, 32 and 64 bit for macOS and Windows operating systems.
EQ550 will be launched at no cost for 1 week only, from March 12th through March 18th 2018. The list price will be €139 / $139 after March 18th.