The first pitch shifting plug-in with 64 voices, Devious Machines' Pitch Monster brings new levels of sound manipulation capability to your DAW.
With six octaves of operation and a resolution of 0.01 semitones, Pitch Monster's granular pitch processor already offers much more than most pitch shifters on the market. What's more, this is the first pitchshifter with 64 voices, offering a Unison control and the ability to spread its grains in pitch and in time – you can even shift pitches using a piano keyboard display in C hord mode.
With its Granular, Formant and robo-tastic Vocoder engines, Pitch Monster goes far beyond ordinary pitch shifting. Realtime MIDI control means that it can be played like an instrument, especially thanks to its very low latency.
Pitch Monster Features
Harmonise with up to 8 voices of polyphony
Huge six-octave range
Dial in 8 voices of unison for a 64 voice stack
Granular, Formant-shifting and Vocoder engines
Realtime MIDI control
Programmable Chord Memory with switching via MIDI
Dual high + low pass filters for fine tonal control
Wide mode for BIG stereo effects
Responsive, low-latency DSP engine suitable for live and studio use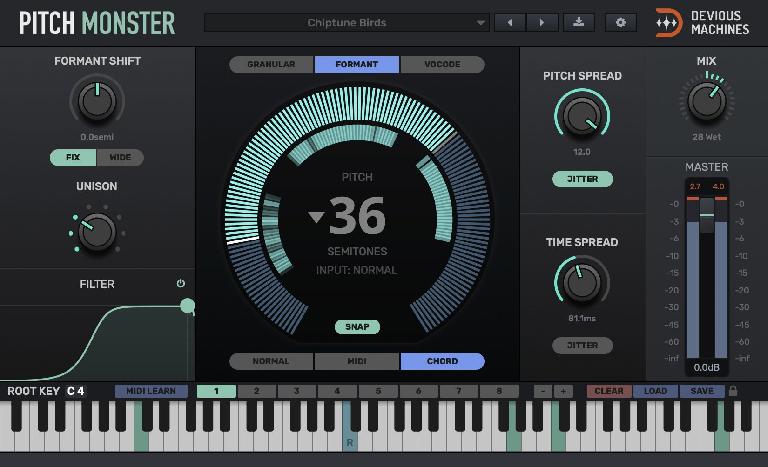 Pitch Monster Lets You…
Perform huge bends and pitchsweeps
Absolutely transform an input signal with extreme tonal shifts
Harmonize any sound with up to eight notes or use as an octaver
Apply modulation effects like flanging, chorusing and subtle widening
Create crazy sample-and-hold-style pitch 'sequence' effects
Conjure up repeating 'delay' effects with twisting pitches
Get high-resolution glissando and pitchbend glides using MIDI
Pitch Monster is a VST/AU/AAX plugin for PC and Mac, and it's available to buy from deviousmachines.com for the introductory price of £59.99 (€68 / $75), later rising to £79.99 (€90 / $100).