Take a look inside Avid's Instrument Expansion pack for Pro Tools 10 and you'll find some succulent software instruments to get your teeth into. Mike Watkinson uncovers the luxurious Velvet.
Continuing our look at Avid's Pro Tools Instrument Expansion Pack, the next instrument to get the MPVHub once-over is Velvet, which uses a combination of modelling and nearly 1 GB of samples to emulate '˜electric piano sounds of the past and present'.
Models
To be fair it is mostly the past we're talking about here - what no Roland RD-700? The four models offered by Velvet, along with lengthy disclaimers, are:
Fender Rhodes Suitcase 73

Fender Rhodes Mark 1

Fender Rhodes Mark 2 (or '˜Dyno Rhodes')

Wurlitzer A200

So no surprises there! Personally I would always like to see a Hohner Pianet T, not because it's an inherently great sound, but because it does pop up on a few classic recordings such as '˜I am the Walrus'.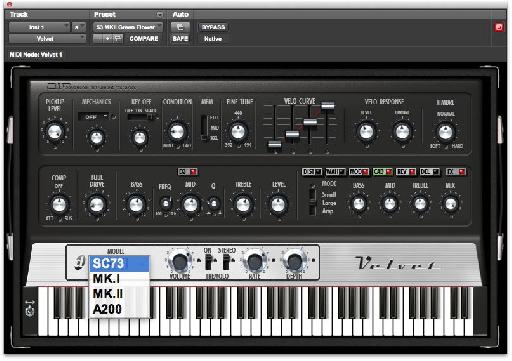 The keyboard models offered in Velvet.
Front Panel
Velvet's front panel, alongside a pop-up menu for changing models and the main volume control, offers the classic stereo tremolo effect beloved of all Rhodes aficionados - if you don't know what I mean, check out Jeff Beck's '˜Cause We've Ended as Lovers' from his 1975 album, '˜Blow by Blow'.
To the left of the keyboard is the keyboard extension switch. In its default position Velvet limits the keys you can play to the range of the original instrument - an authentic touch - but the switch allows access to the full range if required.

The keyboard extension switch.
Setup
What never ceases to impress me about instruments like Velvet is the length that developers go to in order to recreate not just a great sounding instrument, but all the imperfections of the design that give the instruments their character. In the setup section, one of the many controls offered is one labelled '˜Mechanics', which allows you to add varying amounts of the mechanical noise associated with electric piano, either with the lid on or off. There is also a '˜Condition' control ranging from '˜Mint' to '˜Bad' - perfect for recreating the '˜eBay mistake' sound! The '˜Key Off' control can be used for controlling the noise captured by the pickups both when releasing keys and using the foot pedal.

The Setup section.
Response
If you have ever played any of the electric pianos represented here, you will know that one instrument will be very different to another depending on its age and condition, which makes you play it in a different way (remember the Ray Charles scene from the Blues Brothers?) So '˜Velocity Curve' sliders and '˜Velocity Response' controls give a high degree of control over the way Velvet responds to a MIDI keyboard, and goes some way to recreating this phenomenon, especially if you are using a weighted controller keyboard.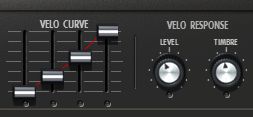 Controlling velocity response.
Preamp and Effects
The preamp section contains a variety of controls to shape the tone and EQ of the sound. One knob '˜Compressor' and '˜Tube Drive' controls are present to add authentic grit to the sound. The effects section includes:
Distortion

Wah

Modulation (phaser, flange, chorus)

Cab (cabinet)

Reverb

Delay

The cab effect is especially important if you are attempting to resurrect the sound of a '˜Suitcase Rhodes' amp and speakers.

Preamp and Effects sections - showing Cab settings.
All controls can be mapped to standard MIDI controllers by right-clicking any control in Velvet and doing one of the following:
Choose a MIDI controller from the assign submenu.

Choose '˜Learn' and move the desired control on your hardware MIDI controller.
Good news if you want to use the wah effect with a MIDI expression pedal!
Presets
Each of the four models represented here have 70 presets available if you want to access instant gratification! No difficult to guess the inspiration for '˜A200 Super Dreamer' and '˜Mark II Green Flower''¦
Sound
Most importantly Velvet sounds fantastic in a solo or ensemble context. It has to be said that despite the wide range of controls you can't do anything too '˜creative' to the sound - for that you will need to look at effects outside Velvet. But the flexibility of control over '˜feel' and responsiveness make this an extremely playable software instrument, and one that will remind you why the originals were so popular.