Logic users are spoilt with the number of ways to program drums: Ultrabeat's step sequencer, the Piano Roll, Hyper Editor... and also the main window. Darren Burgos explores the path least used.
Sometimes programming drums in Logic as audio clips in the main window/workspace is the better way to go. Especially if you have, or plan to have a large selection of single shot drum hits like kicks, snares, hats, toms, etc. 'Audio' beats can sound tighter than MIDI because they start at exactly where you place them with no audible variances. Unlike a drum plug-in, you're not at the mercy of how well a drum instrument responds to incoming note material or the shape of its envelopes for that matter'¦ there are zero variances when each drum sound hits; because it's a recording, repeating the part over and over again. There are other benefits like easy control over sustain (how long the drum sounds lasts), the ability to reverse sounds, fading in or fading out sounds/regions, and easily changing the pitch of individual drum hits.
So now that you know why you should edit your drums in the workspace/arrange area, where do you get single drum hits? There are many different places, but one of my favorites is Zenhiser. In this article I'll be programming a Trap/Hip Hop beat entirely in Logic's Workspace/Arrange window. I'll pitch individual drum sounds, control the volume on each, apply swing, add fills and more. Read on!
Step 1: Previewing and Selecting Sounds
Press F on your keyboard to open the file browser, then click on the 'All Files' tab. The next time you use the F key command (think Finder to remind) it will stay set to the All Files tab. Across the top of the All Files menu you'll see a set of back and forward buttons, and a second set that displays three locations. You can choose to view the Mac itself (and all connected external drives), your home folder, or the project itself with all the content in it. Navigate to the folder with the sounds you'll be using. You can preview the sounds by pressing the green speaker at the bottom of the All Files window.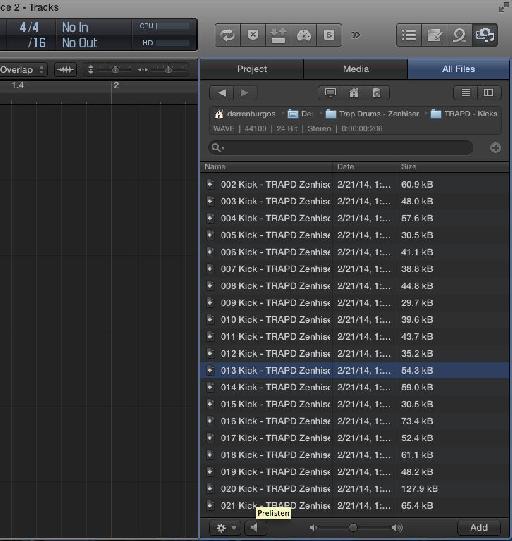 Step 2: Drag Sounds to the Arrange/Workspace
Drag your first sound to either an available audio track or to create a new empty track, drag the region to an empty area below the last track in the track list. Do this for all the sounds you'll be using in your beat. I dragged in two kick sounds, several snares, a clap effect, and two different hi-hats.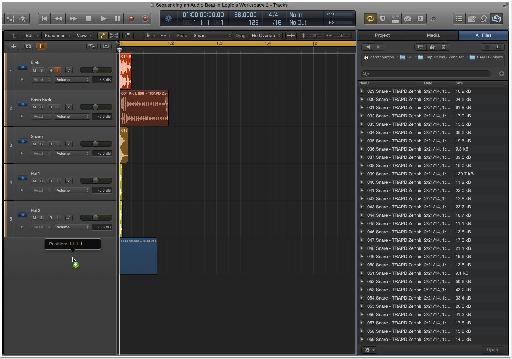 Step 3: Get Your Zooming Down
Don't you hate it when you're zoomed in pretty far, and the visible area shifts away to follow the timeline? Yes, I do too in this situation. Open Logic's Preferences, click on the General tab, then onto the 'Catch' tab. Disable all three options in the window and close the Preferences. These stay disabled until you turn them back on when you need to. Now zoom to display a two bar section (that's the same amount Ultrabeat shows). Use Command-and the arrow keys to display two bars horizontally, and vertically to display all the tracks for the sounds you're using.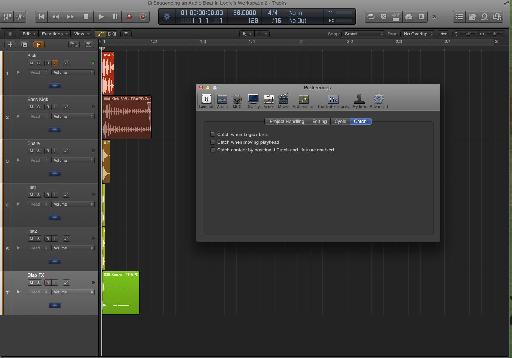 Step 4: Setting the Grid Values
Set a cycle around the two bar area so they loop. When you're looking at a single bar (or two bars in this case) of music in Logic, you'll notice that they are divided up by lighter grey vertical lines. When you drag a region (a drum sound in this case) they snap to these lines when you have the default setting of 'Smart' enabled via the Snap menu. Often, the default 16th note division is not not a small enough value, especially when programming in half-time or with slow tempos. Also, your song might be using triplets. First, switch Logic's 'LED' to the custom view by clicking on the metronome/music note and choosing custom. Below the signature is logic's 'division' setting. This splits the grid of a single bar into bigger or smaller values. As you build your beat in the next steps you might want to switch to various division settings.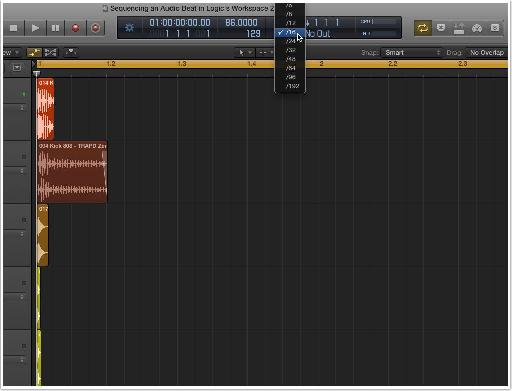 Step 5: Start to Program Your Beat
Once you've organized your sounds, and set your zoom and grid, you're ready to start programming your beat. Press K on your Mac's keyboard to enable the metronome and hit the spacebar. Position the single kick you dragged in from the All Files menu. Now option-click and drag the kick to copy it to a new position (remember to release the mouse before the Option key). As you drag, the region(s) snaps onto your selected grid value. Finish sequencing the kick then move on to your snare(s).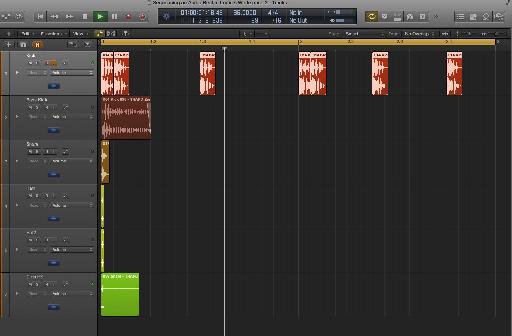 If you're running a slower tempo like I am, you might need to switch to 32nd notes via the division menu when sequencing your snares. I created some 32nd note Trap fills you can hear in the demo below. First drag them onto the second and fourth beats to create a basic pattern, then start placing them anywhere you like on grid positions.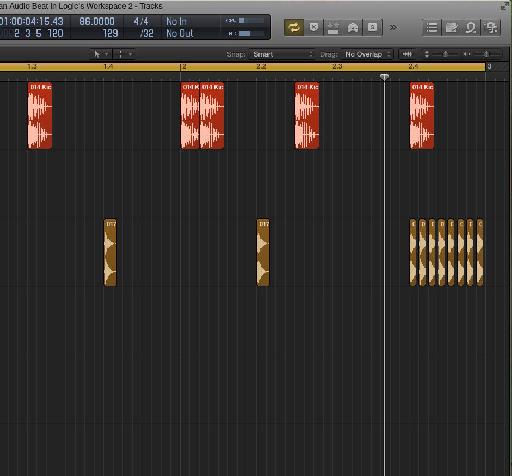 Step 6: Nudging Regions by Division Setting
Click on Logic's local Edit Menu > Move > Set Nudge Value to menu and select 'Division.' Regions will easily jump to the next division setting by using key command Option-Left/Right arrow now. This makes it easy to try out different drum sound positions!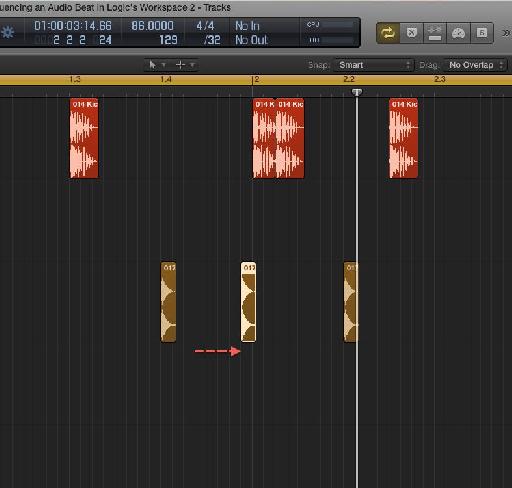 Step 7: Adjusting Regions/Drum Hits Volumes
Move on now to your hi-hats and start sequencing them out across the two-bar loop. When programming hats, it's always good to put a bit of life into them by adjusting each one's volume. Select a single region/drum hit first, then make sure Logic's Inspector window is visible (I). From the top window (Region Parameters) you'll notice that there's a 'Gain' section. Click and drag up/down directly to the right of the word gain. Every single region/drum hit can have its own independent level set this way.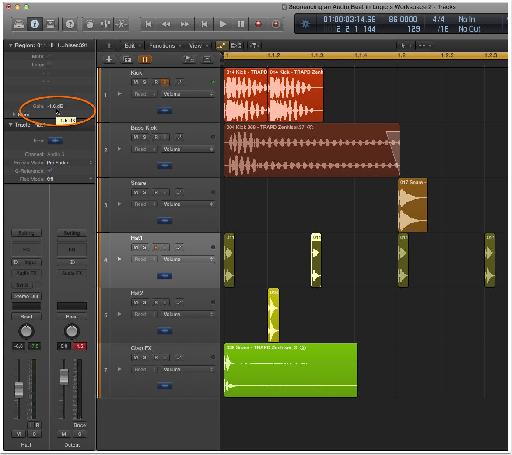 Step 8: Fading In and Out Regions/Drum Hits
You've probably realized by now how easy it is to adjust a regions length! (Difficult to do in a drum module). However, sometimes clicks can occur when freely adjusting audio clips start and end points. When this happens, creating a small fade in or fade out at the start/end of a region will fix these. Go back now to the region parameters window again at the top of the Inspector. Click the 'More' button. Double-click in the empty area to the right or the 'Fade In' or 'Fade Out' option and type in a small value like 2 or 3. This will place a tiny fade and stop the click from sounding. Fades can also be used in creative ways'¦ use the actual Fade Tool for these type of effects.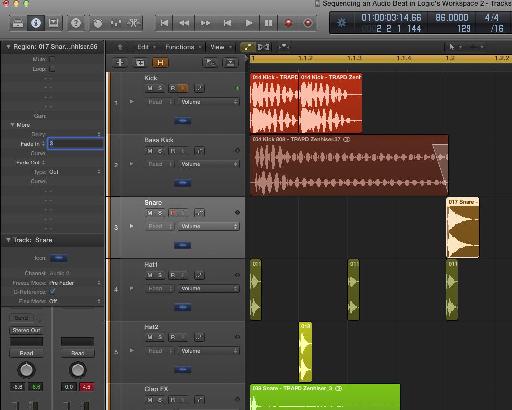 Step 9: Pitching Individual Regions/Drum Hits
In my audio example below, I sequenced a snare roll that I want the pitch to climb on every new drum hit. I can do this by simply selecting all the individual drum sounds, then I'll choose Edit > Convert > Audio Region to New Audio File from the local menu. This makes each region an independent region. When making destructive edits to an audio file like changing the pitch, you need to make each region its own independent world, or any alias of the original will change too.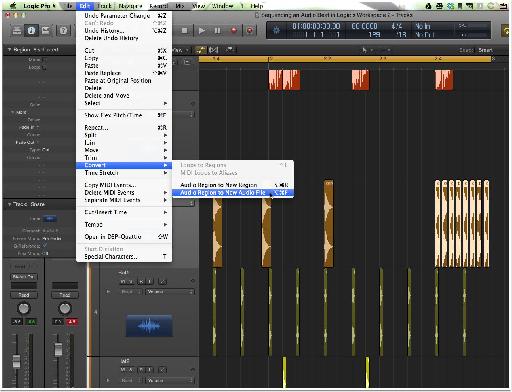 Now I'll click to select the first drum hit I want to change the pitch on. Press W to open the Audio Editor's File tab. If you don't see a File tab, make sure all advanced options are enabled via Logic's preferences. From the File Tab's functions menu choose the 'Time and Pitch window.' In the Pitch section below change the 'Destination' value to change the pitch. Keep in mind that 100 cents equals one chromatic step up or down on a piano keyboard. If you want to add negative values simply put a minus key in front of it. Click the Process and Paste button. A cool thing to know is that the Pitch and Time window is a 'floating' window. When you click to select the next drum hit you want to pitch up/down simply select it in the workspace window and now the Pitch and Time window will be focused on the selected region. I can easily finish this climbing pitch roll by selecting the remaining regions and changing their values accordingly.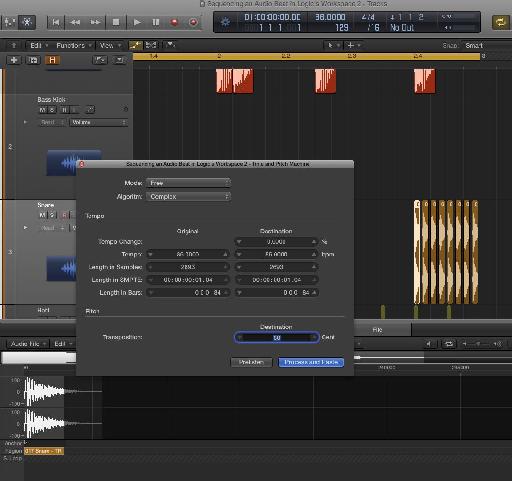 Step 10: Adding Swing or Quantizing Your Beat
So now that you've built a tight sounding beat, what do you do if you want to put some swing/shuffle on your groove? Select all the regions in your drum sequence, and then press the D key to open the Event window. If you don't see a list with all the names of your regions/drum hits, deselect, then reselect them with the Event window open. You'll notice a quantize menu here where you can simply select values in the same way you would if they were MIDI! Keep in mind that if you've programmed 32nd or 24th note rolls, if you apply a 16th note swing value, you'll lose some of your drum hits behind one another'¦ much the same way it would in MIDI.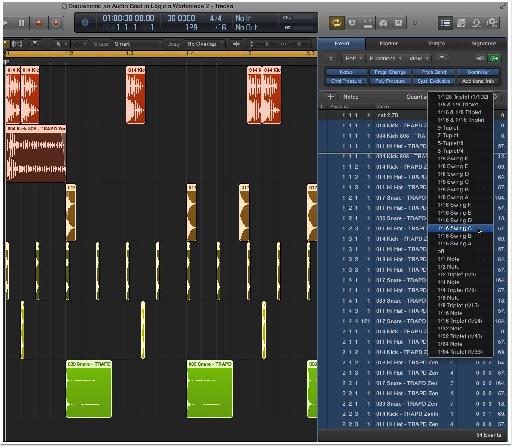 Step 11: Use Repeat Section Button or Command
Now that you've created a nice sounding groove in the Logic's main Workspace window you might want to start arranging the drums into a song. Put a cycle around the bars you'd like to repeat, and use either the button in Logic's Toolbar, or key command Control-Command-R to duplicate the currently cycled section. Now go make changes to certain areas, remove drums, add fills, and more to keep the drum groove ever changing/evolving.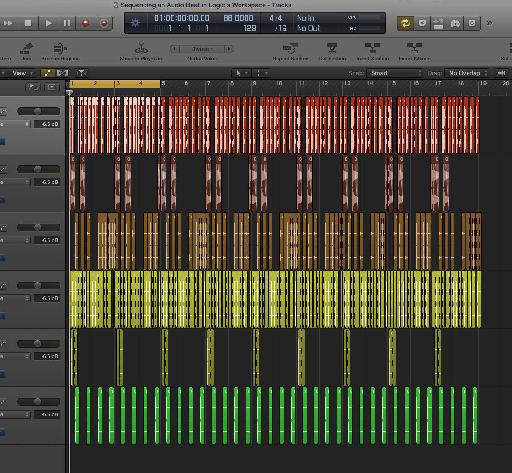 Hope this article was helpful and makes it a little less painful to program tight beats. Here's a sample of what I made using this method'¦