Build cinematic rises, tension and high energy sequences with this Kontakt-based sound design tool, new from Hybrid2.
Great news for anyone working with TV, film or game audio - there's a new rhythmic sound design tool on the block that aims to provide you with endless sound mangling options. HybridTwo's latest release, Project CHAOS, features their most advanced User Interface to date, while keeping with their philosophy that ease of use is king. Using HybridTwo's Bank Manager tool, you can get your own samples imported and ready to be used and abused by Project Chaos' UI easier than it's ever been in any other Kontakt instrument.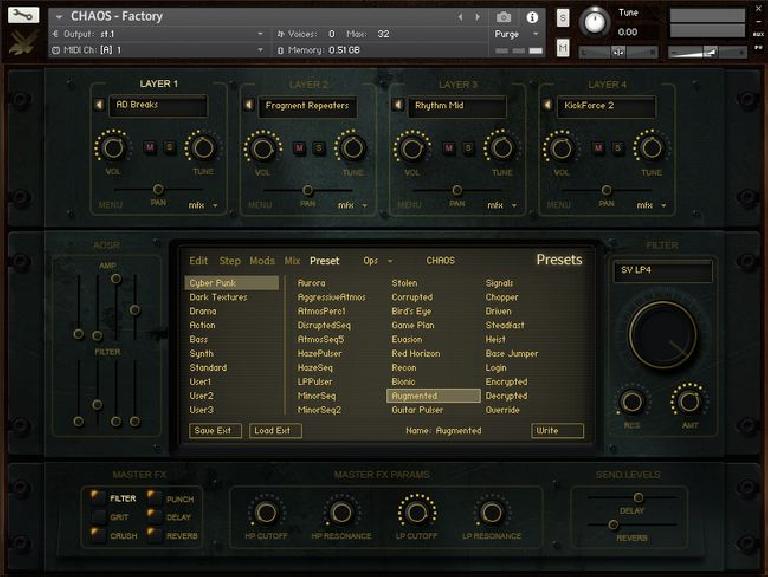 Go beyond just importing samples, With Project Chaos, you can create what HybridTwo are calling Chaos Banks. Chaos Banks are essentially self-contained instances of Project Chaos, each with their own set of up to 32 sample categories and their own set of 300 presets. For the first time, it's possible to truly make HybridTwo's instrument your own.
Key Features
HybridTwo's most advanced UI (Requires the full version of Kontakt 5.8.1+)
2+ gigabytes of all new sample content
Bring in your audio and create your own Project Chaos expansions with the included Bank Manager tool
Custom Preset System
Per-Layer Step Sequencers with Per-Step Sub Sequencers
Sample selection across up to 32 Sample Categories on every layer
Solo play mode and Menu play mode with Keyswitch Tuning per-layer
Modulation Matrix with 2 Scripted LFOs and 2 Sequencers
Created by renowned sound designers Daniel James and Aaron Frensley
Open Wave Format allows easy drag and drop of all sample content into your DAW