If you're after huge, ground shaking bass sounds for your drum'n'bass tracks, Parallax Kontakt Bass Engine from producers Drumsound and Bassline Smith will rock your world.
Drumsound and Bassline Smith are a drum and bass outfit comprising three producers (Drumsound are a duo) who as well as producing countless tracks over the last two decades have also created presets for Sugar Bytes, Waves and Loopmasters among others. You can read our recent interview with them here: https://ask.audio/articles/interview-drumsound-and-bassline-smith. Now they have designed and released their own Kontakt instrument with a laser focus on the kinds of fearsome bass patches you need to make serious drum and bass tracks - Parallax Kontakt Bass Engine.
Bass In Your Face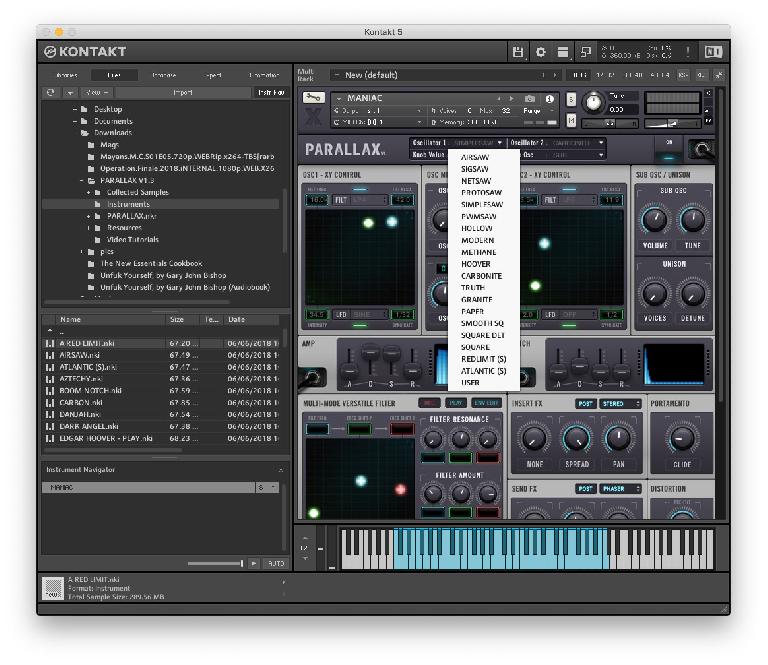 The instrument requires the full version of Kontakt 5.7 or higher (no Player version support) and has a remarkably small footprint at under 350MB in size. Digging into the Samples folder reveals a relatively small selection of samples ranging in length from just a few seconds to just under a minute. These are used as the basis for sound generation in the synth's two Oscillator sections, and you can freely select them as sources or use your own samples by re-naming the library sample files.

It's actually pretty straightforward as Kontakt instruments go, making use of NI's modules to process, loop, pitch and otherwise mangle the source samples in clever ways. In fact you'd never guess it was working with just a few sampled notes as you play up and down the keyboard without ever noticing any weirdness from the pitch processing. Each main oscillator has its own XY pad which you can use to manually tweak filter and LFO settings, with a choice of 24 filters and 9 LFO shapes available per-oscillator. It's easy to change filters, add LFO for movement and tune and mix the two oscillators. A sub oscillator is available too, as well as unison stage for a really fat sound.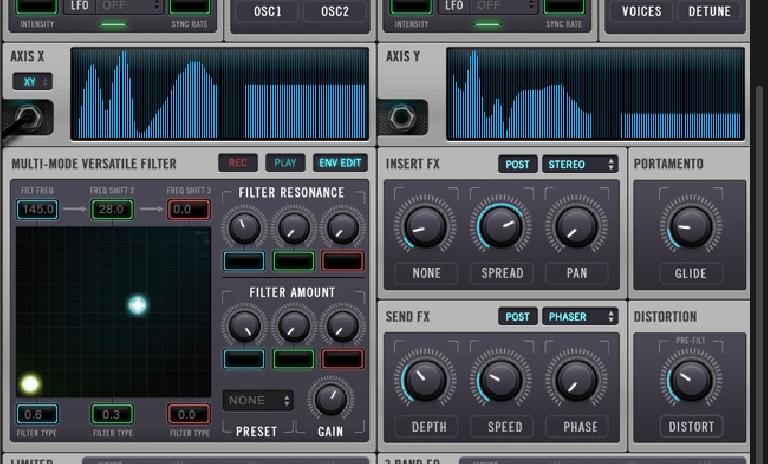 Then after ADSR stages for Amp and Pitch you get to a multi-mode "versatile" filter, which provides another XY pad and three definable points for manipulation. There's a recordable envelope facility too, where you can capture and play back movement of these points to create dynamic filter morphs without having to automate anything in your DAW. Next up is the FX stage, with 8 inserts and 5 sends as well as portamento, EQ and a limiter to really squeeze the output. Effects can be made to work pre or post filter, meaning more creative control.
Sounding Off
Drum and bass, like most electronic genres, has many offshoots ranging from hard and heavy to ephemeral and forgettable. I'm happy to report that this instrument is firmly camped at the hard and heavy end of the spectrum. The bass patches are quite simply enormous - terrifying, searing, groundshaking monsters. They are meant to be the lead instrument and not just an accompaniment.

I'm personally of the opinion that the whole point of drum and bass is that it should be massive, hardcore music that punches you in the gut (though your opinion may differ). And Parallax Bass Engine really has that covered - it's old school, serious stuff. No throwaway patches to be found here, they're all attention-grabbers. Of course this means they're probably best suited only to d'n'b - but then there's a good argument to be made for trying to be excellent at one thing rather than OK at ten things.
Conclusion
So there you have it - a very attractively priced bass synth that gives you the sound and studio expertise of Drumsound and Bassline Smith with powerful yet simple controls and a simply colossal sound. What's not to like?
Price:
Introductory price £50
Pros:
Very affordable. Small file size. Plenty of sound shaping options but still easy to use. Massive and authentic d'n'b bass sounds. Plenty of filter possibilities. Record envelope movements.
Cons:
Not compatible with Kontakt free Player. Importing your own samples is a slightly convoluted process.
Web:
http://www.techniquerecordings.co.uk/album/parallax-kontakt-bass-engine/